If I've said it before, I'll say it again — I love Valentine's Day! Last year I shared these cute retro-inspired mini card valentines (or stickers). Subsequently, I have something more on the vintage side. I hope you love these free printable vintage valentines cards as much as I do.
They're simple, yet you can do so much with them! I'm super excited to show you a quick way to add a little sparkle to them as well. Let's take a look.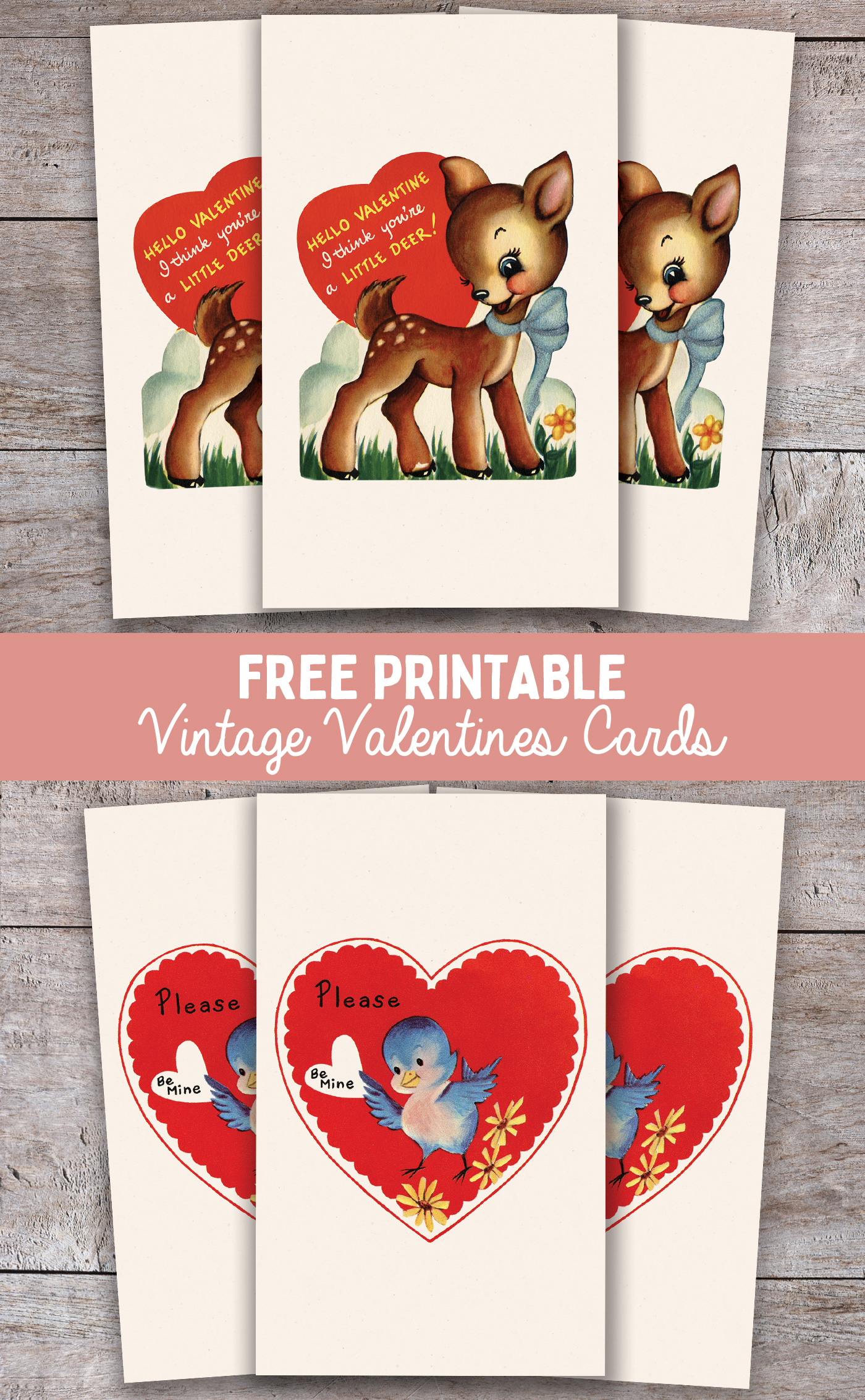 What do you think of when you think of Vintage Valentines? I think of the little girls with perfect golden locks, sweet puppies, little boys fishing off docks, and more.
Obviously, none of which I used here, so there's that.
However, there are cute little bluebirds and baby deer. Seriously, does it get any cuter?
So, I had to do a little digging to see if I could find some free clipart to use. I found the little bluebird over on The Graphics Fairy website. Karen (author of The Graphics Fairy) does fantastic work. I bought the baby deer and cleaned up the clipart, but that's expected of vintage graphics when they're just scanned in.
Nevertheless, these two vintage-inspired valentines turned out absolutely darling! Are you ready to transform these cuties a bit? Yay, I am.
Supplies:
Printed Valentines
Cardstock
Glue Stick or Felt Tip Glue Pen
Glitter (I used silver)
Paper Cutter or Scissors
Scallop Edge Scissors (or Pinking Shears)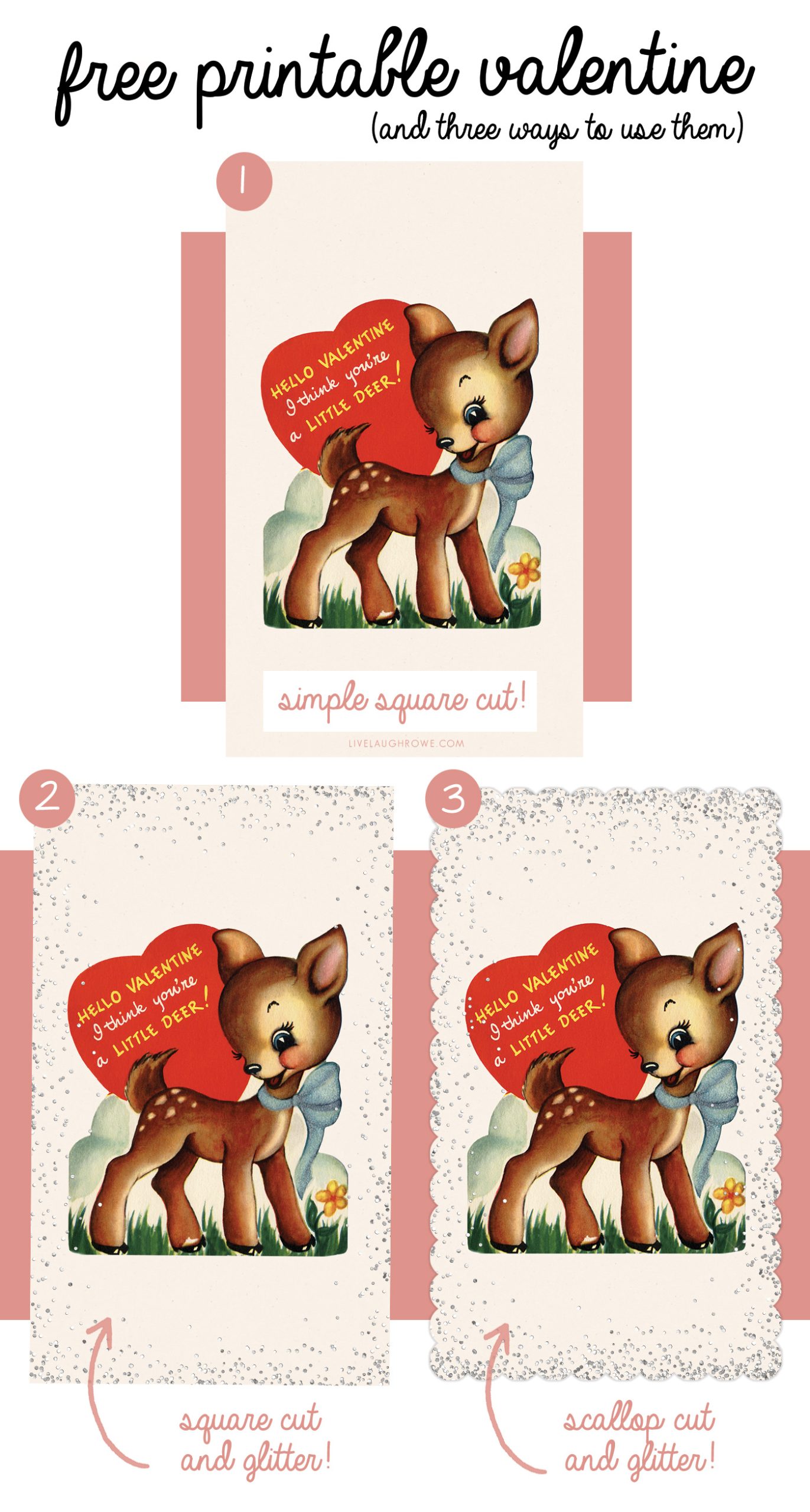 Instructions:
Step One.
Start by printing the printable vintage valentines cards of choice onto cardstock.
Step Two.
Next, let's cut your valentines. In this case, and as you can see, you can cut them with the bare square edges or with a fancy pair of scissors (scallop-edge scissors or pinking shears, maybe).
Step Three.
Apply glue to Valentine's four sides; then, you'll sprinkle glitter over the glue. Afterward, as you tap the excess glitter off, prepare for a glittery mess. But the result is super cute. Right? Is it worth it? Well, that's questionable. Ha.
On a hysterical side note, I'm not particularly fond of glitter. Yep! I dislike it to the point that if there is glitter in the register area in a craft store, I won't set my things down. 😂 Unquestionably, the fine glitter terrifies me. Haha. 😂
And you're done! Obviously it's time to show them off by giving the valentines to friends, neighbors, coworkers, etc.).
Other Valentines Printables you might enjoy:
Valentine's Day Word Search
Script Love Gift Tags
Love is in the Air Valentines
Maze Printable Valentines
Cactus Valentines
…and more Valentine's Fun!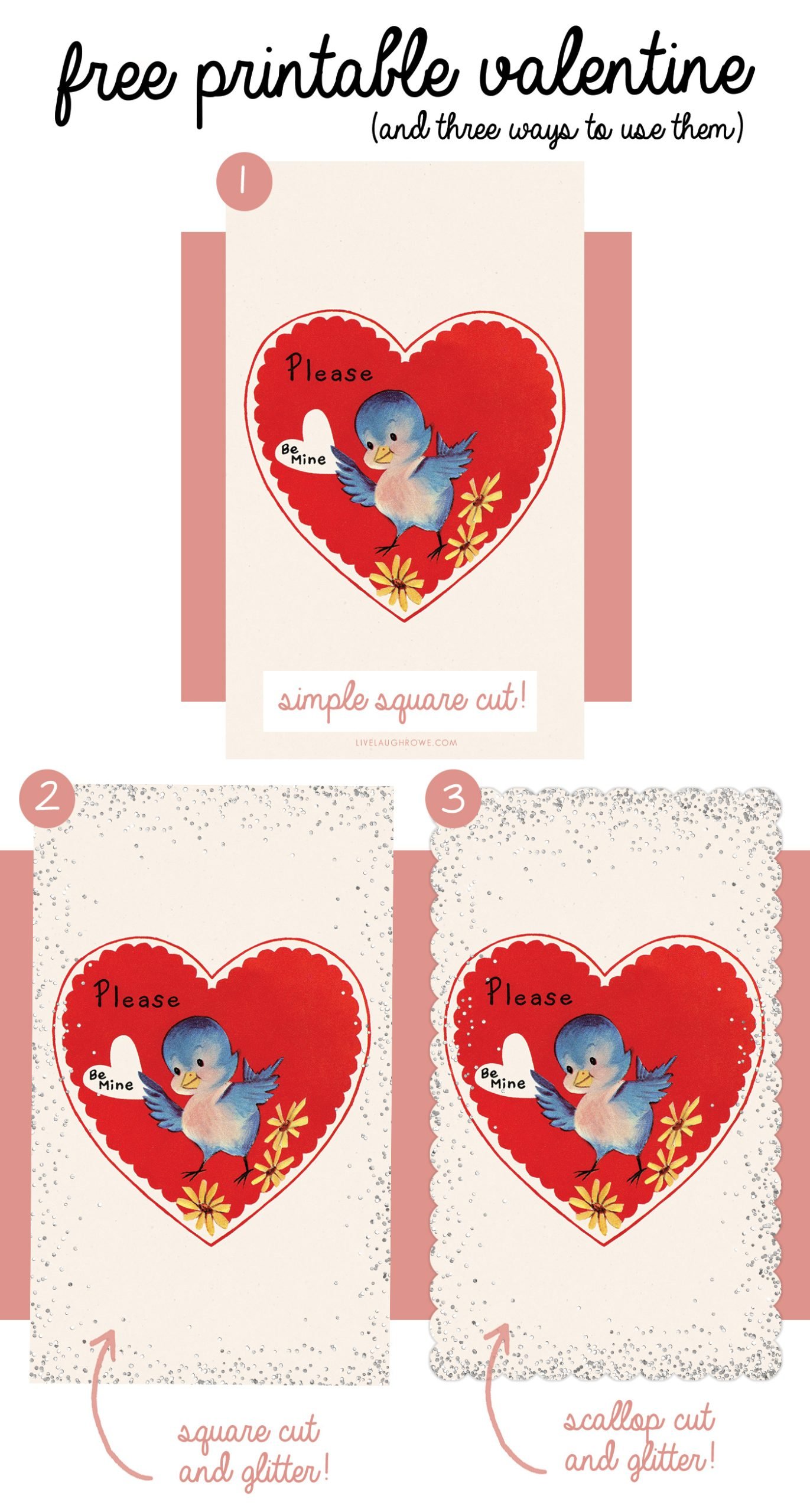 That's a wrap, friends! I hope you're feeling inspired. Obviously, homemade valentines are special and are a unique way to spread a little love.
However, if you're not up for a crafty, homemade option — there are some cute vintage-inspired valentines on Amazon (just saying). Sometimes easy is okay too! 😉
Printable Vintage Valentines Cards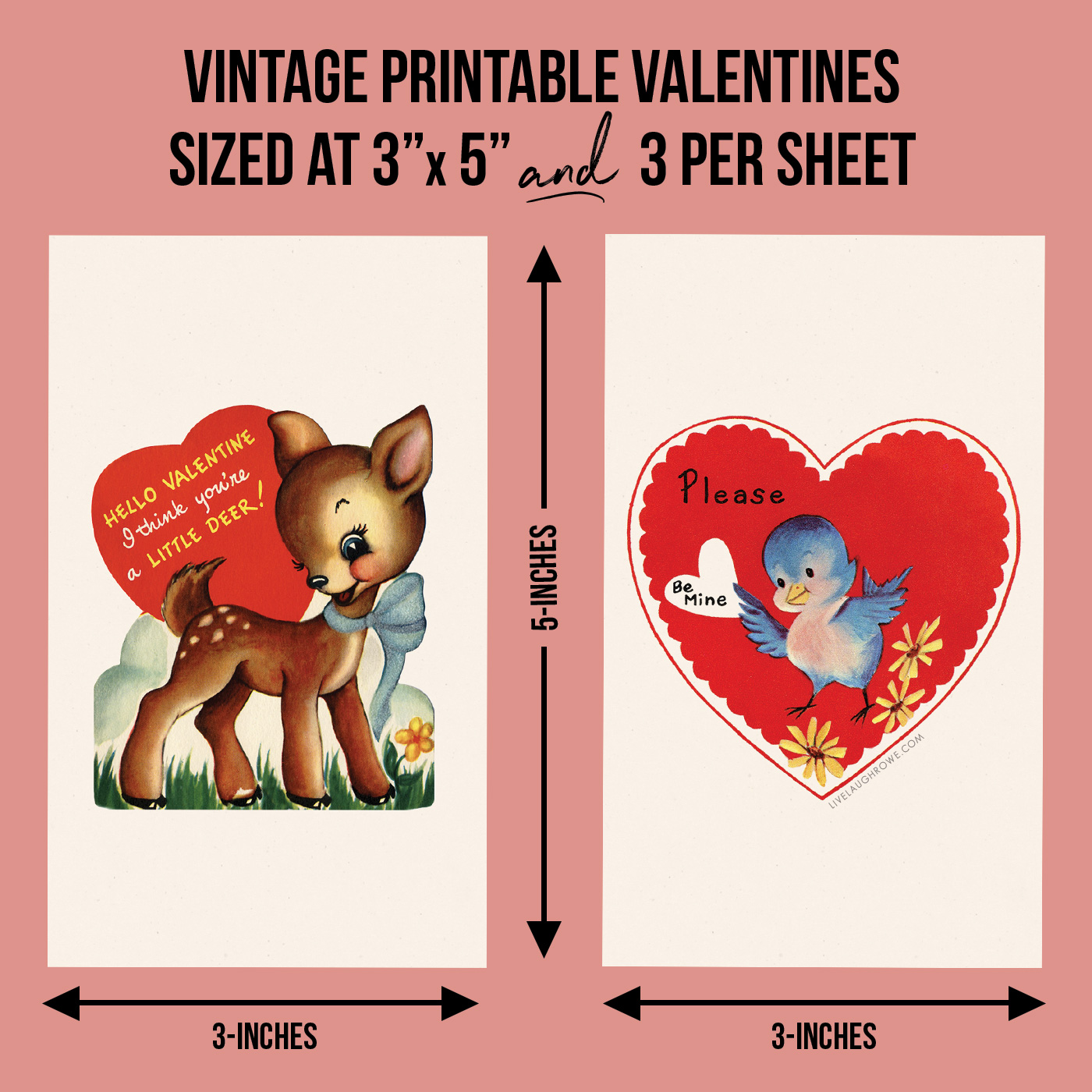 Please Note. Printables and downloads designed by Live Laugh Rowe are for PERSONAL USE ONLY. This file is not intended for resale, nor are the printed versions of this file. Therefore, please do not alter the file or claim it as your own.
DOWNLOAD Little Bluebird Valentines