Jelli of Jelli Bean Journals is back today sharing a delicious twist on a childhood favorite, Orange Creamsicle Cupcakes. It's also her birthday, so be sure to wish Jelli the happiest of birthdays. Enjoy!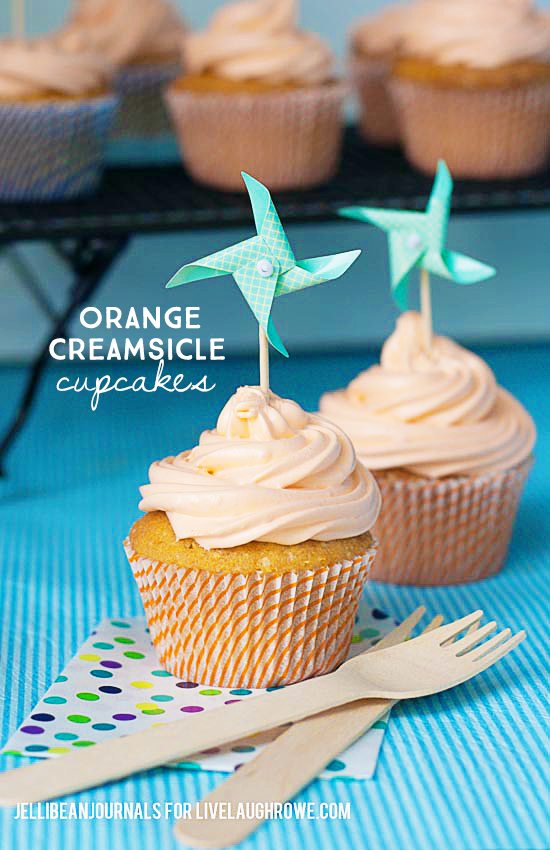 Orange creamsicle cupcakes are a fresh take on the ice cream truck summertime staple that make kids of all ages flock to the dessert table.
Cupcakes masquerading as all-time favorite desserts, like samoa cupcakes or fresh strawberry shortcake cuppies are a crowd favorite, and orange creamsicle cupcakes are no exception. Juicy, fresh oranges and real cream stirred into this butter cake batter are a home-run combination that bake up beautifully golden and bursting with flavor. Top those rich buttery cupcakes with orange marshmallow frosting and you've hit the ball right outta the park!
Heads will turn and eyes will light up as your friends chomp down into the fluffy orange marshmallow frosting. It's a far cry from buttercream, which never been my favorite, except for perhaps strawberry Swiss meringue buttercream. It's literally like eating a tangy orange marshmallow right on top of your cupcake!
The orange marshmallow frosting is zippy to whip up. It's made by dissolving orange gelatin over low heat with egg whites and sugar. We'll scrape that mixture right into the mixer and whip until it's light, fluffy, and holds stiff peaks. It's like making meringue without all the fuss!
If you're a novice in the kitchen, this recipe is perfect for you. I'll even share my top tips for ensuring cupcake success with every batch!
Make sure all ingredients are at room temperature. If you need your butter to warm up in a hurry, avoid the temptation to nuke it in the microwave. Try this simple trick instead.
Use paper or foil cupcake liners.
Fill cupcake cups only halfway full. Many recipes recommend 2/3 full, but oftentimes the cupcakes will rise too high, only to fall into a devastating crater when the oven timer goes off. Better safe than sorry, my friends!
Inform yourself of baking alterations if you're living in high altitudes.
Never open the oven door until at least 20 minutes of baking has passed. The rapid change in temperature can deflate unbaked cupcakes leaving you with puny or sunken cupcakes.
Always test cupcakes before removing them from the oven. Insert a toothpick or strand of dry spaghetti. If it comes out clean or with dry crumbs, your cupcakes are ready.
Remove cupcakes from the pan immediately. This is tricky since they're very hot, but using an offset spatula or a spoon to gently lift cuppies out and onto a cooling rack.
Cool completely before frosting.
Store in an airtight container or freeze them if you have leftovers or make them ahead of time.
Now that we've covered our bases, let's get to baking!
Orange Creamsicle Cupcakes
Ingredients
Cupcakes
1/2

cup

1 stick butter, softened

1

cup

sugar

1

tablespoon

finely grated orange zest

2

eggs

3/4

cup

heavy cream

1/4

cup

fresh orange juice

1

tablespoon

vanilla extract

2

cups

all-purpose flour

1/4

teaspoon

baking soda

1/4

teaspoon

baking powder

1/2

teaspoon

salt
Frosting
1

ounce

orange gelatin

may use sugar-free

1/4

cup

water

1

cup

sugar

2

egg whites
Instructions
Cupcakes
Preheat oven to 350F. Cream butter, sugar, and orange zest until light and fluffy, about 5 minutes. Scrape down the bowl at least once. Beat in eggs, one at a time.

Combine cream, o.j., and vanilla extract in a bowl. In another bowl combine flour, baking soda, powder, and salt.

With mixer on low pour in one third of the cream mixture and then one third of the flour. Repeat twice, ending with flour. Beat until combined and fill cupcake tins halfway with batter.

Slide into the oven and bake 22-25 minutes or until a tester inserted removes clean. Remove to cooling racks to cool completely before frosting.
Frosting
Combine water and gelatin in a small saucepan over low heat. Stirring constantly, dissolve gelatin.

Add remaining ingredients and whisk continuously until sugar is dissolved.

Pour into mixer and whip until stiff peaks form, about 5 minutes.

Fill piping bag and pipe onto cupcakes quickly before the frosting becomes a big fluffy marshmallow-in-a-bag. Enjoy!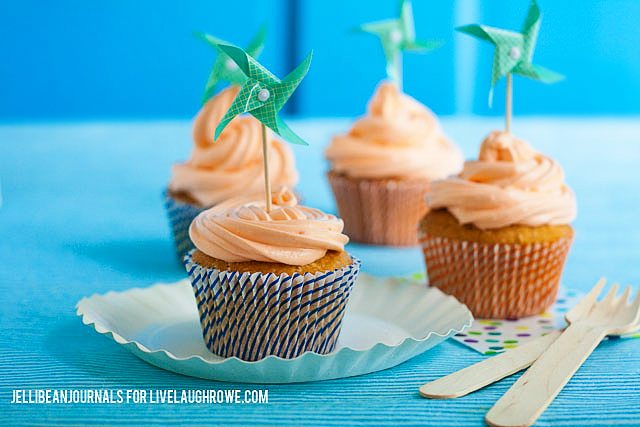 Make even more treats perfect for tailgating this autumn: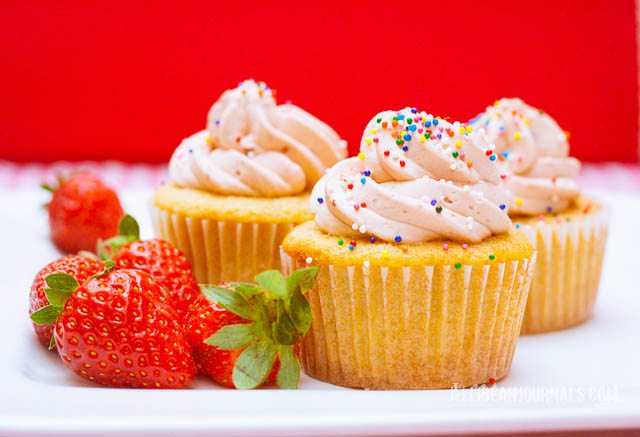 Cream Cheese Pound Cake Cupcakes
You can also find me hanging out here:
Pinterest | Facebook | Twitter | Google+
https://betweennapsontheporch.net/