Simple Christmas Home Decor
This simple Christmas home decor is not only warm and cozy but has the perfect amount of color. From a beautifully decorated tree to a sweet and rustic centerpiece, you're sure to find some inspiration.
It's a bummer that this year I won't be hosting any party or dinner guests. Nevertheless, I still did all of my usual decorating so that we could enjoy it, but then I thought I could at least share some pictures here. In short, a bit of a virtual open house.
So, it's a win-win. I get to share some of my Christmas decorations with you and hopefully, you'll feel some warm and cozy vibes — and likewise, maybe you'll leave a little inspired.
Be sure to sign up for my email to get
new recipes and creative ideas
sent right to your inbox!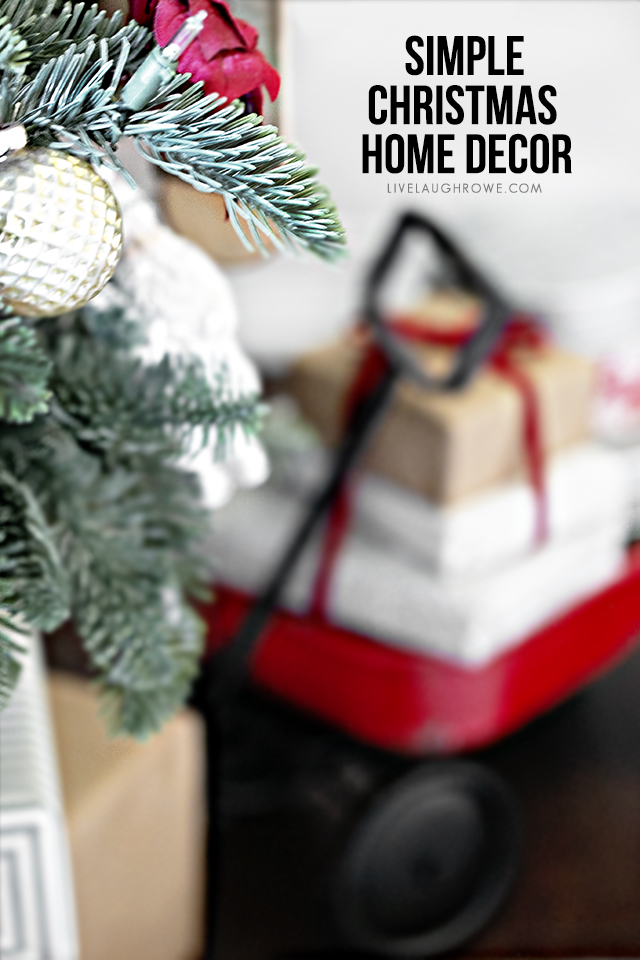 So grab a cup of tea, hot cocoa, or coffee and we'll get started. Hmmm, where should we start?
O Christmas Tree
Last year I finally got a Balsam Hill Tree. Eeeek. It was truly a dream come true and the tree is a real beauty.
I honestly wasn't sure about a tree topper, so I settled on this paper mache star. I've never had a tree without a tree topper. Consequently, that made it very difficult to go that route. And a lit tree topper is certainly not an option for me. Do you see a theme here? Ahem, simple. Haha.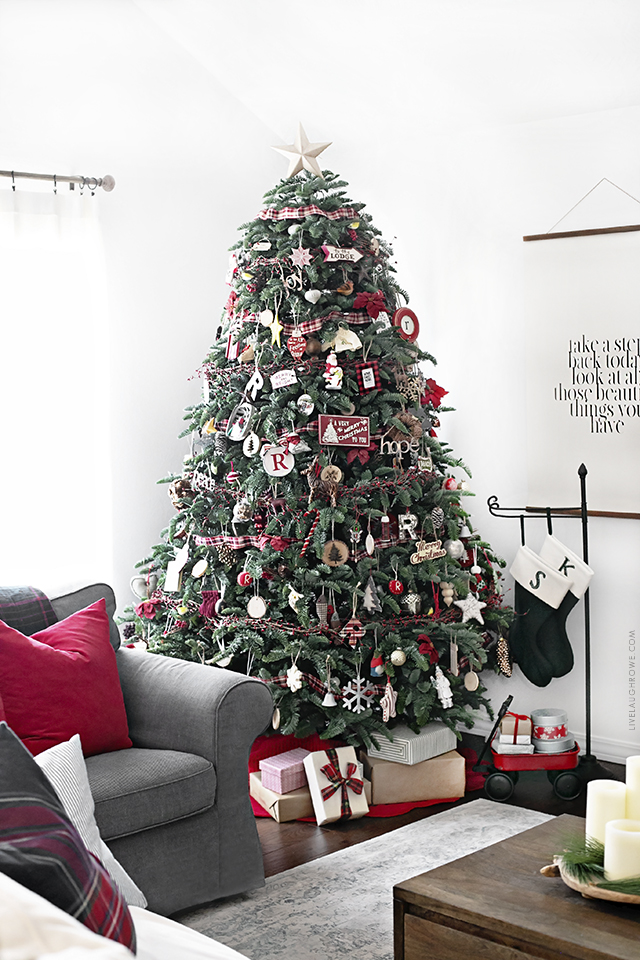 I've shared a few different tree themes over the years; however, the decorations on this tree are my tried and true ornaments. If I had to give it a "theme" however, I would have to go with Woodland.
So many years and memories behind these ornaments. It would be hard to part with them for sure.
I always have a stocking holder stand out. The one pictured is used when it's just Steve and me. And since I'm not hosting Christmas this year, why pull the bigger one out?
As you can see, I haven't hung Parkers stocking yet and it breaks my heart that Buster won't be with us this Christmas. It's been a hard four months for this fur mama.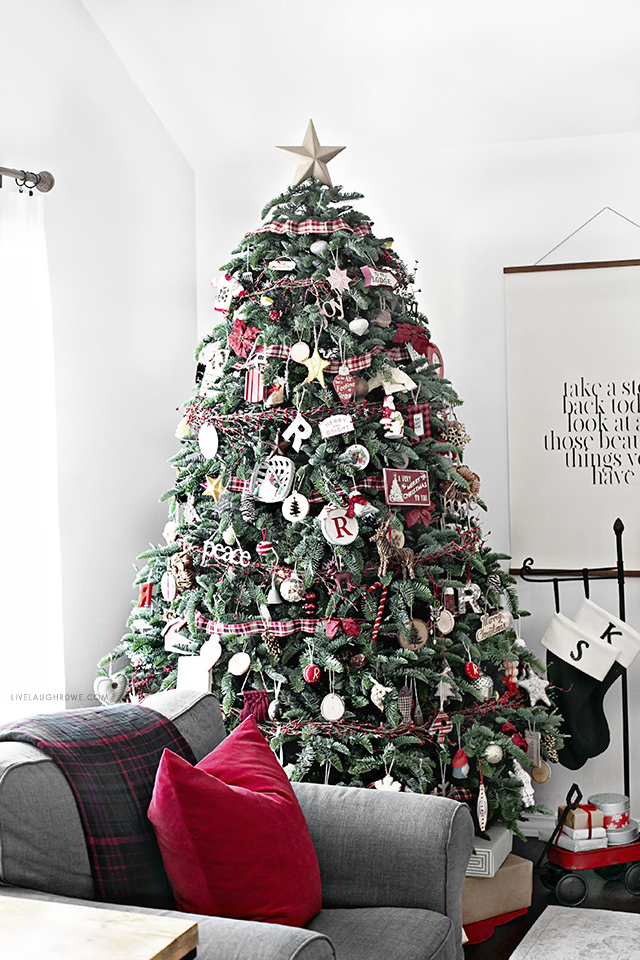 Simple Christmas Home Decor with Pops of Color
Opposite of the tree corner is this semi-festive wall. I made this blanket ladder many years ago. As a result, it's used for seasonal decor too. The blankets are changed out for fall and Christmas.
This picture also captures all of the neutrals with the blankets adding pops of color. And the vintage dresser displays our record player that has been used several times this season to play some of our favorite Christmas music on vinyl.
There's nothing quite like the sound of a record playing. I love the crackling sound…. and, above all, the Christmas music.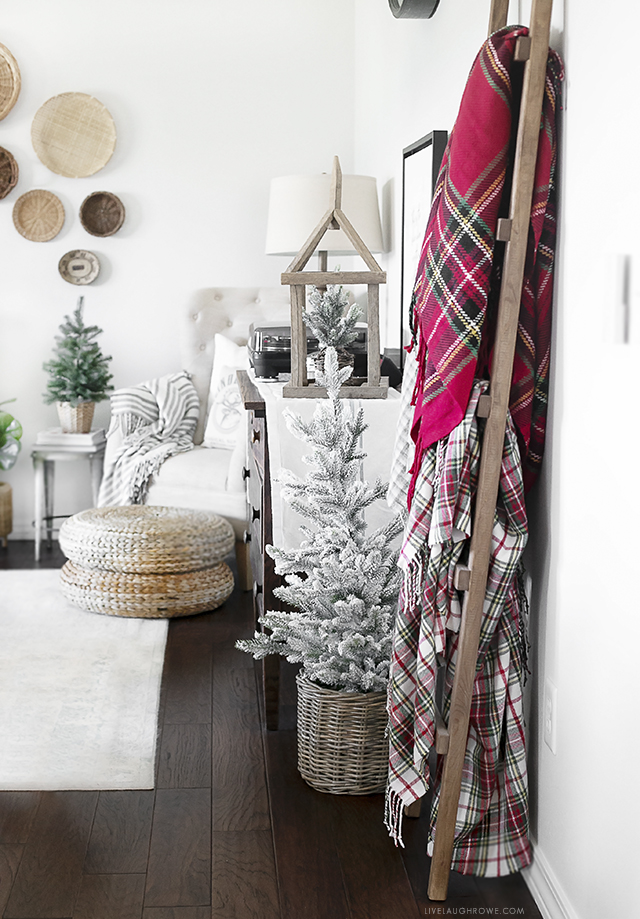 Simple Vignettes
Since we downsized when we moved I don't have as many places to create vignettes. However, one that contributed to my simple Christmas home decor this year was this vintage wooden pedestal/riser with candles and long pine stems.
It's so easy simple, but it certainly makes a beautiful addition to the decor on our coffee table. Bonus, these candles are on a timer and magically turn on at 5 p.m. and off at 10 p.m. Auto ambiance for the win.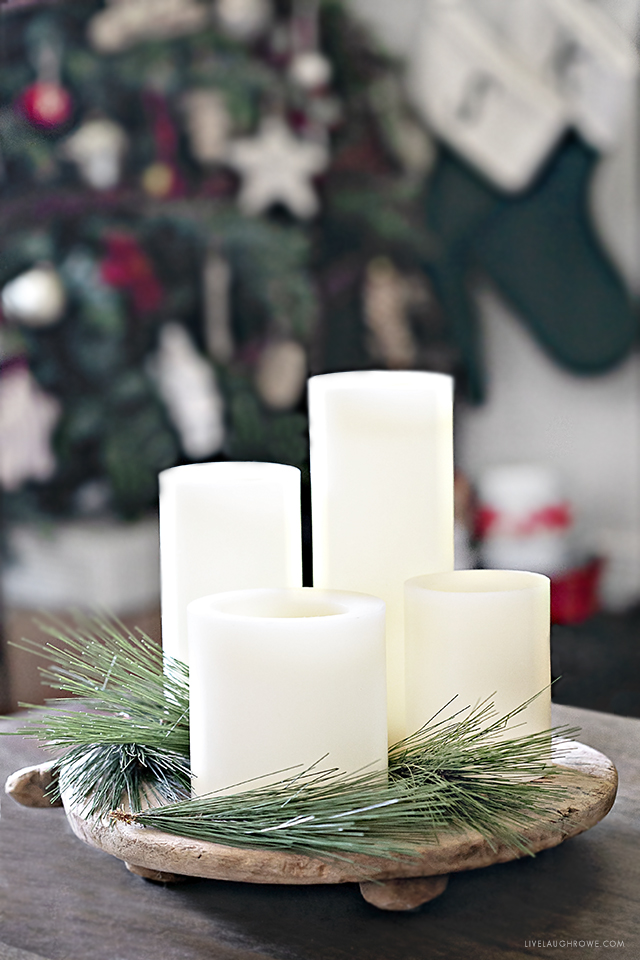 Dining Room Buffet
Are you seeing the theme of simplicity here? Last year (if my memory serves me correctly), the tray of poinsettias was the centerpiece on our dining table. This year it got shifted to the buffet. I adore this tray of varying faux poinsettias. The red feels so festive.
Incorporating a vintage window is always nice and makes a great place to hang a wreath.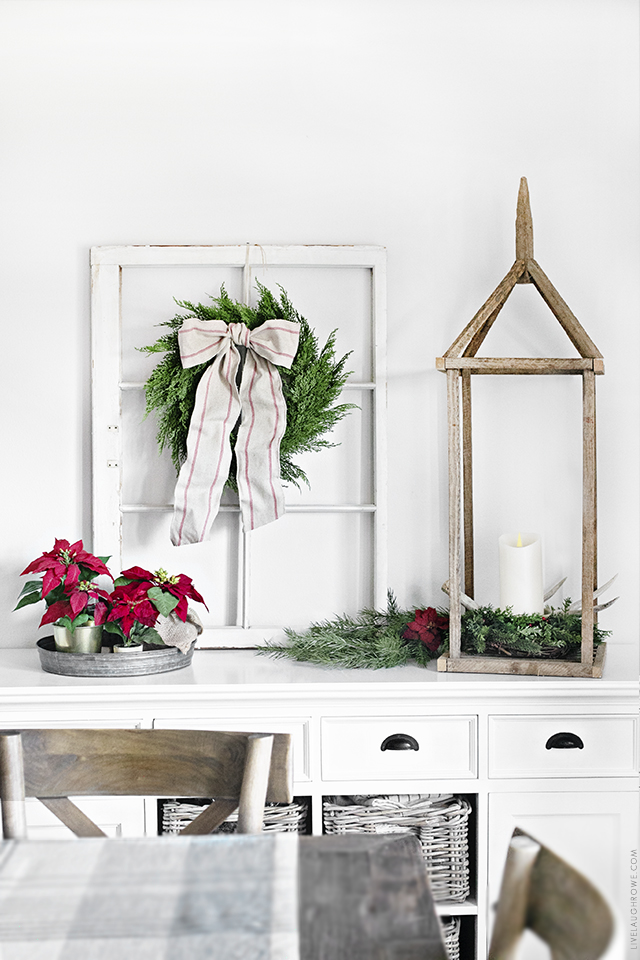 The centerpiece on the table was more of an eclectic venture, but it's as sweet as can be. In my humble opinion, of course.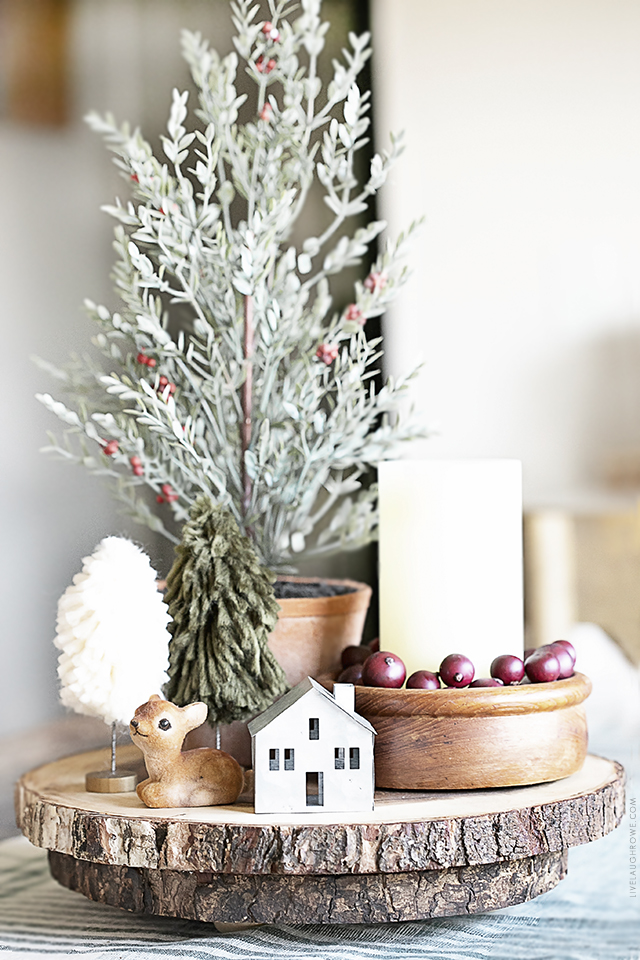 That little vintage deer stole my heart in a local antique shop recently. The yarn trees and galvanized house were from the Target Dollar Spot. Seriously, those four items are my favorite part of this simple display. Pitter patter.
In the Kitchen
Confession, my oversized chalkboard is and always will be my favorite. Would you believe that I've never really put Christmas decor above it? Well, this year I did and, as a result, I may have impressed myself. Hee hee.
I scored the boxwood wreath from a local pallet sale group — and added a couple of other stems. The amazing bow is made with ribbon from Balsam Hill. And most importantly, the wood beads. Natural wood beads are so versatile. This turned out to be festive perfection.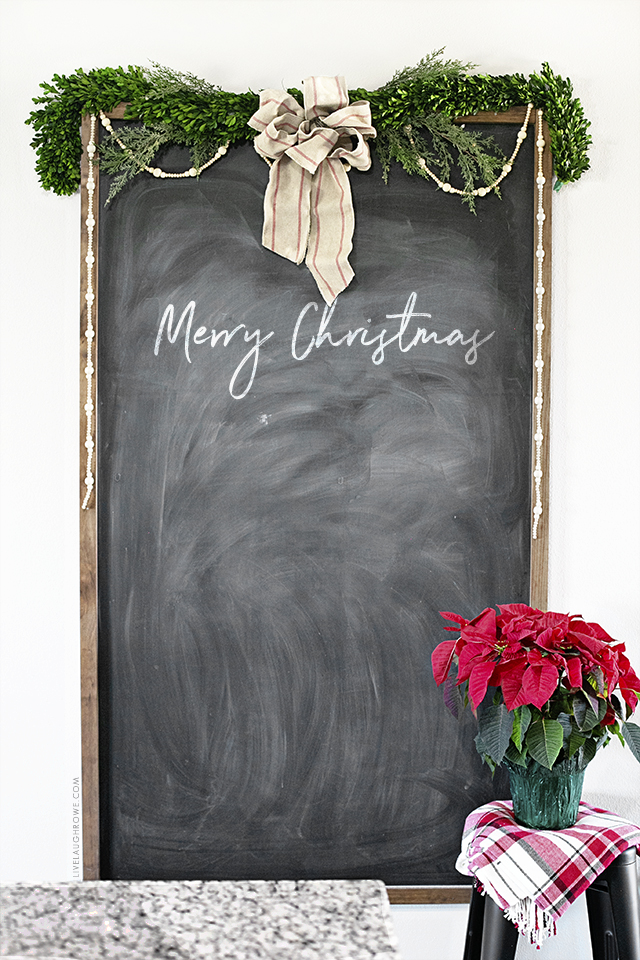 The poinsettia was gifted to me by my parents and brother as a part of their advent calendar… gift something to someone. So sweet.
Aaaaand that's a wrap on my simple Christmas home decor. From our home to yours, Merry Christmas.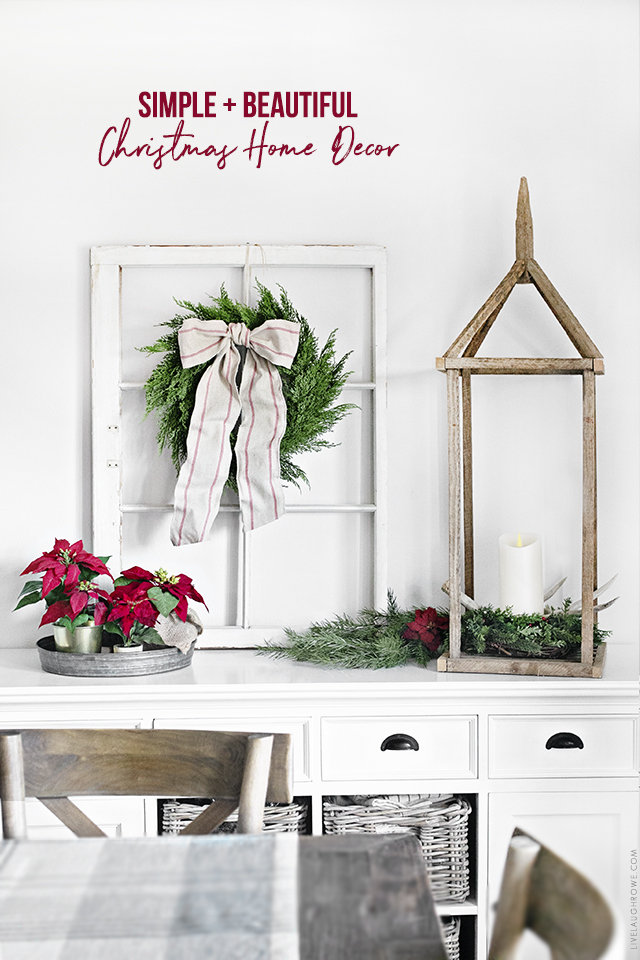 Connect with Live Laugh Rowe!
Facebook | Instagram | Pinterest | Twitter
Hugs and Blessings!