Yesterday I shared our Multi-Purpose Room Makeover. Today I thought I would share the printables that I have hanging in that room… printables with inspirational messages that serve as great reminders in the day to day grind of this journey we call life.
Printable Inspirational Messages

These are just beautiful quotes, friends: "We Rise by Lifting Others" and "Be a Lamp, Lifeboat or a Ladder." Aren't they fabulous?
I want to lift others up, not tear them down… and I want to be that lamp, lifeboat or ladder that someone might need. I visualize people coming together to help each other out and that leaves an incredible impression on me — one that reminds me to always be kind. Then I think of this quote too: "Be kind, for everyone you meet is fighting a hard battle."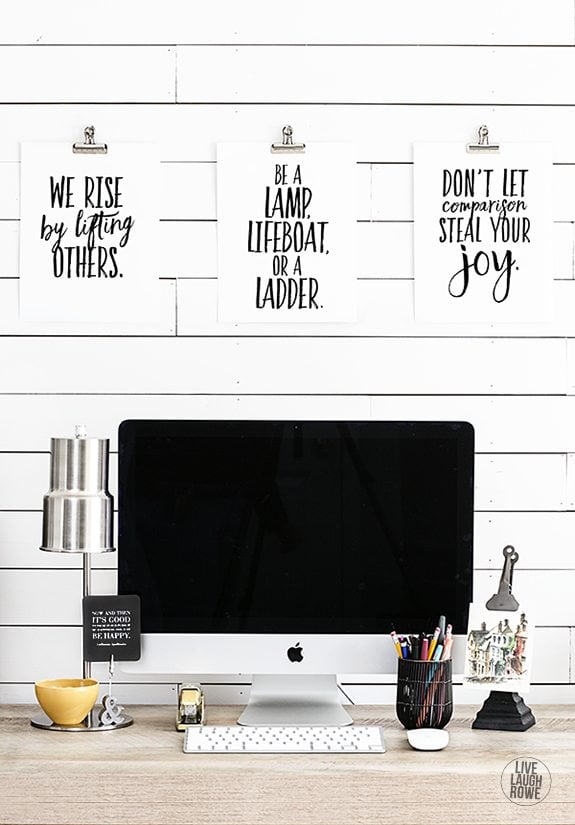 I've shared on this before, but the goal is to encourage you to find joy in who you are and what you do rather than what your colleauges, peers, family or friends are doing. I can speak from experience here — comparison truly does steal your joy.
Having this hanging in my home is a great reminder to embrace me and my talents with joy. I hope that you will embrace this too, because you are beautifully YOU!
Guess what? I'm making all three of these inspirational messages available to you today. I hope that you are empowered to do more good. Hold tight to your joy because you are fearfully and wonderfully made!
*Please Note: All printables and downloads designed by Live Laugh Rowe are for PERSONAL USE ONLY. Please do not alter the file or claim it as your own. Resale of electronic files and printed versions are prohibited.

Be sure to visit with me here too:
Facebook | Instagram | Pinterest | Twitter |Google+