Hidey ho, friends! I don't like to do too much decorating for patriotic holidays, the colors don't seem to fit my style. However, I figured out the perfect piece that would work! So, I'm sharing this super easy, farmhouse inspired Patriotic Wreath. The main supply? Ticking fabric! Oh yeah. Ticking fabric is one of my new favorite things. Do you remember the farmhouse tablescape I shared that was geared around those infamous ticking stripes?
By the way, if you're visiting from Bless'er House — WELCOME! I'm so glad you stopped by. And a big thanks to Taryn from Design, Dining and Diapers for coordinating this fun blog hop — if you follow through each post, you'll have 11 summer themed projects to inspire you! Pretty great, huh?
Farmhouse Inspired Patriotic Wreath


So, I had no idea this type of a wreath is also called a rag wreath. Country Living recently featured one on their website and called it a rag wreath. It was baffling to me…. haha. I've always called them scrap fabric wreaths. You learn something new every day, right?
Regardless of what you might call the wreath, today it's packed full of patriotism! I mean… red and blue ticking paired up is all kinds of patriotic. Don't you agree?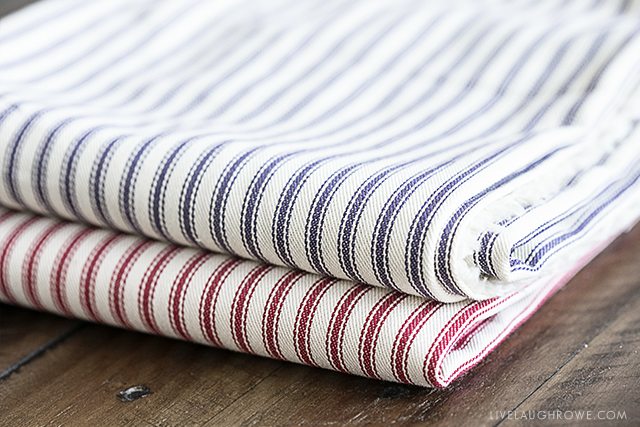 I've shared other scrap fabric wreaths on the blog before — but I thought I would share the simple tutorial again today (rather than have you clicking around to find it). Isn't that sweet of me? Hee-hee.
I love how mine turned out and the charm it adds to this little corner of our front sitting room!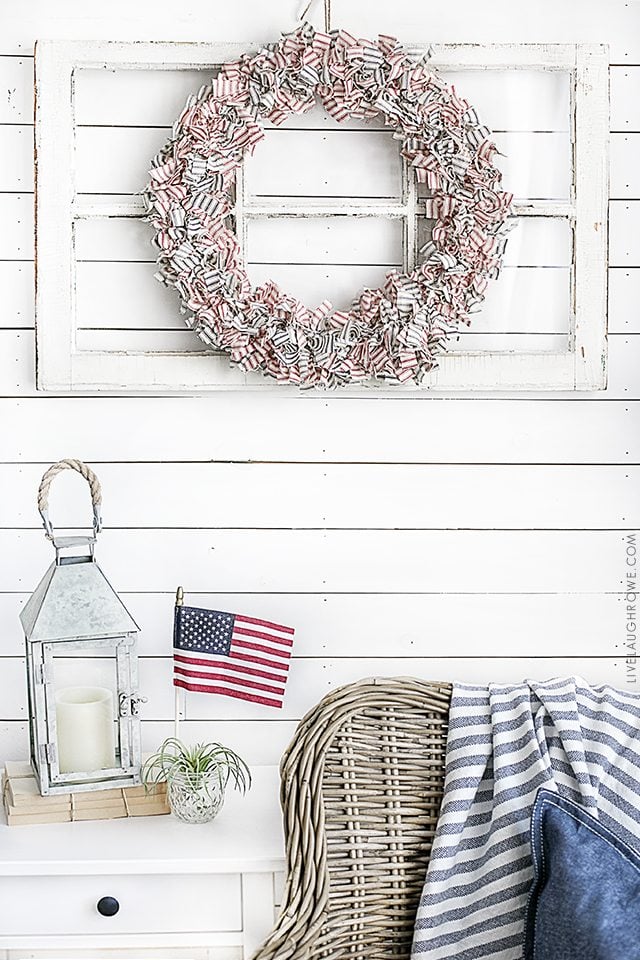 Supplies for Patriotic Wreath:
Red Ticking Fabric, about 3/4 of a yard
Blue Ticking Fabric, about 3/4 of a yard
Sewing Scissors or Rotary Cutter
Self Healing Cutting Mat (if you use a rotary cutter)
Wire Wreath Frame (mine is 16″)
Twine, optional
Step One: Cutting the fabric.
Cut lots and lots of fabric strips. Make them about 5-1/2″ long.
Step Two: Tie Fabric on Wire Wreath.
Tie to your wreath form. Each wire wreath frame will have four rows. I didn't want the fabric to blend too much, so I went with blue-red-blue-red for the rows (see pic below). Please note that this is the back of the wreath.
…. keep tying….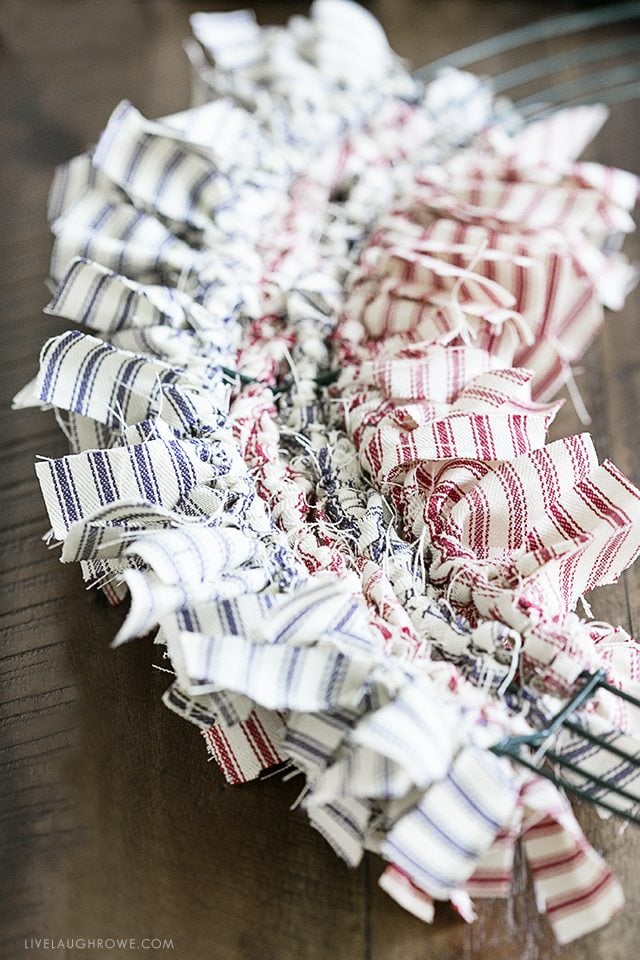 …and tying….
Depending on the size of your wire wreath, this is the most tedious part. I did mine while watching t.v. and took lots of breaks (ha ha).
Step Three: Trim and Shake Wreath.
My fabric strips were not cut at exactly the same length, so trimming may be necessary. After you've trimmed, take your wreath outside or over a large trash can and give it a good shake — there will be a lot of stragglers from the strip of fabric.
When you've filled in your entire wreath frame, you're done! Add a bow if you'd like and hang. I strung twine through the first row of wire on the wreath frame.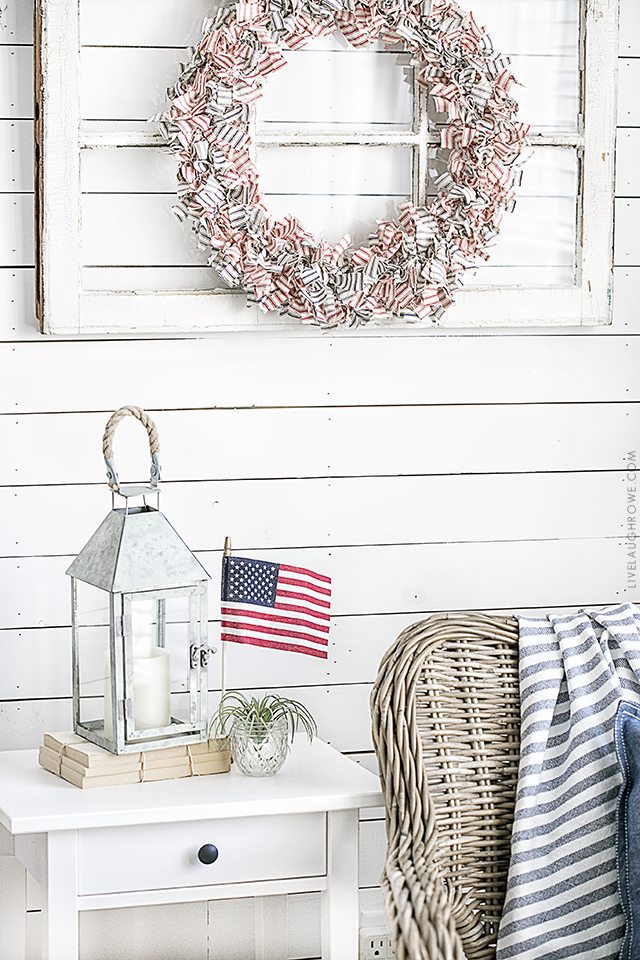 Be sure to swing by Zevy Joy too. Annie is sharing a great project for those of you who enjoy having fresh herbs on-hand.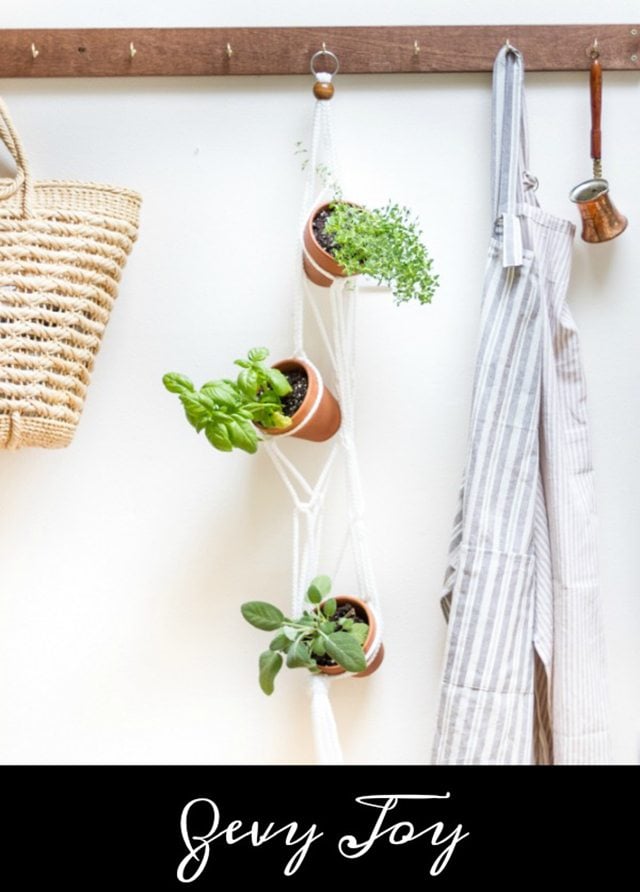 Be sure to visit with me here too:
Facebook | Instagram | Pinterest | Twitter | Google+