While we should tackle our entire house with a little spring cleaning each year, today I'm partnering with Clorox and Walmart to share a thorough Bathroom Spring Cleaning List.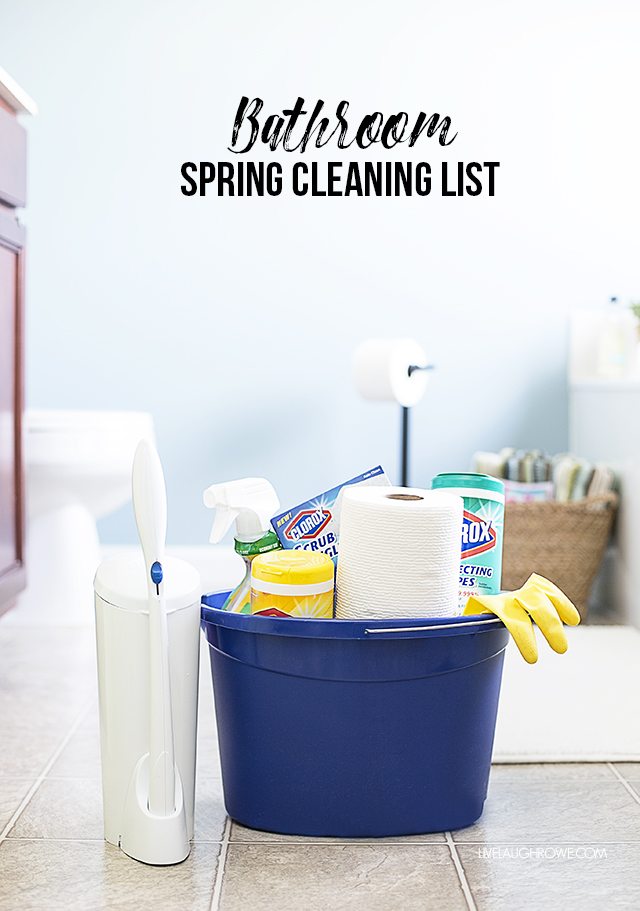 If I were to be honest with you, I don't think I've spring cleaned my entire house in years (gulp). Isn't that awful? I can officially say that our master bath has been cleaned from top to bottom and side to side (wink). Let's take a look at what I had on my cleaning list.
Bathroom Spring Cleaning List:
Shower Curtains and/or Doors.
Wash fabric shower curtains and wash or replace the vinyl ones. Mildew can build up quickly, so be sure they are thoroughly clean and there are no remaining signs of mildew. Replacing them is another great option.
If you have a glass shower surrounding, be sure to give those walls a scrubbing. Lemon oil is a great product to create a barrier against all the soap scum buildup.
Sink and Shower Faucets.
It's time to give those faucets a cleaning with a little extra elbow grease. I love using Clorox Cleanup in my bathrooms. I spray it on and wipe with a sponge. It cleans up hairspray and soap build up with ease.
Does your shower head have some hard water or mineral deposit build up? Here's a quick fix for getting rid of a clogged showerhead.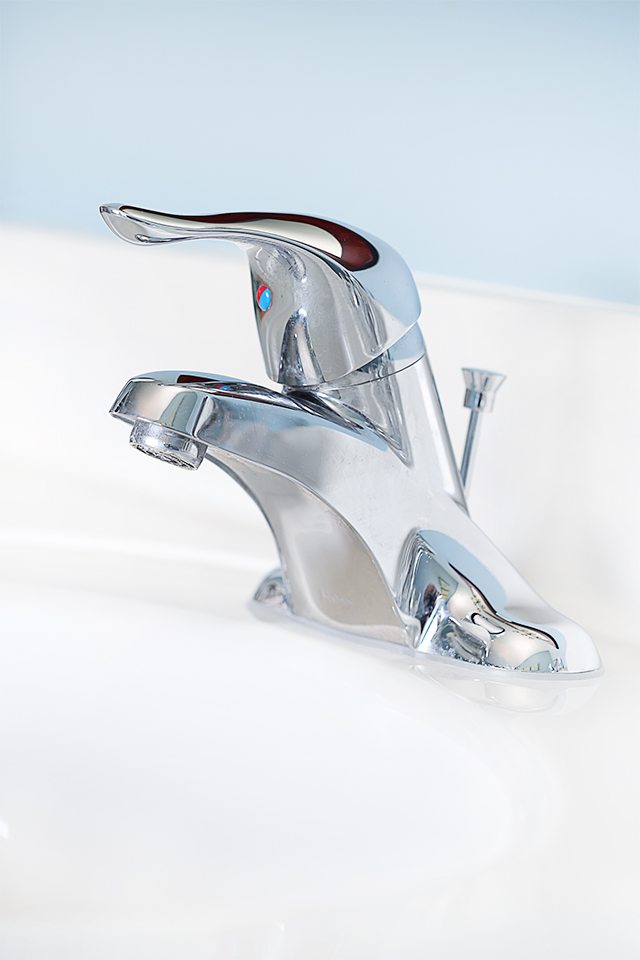 Sink and Shower Drains.
Drains over the course of time tend to build up with hair, gunk, grease and soap scum. Tough clogs need a little extra push. I tend to pour bleach down my drains and let it sit, then run hot water. However, you can find lots of great products to use.
A great tip is to start with a snake drain and followed up with Liquid Plumr® (or product of choice) — you'r sure to speed up those slow drains in no time!
Toilet.
This spring, say goodbye to your icky traditional toilet brush and say hello to the Clorox Toilet Wand. It's as easy as click, swish & toss. The disposable cleaning head preloaded with Clorox toilet bowl cleaner attaches to the Toilet Wand handle to power through tough stains while killing 99.9% of germs. Boom!
Click one of the disposable toilet cleaning heads in place, swish the toilet bowl and toss the head into the trash bin when you're done. The cleaner smells amazing too! It's a powerful little tool — and available at your local Walmart in the mop & broom aisle.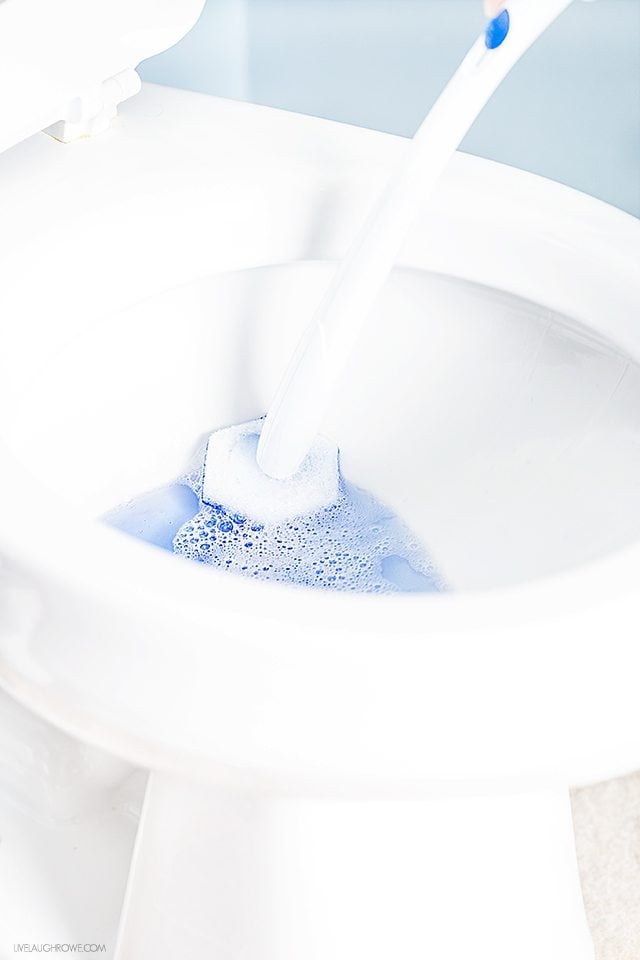 Once you've tackled the inside of the toilet bowl, be sure to wipe down all of the sides and bottom as well. Toilets can be dust collectors too!
Mirror(s).
Whether you use a microfiber cloth, newspaper or paper towels, be sure to give your mirrors a good cleaning. Be sure to wash the window framing as well to remove dust buildup (and, again, any hair products that may have created some spotting).
Remove Clutter.
We all have it! Whether it's our beauty products, clothes, dirty clothes, water bottles, coffee cups or kids toys — clutter can creep it's way into the bathroom. For example, I like to keep a few magazines on-hand when bathing, etc. They tend to accumulate and I recently threw out a fairly large pile…
Remove the clutter and feel a sense of accomplishment! I know I did.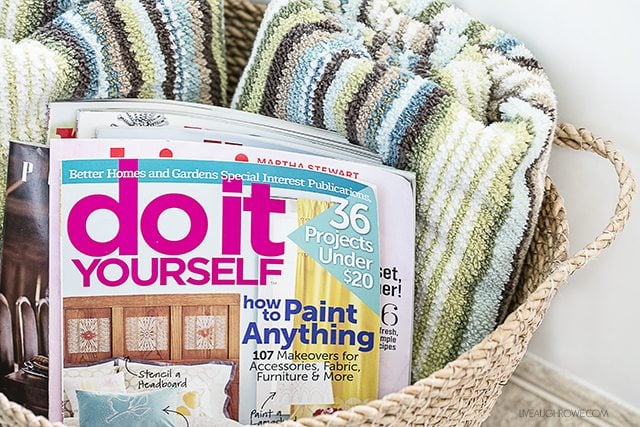 Trash Can.
If you don't use a liner in your trash can, be sure to give it a good cleaning. Soak it with some Pinesol or hose it down. Even if you use a liner — your trash can might appreciate a little refreshing (wink).
Floors.
Lift up those rugs and give them a washing. I like to sweep my bathroom floors first, then follow-up with a wet cleaning (using a mop or getting on my good ole' hands and knees). I don't do the floors on my hands and knees all year, so it's a good time to get down there and put a little extra elbow grease into getting any build up off the floors. For me, it tends to be hairspray. Fun, fun.
Walls and Baseboards.
Sometimes I think these areas are often forgotten about — especially the walls. Fill a bucket up with some Pinesol and warm water. Wipe down all your walls and baseboards. Say goodbye to dust.
Don't forget to tackle that fan vent too! Those tend to catch a lot of dust and lint over time and can really put the motor into overdrive.
Decorative Accents.
Have a plant, faux plants, decorative soap, glass jars, pictures on the wall, etc? Give all of those decorative accent pieces a thorough cleaning as well. Use an air duster on your plants, replace decorative soaps and be sure to wipe down any additional accessories.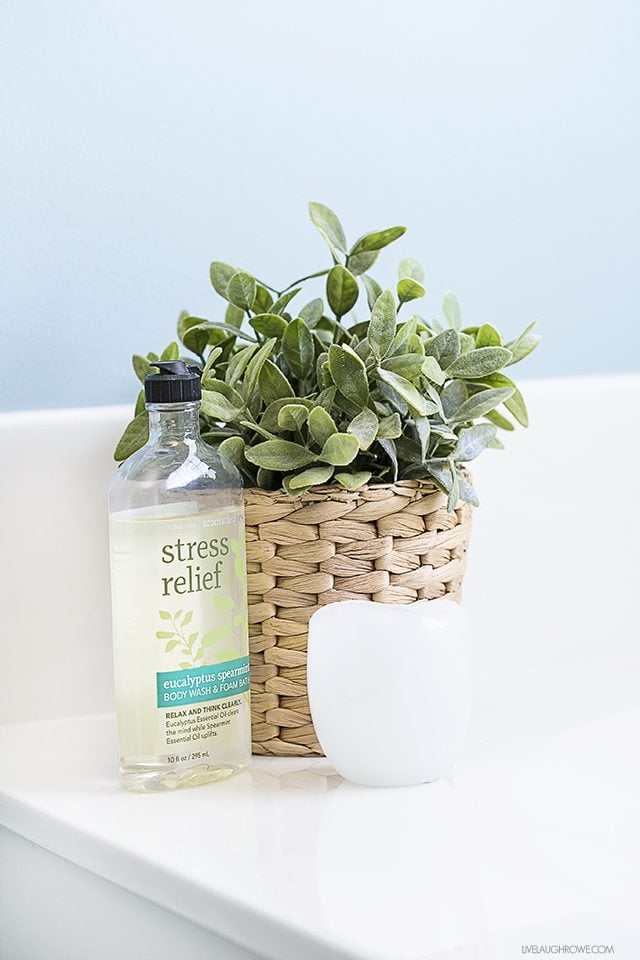 Cabinets.
Scrub those cabinets down with warm, soapy water. I know powder seems to get into the crevices of our cabinets. Try an air duster on that too, and if that doesn't work — grab a toothpick, you don't want that to continue to build up.
Now is a great time to declutter and purge what's hiding in those cabinets too. I have a confession — this is the one part of the checklist that I have not tackled, but it is on my list to finish up. I've said before that I LOVE office supplies, well, beauty products might be another problem for me. HA! I have more brushes than I need, half of the local Bath and Body Works store and much, much more. That actually might be great content for another post! Hmmm.
That's what you'll find on my Bathroom Spring Cleaning List. Did I miss something? Do you have a tip or trick to share when tackling your bathroom this spring?

Be sure to visit with me here too:
Facebook | Instagram | Pinterest | Twitter |Google+
Linking up to Between Naps on the Porch
This is a sponsored conversation written by me on behalf of Clorox. The opinions and text are all mine.