Whether you call it colored corn, ornamental corn or Indian Corn — it's pretty AWESOME! I love the colors, the texture and all of the possibilities that the Indian Corn can bring to your autumn decor. An example is this simple Autumn Garland.
Indian Corn Autumn Garland


I was recently visiting with my mom and noticed some Indian Corn seeds that had been strung together amongst some of her fall decor. I asked where she got it and she said a young girl in one of our churches (years ago) had made it as a necklace for her. My mom was using it as a decorative garland.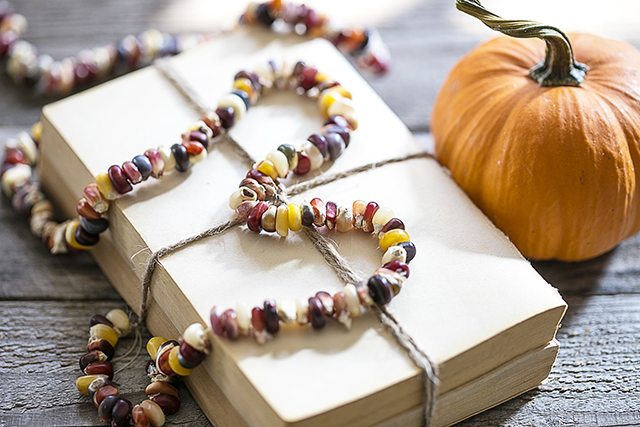 Of course my wheels started to turn and I thought to myself, "Ummm, I need to make one of these." So I set out on a mission to find the Indian Corn Seeds and give it a try. I bought mine from TluxFarms on Etsy and anxiously awaited their arrival. p.s. Toby Said she should have more in stock soon.
I bought needles and thread and sat down to put my hands to work…. can I just say that was much easier said than done. Manually stringing the corn by hand was HARD. It would take me FOREVER to do it this way and I'm certain I would have injured myself at some point. I even ruined a needle trying. I tried upholstery needles, leather needles and more. It was just too hard.
Here is how it all played out in my head:
"Great. Now what? Hmmm…."
"Borrow dads drill and use a small drill bit?"
"It can't hurt to try, right? Nope."
So, that's exactly what I did! Grabbed a few additional supplies and got to work.
Check out my video tutorial:
Supplies for Autumn Garland:
Indian Corn seeds
Drill
Drill Bit, the smallest I had was 1/8″
Needle Nosed Pliers
Needle (for threading)
Thread (I used Upholstery thread, #543)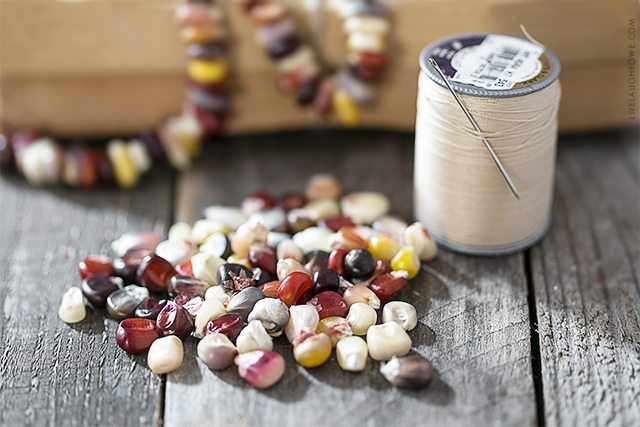 Drill Indian Corn Seeds
Using you needle nosed pliers, hold a flat piece of the corn seed in place. With your other hand, you're going to drill a small hole into the corn.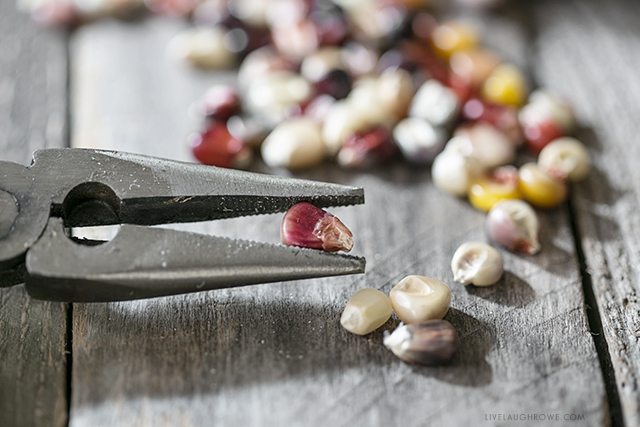 Thread Indian Corn Seeds
To get the stringing process started, double up on the thread and knot on one end. I did string the first and last piece of corn by hand so that the corn couldn't fall off (the drill bit made the holes a tad too big, so they would fall off). I'm sure you could thread through and around the first piece of corn too. Feel free to tweak as necessary (wink).
NOTE: I used a hemp color upholstery thread for reinforcement. The last think I want to happen is the threading become weak and break. I can just see it now, corn seeds flying everywhere (insert face palm).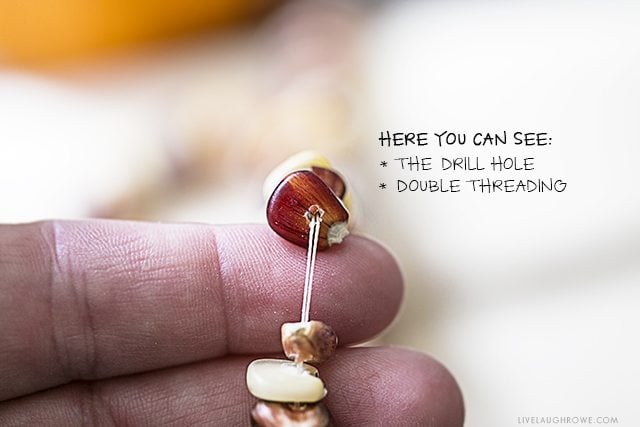 As you can see, it's pretty easy to make! Depending on the length of your garland will determine how long it will take you to make it. I worked on mine in spurts. My neck and shoulder tightened up, so I had to give it a break.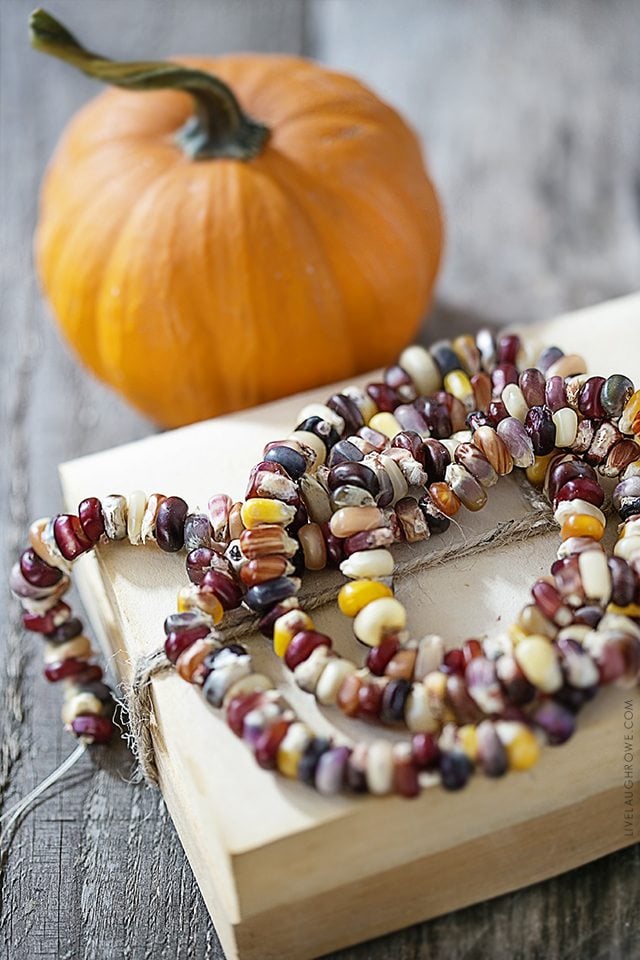 Friends, I am so in love with this garland and I'm certain it will be put to good use year after year. I think it would make a great handmade gift too.
If you're looking for some more fall decor inspiration, you might like my Beautiful Autumn Wreath.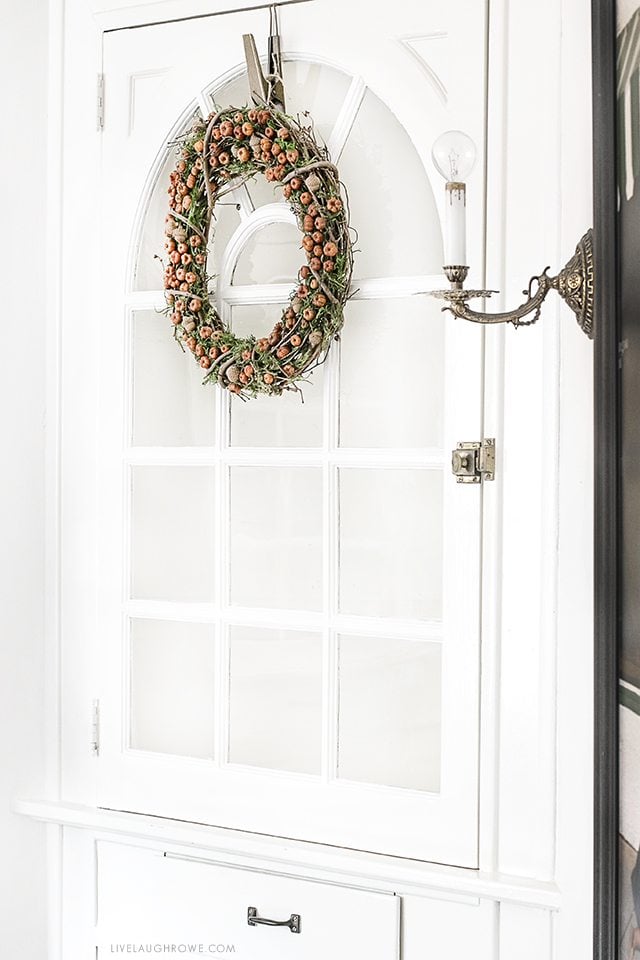 Be sure to visit with me here too:
Facebook | Instagram | Pinterest | Twitter | Google+