This Autumn Wreath is a must-have, friends! It's perfectly rustic, simple and a statement maker.
Fall decor is super minimal this year. Womp womp womp. We're officially in an Airbnb for the next six weeks. I'll be doing some work, but definetely not as much as I would be if I were in my own home… it's just weird and hard to explain. Anywho, I wanted to preface that we're in transition, so I'm photographing where I can.
However, you'd think this wreath was made to be hung on this beautiful cabinet door. There is some extraordinary character in this house — it was built in the 1930's.

Autumn Wreath


I am the queen of saying, "I can make that." Haha. So, when my sister sent me a link to a wreath and said, "Isn't this beautiful?" I had to bite my tongue.
Yes, my sister gets incredibly annoyed with me. I'm giggling and pretty sure if and when she reads this, she'll be rolling her eyes.
For the most part, wreaths are not cheap! So, when I see one that I love and I can make it for half the cost — I'm going to do just that. I made this one for about $14-15. I purchased my wreath at Hobby Lobby and the acorns were free, so that kept the costs down.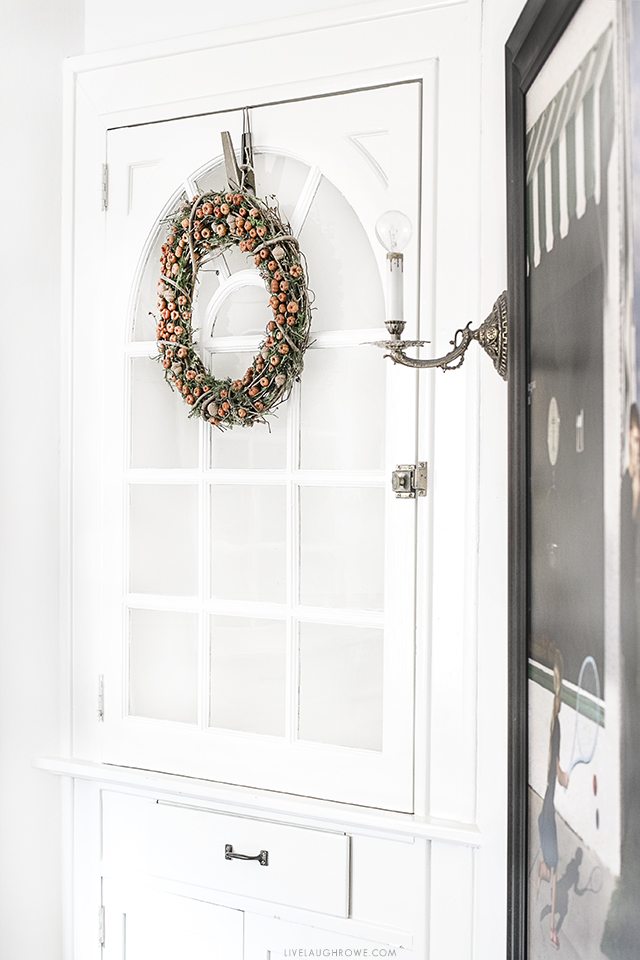 If you're not up to making one for yourself, stay tuned… I'll share where you can buy one at the end of the post. However, I think this one is easy enough for even a beginner to make. Let's do this!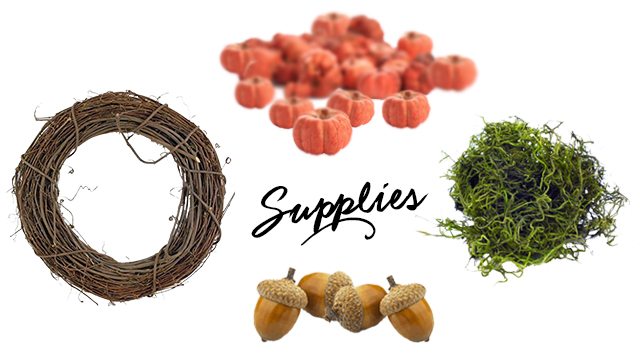 Supplies for Simple Autumn Wreath:
Glue Gun
Grapevine Wreath (I used a 14″ wreath)
Floral Green Moss (this one looks the most similar to what I used)
Putka Pods
Acorns
My apologies that I don't have step by step pictures for you. I got so into my mojo that I never stopped to take pictures.
Below I'll share with you how I put mine together step by step. For the most part, it's pretty simple. Be patient with the process — it can be a wee-bit time consuming depending on the size of your grapevine wreath, pods and acorns.
Step One: Moss
I started by placing the green moss on the wreath in sporadic spots. Depending on when you want more or less of the green will determine how much you use. I wanted it to be predominate as the bottom layer, but it didn't take much to do that.
Step Two: Putka Pods
Place putka pods. Of course, they're the star of the show, so you'll use the most of these. I started with decent amount of the mini dried pumpkins (putka pods), then stopped to add a few acorns.
Step Three: Acorns
I think I only used between 10 and 12 acorns. They were more of an accent embellishment for my wreath, so I didn't want to use too many.
Step Four: Touch Ups
Just when you think you're done, you'll hold up your wreath and see a bare spot of two. Touch up your wreath as necessary, adding more putka pods, moss or acorns as necessary. I also made sure to get any glue gun string and stragglers removed as well.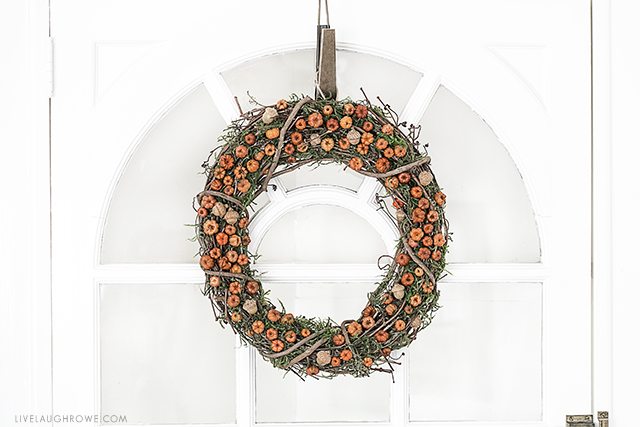 I noticed when I hung it up, it looked much different than it did laying down — so you might try doing that yourself. I snapped a photo with my iphone too (to see how it looked). It's funny how it can look so different from different angles and in a picture. After about 3-4 edits/touch ups, I thought it was perfectly imperfect.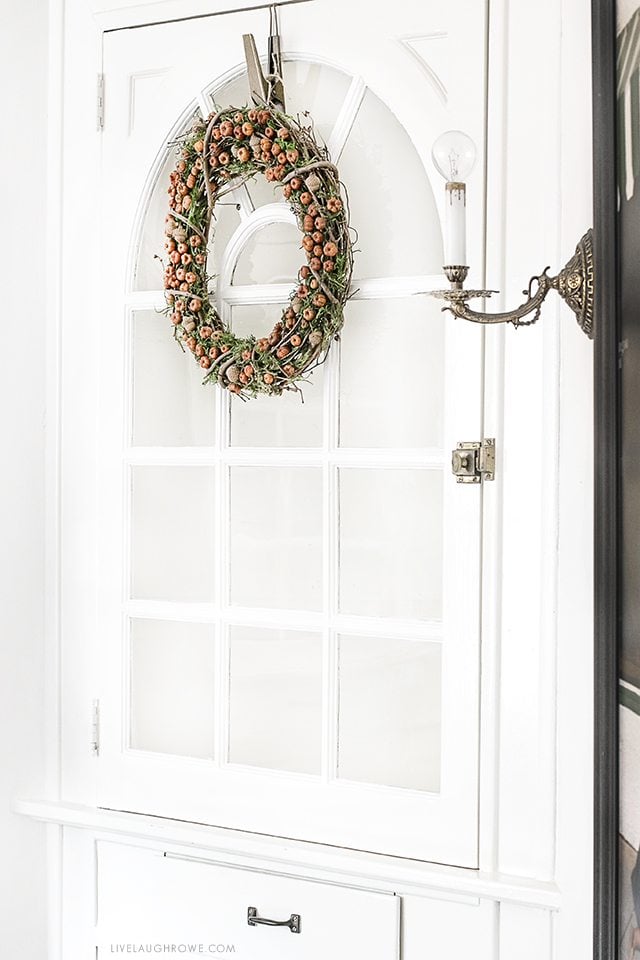 I'm so in love with this wreath. It's simple, yet beautiful. The warmth of fall is present as well. Looking to keep things simple and buy one? Visit RoseFlower48 on Etsy!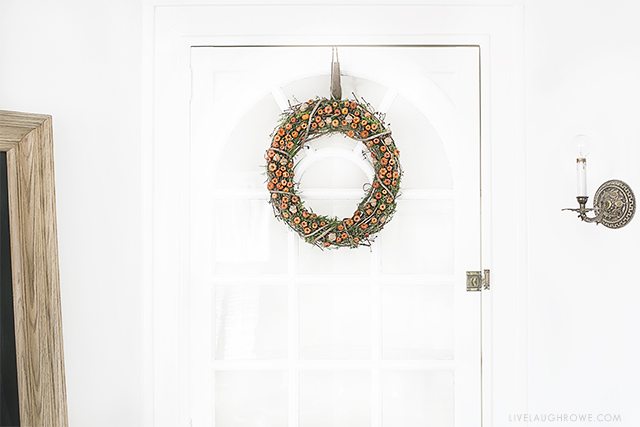 Looking for another fabulous (and easy) wreath for the season? This Neutral Fall Wreath is super popular and requires even less supplies!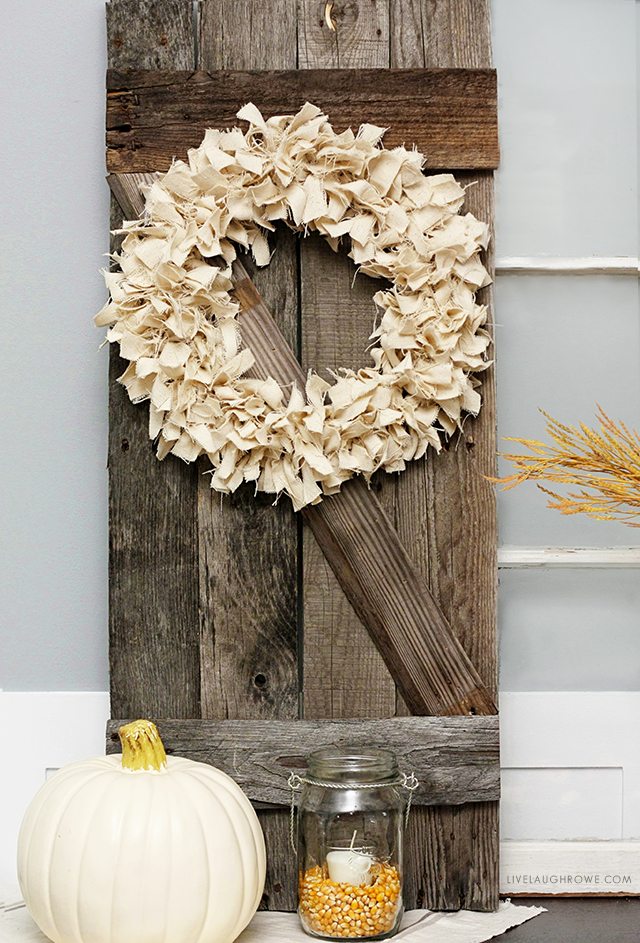 Be sure to visit with me here too:
Facebook | Instagram | Pinterest | Twitter | Google+