We're officially about to kick off the month of April — can you believe it? Today I'm sharing the April 2017 Calendar. Start you printers, because it's ready for download (wink).
Printable 2017 April Calendar
Has life ever gotten so busy or crazy or stressful, that you lost sight of the simple things that make you happy? I'm waving my hand in the air. Been there, done that.
That is exactly why I love this months calendar. This simple statement is a great way to stop and smell the roses.
"Find a favorite little
something in every day."
Maybe it's the fresh flowers on your table, watching your kids play, reading a book, treating yourself to that candy bar or ice cream cone, talking to your best friend, sipping on a glass of your favorite wine, etc.
Sometimes everything isn't so obvious, especially if the day has been a little on the rough side. So, this month, let's be intentional in finding those favorite little things in our daily routines.
Be sure to print or save your calendar — and share it with a friend if you'd like.
Please Note: All printables and downloads designed by Live Laugh Rowe are for PERSONAL USE ONLY. Please do not alter the file or claim it as your own. This file is not intended for resale, nor are the printed versions of this file.
Don't forget that I have second option for you this year too! If you love vintage botanical prints, then you might want to snatch a copy of this lovely April Calendar from my Vintage Botanical 2017 Calendar.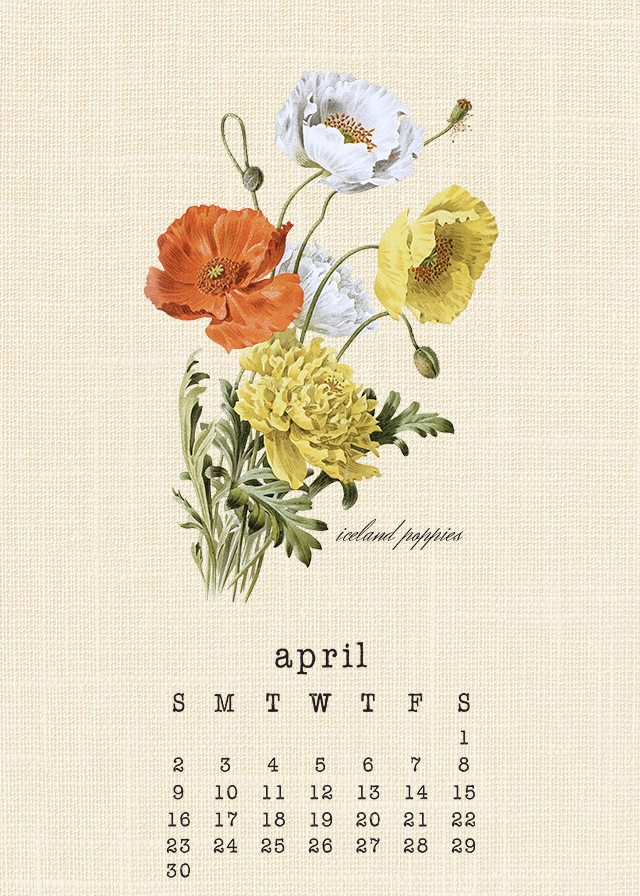 Be sure to visit with me here too:
Facebook | Instagram | Pinterest | Twitter | Google+