Christmas decorating has officially begun in my home… and it's started in the entryway! Squeal.
If you're visiting from A Burst of Beautiful, WELCOME! I'm tickled silly you're here. Today is a super exciting day around here. Why? Well, it's the first of four holiday posts that will allow you to take a peak inside my home. Rather than doing a home tour with waaaaay too many pictures in one post, a bunch of us are splitting up our home tours among four posts. This week we have the entryways — and next Monday we'll be sharing Christmas trees. I could just scream with excitement friends!
Simple Holiday Farmhouse Entryway
Come on in! I'd love for you to join me for a cup of coffee or tea. My entryway is a bit on the smaller side, but I'm not complaining — there's a perfect amount of space for what we need and keep it fairly tidy.
We'll soon be making this space over a bit. I would have loved to get it done before the holidays, but it's not a priority, so we'll be waiting until the new year… as I digress… Focus, Kelly, focus! HA.
Alrighty, if you step in a bit and turn around, this is the view you would have straight ahead…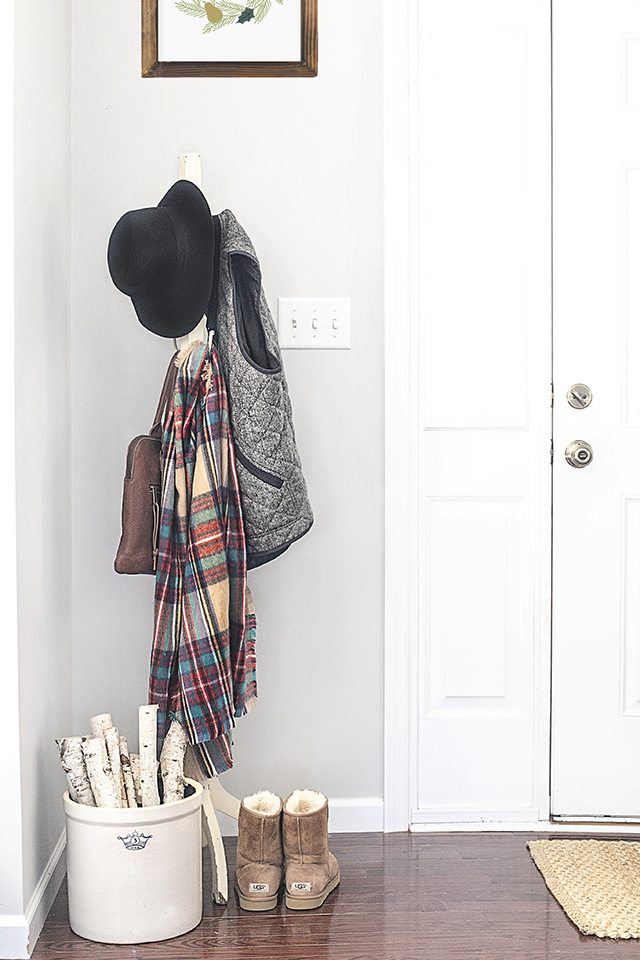 …and to your right, our coat closet where our advent calendar is hanging. Be sure to check out my woodland inspired advent calendar, I used an over-the-door shoe organizer. I love-love-love- it!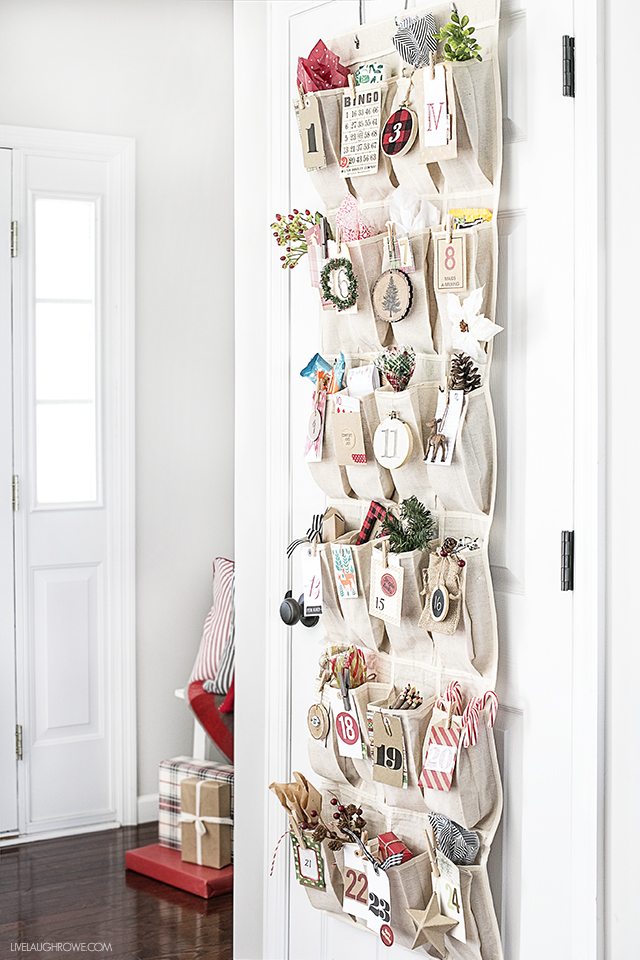 As you can see, we have a bit of a cubby — and that's technically what I consider my entryway. I used a lot of red, white and gray (including something galvanized) within this space. Our DIY Rustic Bench is the piece that I started with, then I added and tweaked from there.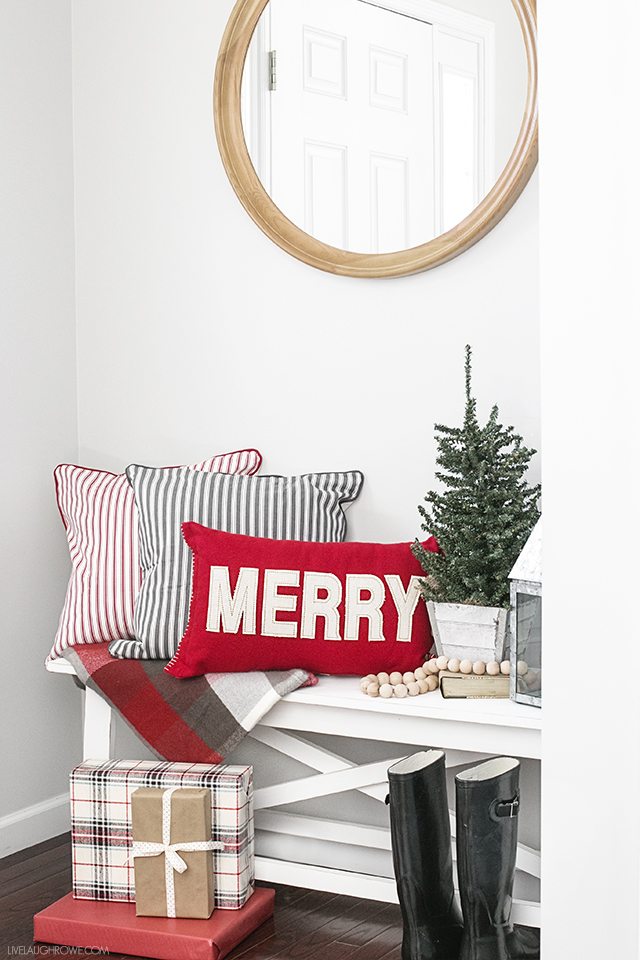 Growing up, Christmas was such an exciting time in our home — we prepared our home to entertain, prepared a family Christmas Eve service filled with music, poems and scripture, and ministered in local nursing homes. Those memories are priceless to me!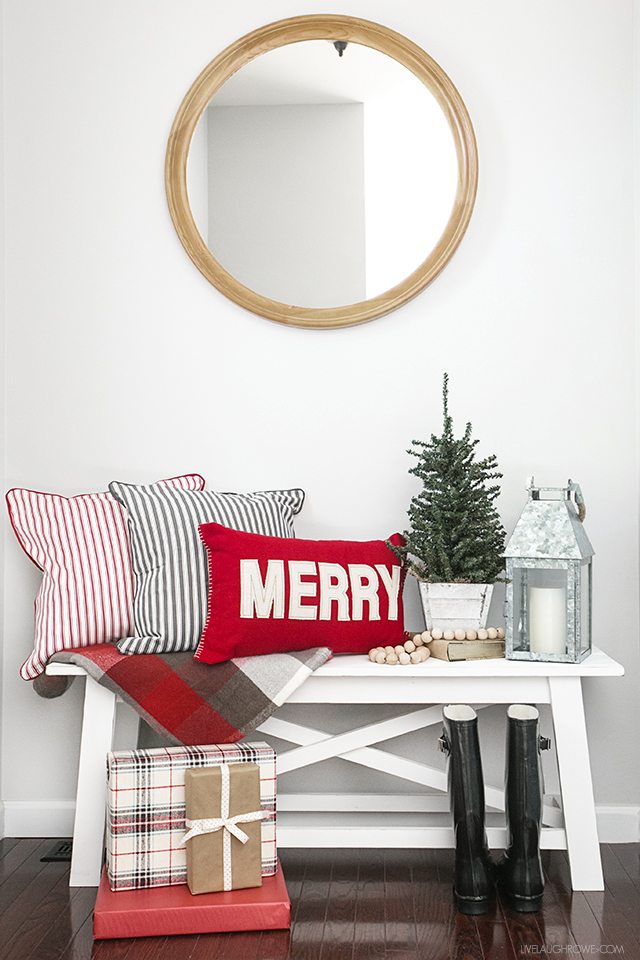 One year we simplified our Christmas and provided an entire Christmas of food and gifts for a family in need. I was listening to our local Christian radio station recently, as they often share listeners stories/testimonies in 90 seconds, and there was a story that made my heart swell.
A young lady from Russia shared that she had received a shoe box for Christmas from Samaritan's Purse Operation Christmas Child years ago. She was from a family of six and they lived in a two bedroom apartment at the time. All she wanted was a box of crayons, and she said that the Lord answered her prayers as she found that box of crayons in her Christmas box. I loved hearing her share that she is now studying to be an art teacher so that she can share her passion with students here in the states.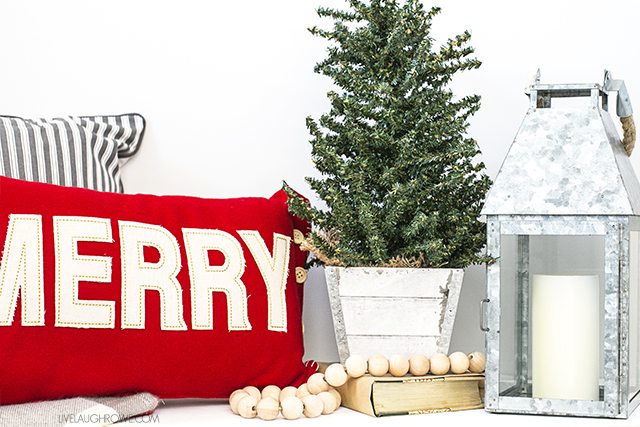 Sometimes we don't even realize how the small things (to us) can have such BIG impacts. I was also reminded how blessed beyond measure I am to have a beautiful home to decorate and share my love for holiday decor with you.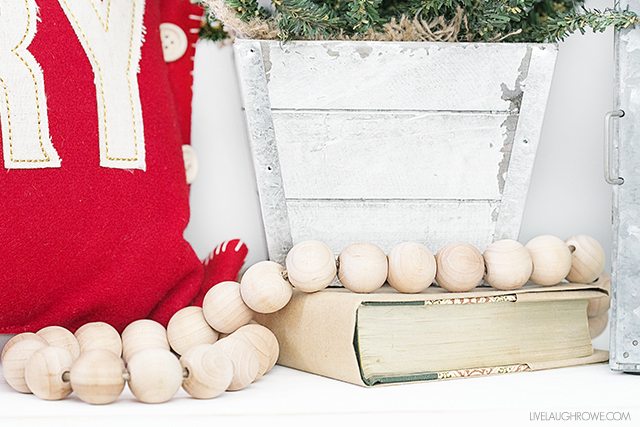 From pillows to wooden bead garland, kraft paper wrapped vintage books to galvanized lanterns — it's always so exciting to pair these pieces together in my home for the holidays.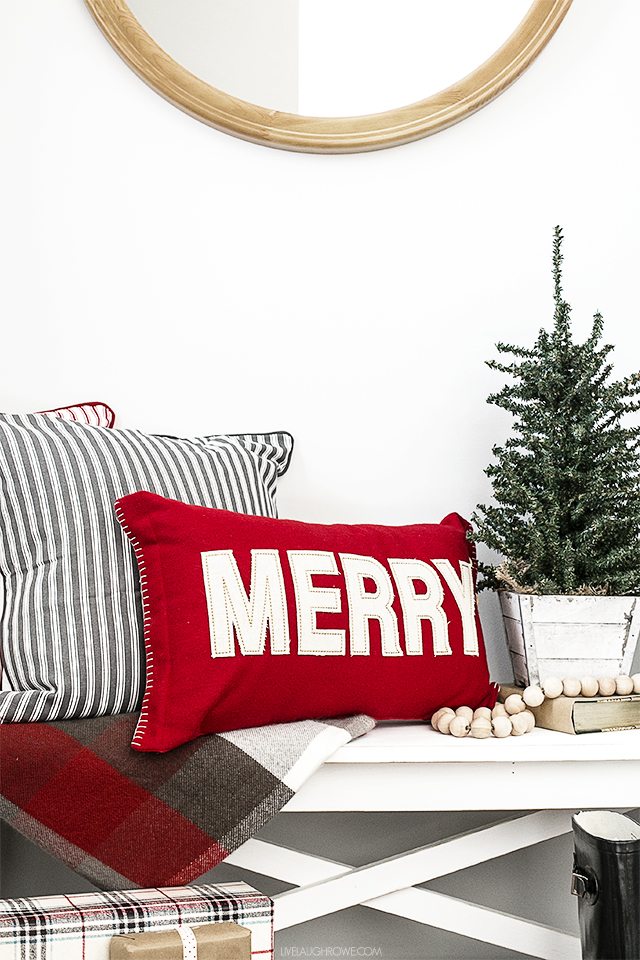 I hope you leave today, not only finding some holiday decor inspiration, but I hope you feel led to bless someone this holiday. Pay for the car behind you in the drive-thru, drop off a bag of groceries at a local pantry, call your church and ask if there is a family in need that you could bless. It's an incredibly rewarding experience to bless and feel that sense of joy in what you've done.
Be sure to visit with Rachel from Maison de Pax
in this tour of entryways, she won't disappoint! Enjoy…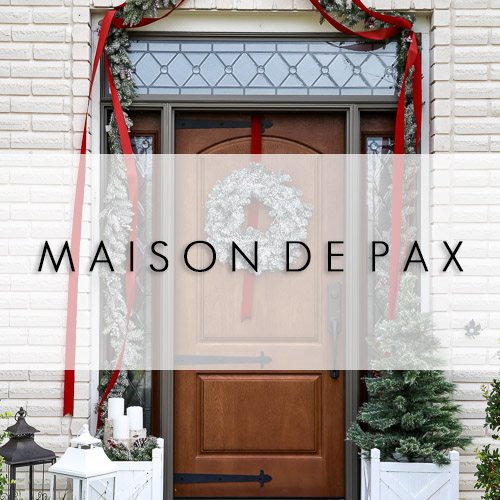 Be sure to visit with me here too:
Facebook | Instagram | Pinterest | Twitter | Google+