Simple Christmas Tablescape using Plaid
A beautiful and simple Christmas tablescape can come in all shapes and sizes. And whether you're hosting a party of two or a party of twelve, there's no reason you can't set a festive-themed table with items you have on-hand.
Surprisingly this is only the second Christmas tablescape I've shared on the blog. The first one was this Rustic Christmas Tablescape (circa 2016).
Be sure to sign up for my email to get
new recipes and creative ideas
sent right to your inbox!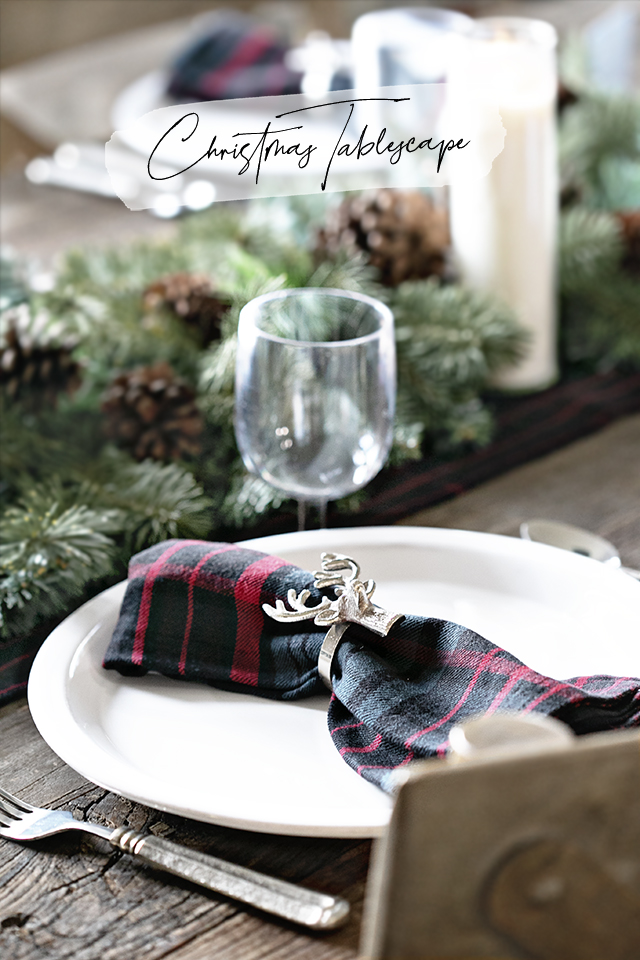 Christmas really is my favorite. I usually love having friends over and set a Christmas tablescape appropriate for the occasion. However, this year played out a little differently.
On the other hand, that's not stopping all of the holiday fun around here. In fact, holiday festivities are in full swing in the Rowe home.
Christmas decor up? √
Baking complete? √
Is shopping done? √ √
The only thing I haven't started is wrapping. But I'm not too worried about it though. There's plenty of time for those shenanigans. Haha.
Today I made a run to the grocery store to pick up a few things to get us through the week. So now Steve and I will hunker down and enjoy the week, stay warm, and sprinkle some wrapping throughout the week. Sounds fun, right?
There will be a lot of Hallmark holiday movies, candles burning, and cookie eating. Did I mention egg nog and hot cocoa too? Yes, please.
On Christmas Eve, we'll eat out for dinner. After that, I'll have my parents and siblings over for dessert. And then on Christmas morning, we'll head over to my parents for gift exchanging and brunch.
And since there will be no Christmas tablescape this year, let's take a look back in time.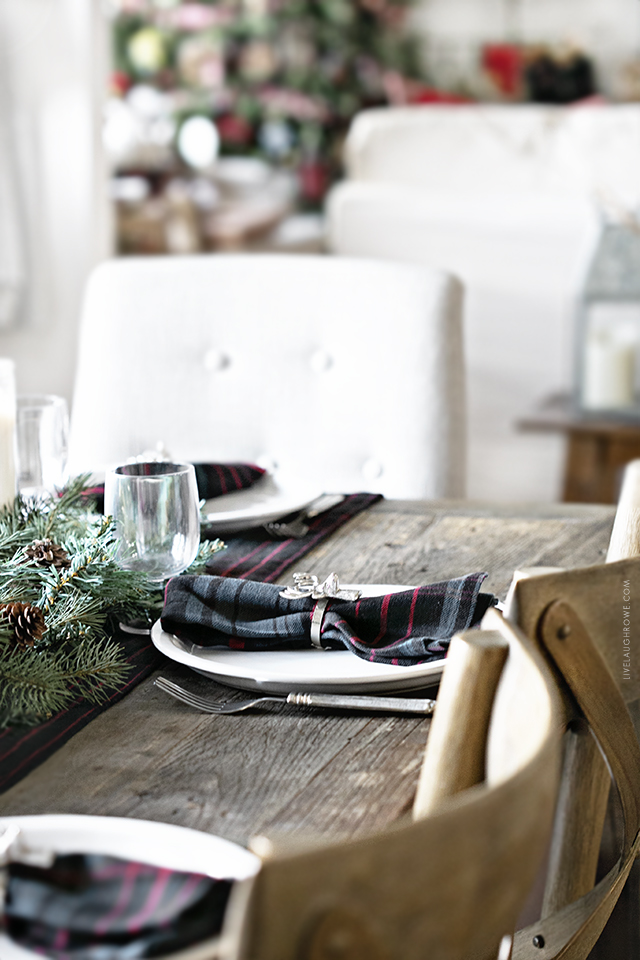 "A tablescape is a beautifully decorated table
that sets the mood of a gathering and makes
people feel special about being included."
(Unknown)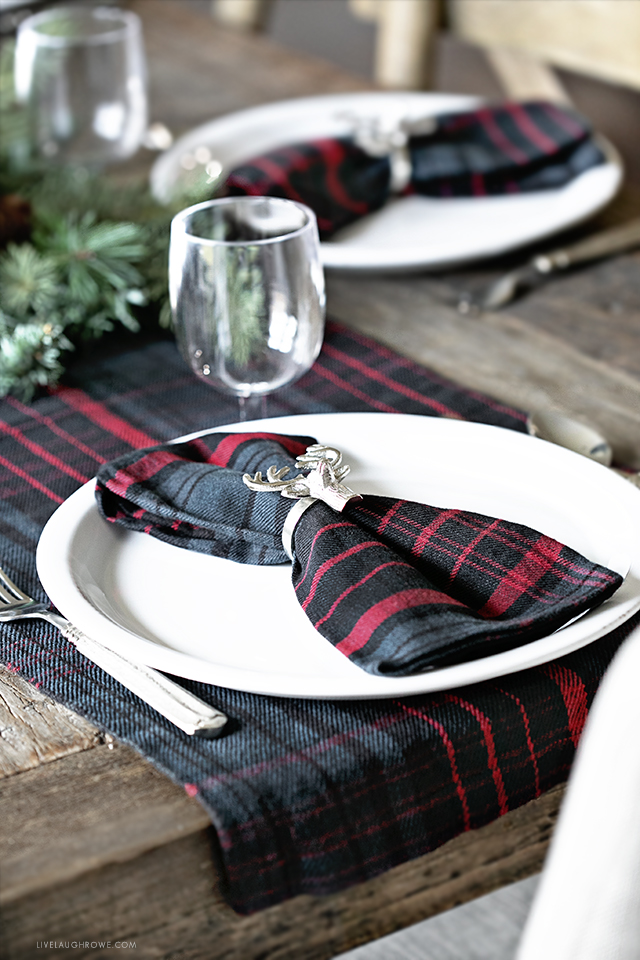 Simple Christmas Tablescape
The last time I hosted Christmas in our new home here in Rogersville, was back in 2018. Ironically I photographed it on Christmas Eve that year (if my memory serves me right), but I never did share it here on the blog. However, it's one of my favorites.
Last year my sister hosted and this year my mom is hosting, so I thought we'd take a quick look at my simple Christmas tablescape (circa 2018). If anything, I hope it sparks an idea and inspires you.
The rich deep colors in the plaid runner and cloth napkins are just beautiful. And the centerpiece certainly meets the themes, using simple faux greenery with white prayer candles. In short, it's perfectly simple and festive.
After the fact, I decided to add family conversation cards by each place setting. Several years ago I was introduced to TableTopics cards in a hotel gift shop.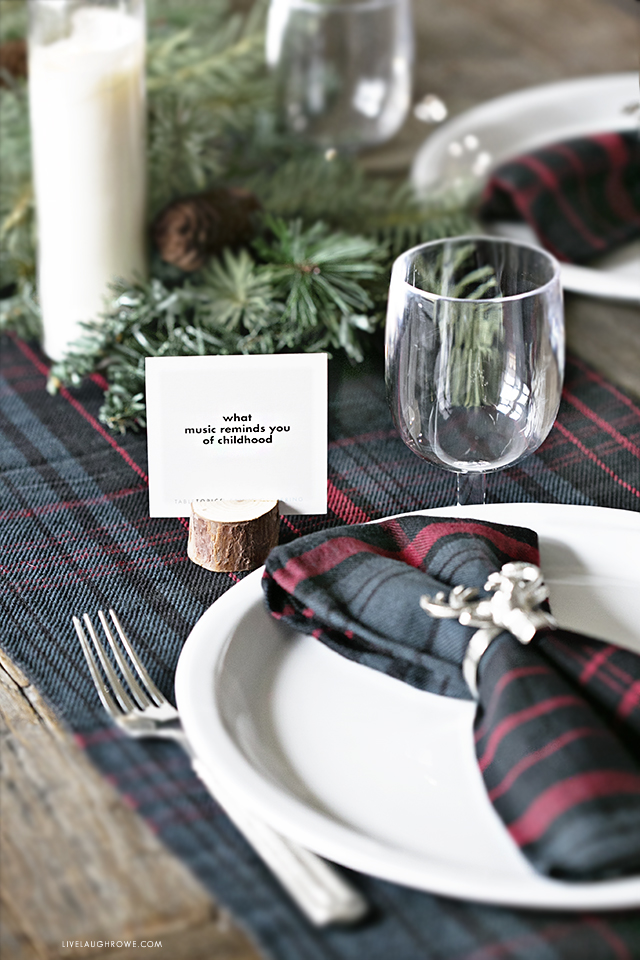 I found the cards to be genius and eventually bought the family gathering topics for family meals. They bring so many different questions and subjects "to the table." (wink-wink) Most importantly, we all enjoy using these.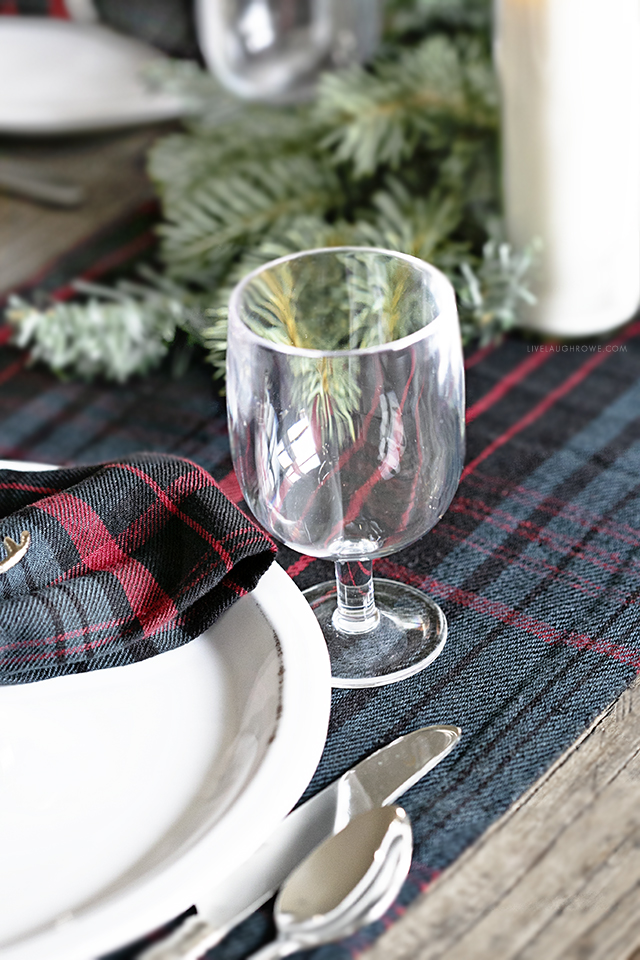 Product Sources for Simple Christmas Tablescape:
Runner and Napkins: Target (Hearth and Hand)
Marbury Dinner Plates: Crate and Barrel
Silverware: World Market
Acrylic Wine Cups: Crate and Barrel
Napkin Holders: Hobby Lobby
Conversation Cards: Amazon
Table: Restoration Hardware
Chairs: World Market
Connect with Live Laugh Rowe!
Facebook | Instagram | Pinterest | Twitter
Hugs and Blessings!