Well hello there! I'm back here, at Kelly's, with something yummy for you! I'm sharing a scrumptious breakfast recipe, although quiche makes a nice brunch and lunch as well. This Vegetable Medley Quiche never stands a chance at my house and is always gone in a flash!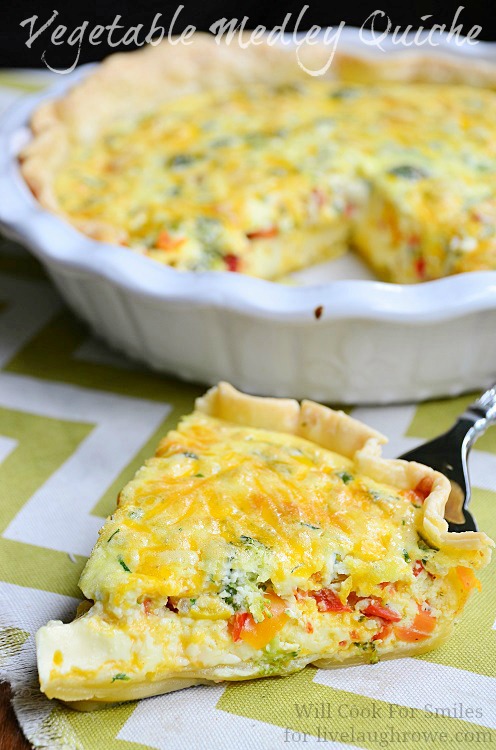 It seems like I was just here a little while ago, talking about the start of summer. Summer has just flown by and way too fast. It's mid-August already!
Is everyone in "back to school" mode? I know we are! It's double "back to school" time here since the little man and I are both going back this month. I'm not a huge summer fan because of the heat but I really, really don't want summer to end. It's just so nice to have the little guy at home and not having to burn the midnight oil over textbooks. Why do good things have to end?
This is one of the few good things that doesn't have to end … delicious food! You can remake all your favorite dishes over and over.
A simple recipe to make
for busy week nights
This quiche is very popular at my house. It's actually a much bigger deal than you might think! See, my husband is not a vegetable eater at all and my son is starting to be pickier and pickier. When I first made this quiche, it went something like this…
Hubby: "Ewww, it has broccoli in it!"
Me: "Eat it! It's really good!"
Him: "But it has broccoli and other green stuff in it!"
Me: "Humor me…just try it!"
…Took a tiny bite…
Him: "MMMM…did you know that it's really good?!"
He ate the whole thing and asked for seconds! Yep… I did know that it's that good! It's also really simple to make and re-heats nicely, which is great during the busy week days.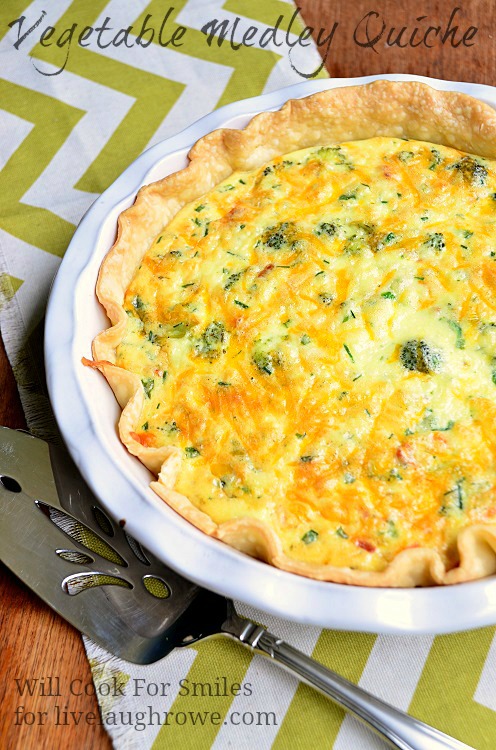 Vegetable Medley Quiche
Ingredients
6

Eggs

1/2

cup

heavy cream

1/2

cup

sour cream

substitute plain Greek yogurt for less fat

Fresh cracked pepper

3/4

cup

of shredded sharp cheddar cheese

1/4

cup

finely chopped yellow onion

1/4

cup

finely chopped carrots

1/4

cup

finely chopped zucchini

1/4

cup

finely chopped yellow bell pepper

1/3

cup

small broccoli florets

2

tbs

minced sun-dried tomatoes

1

refrigerated pie crust
Instructions
~Pre-heat the oven to 350.

In a medium pan, saute the chopped vegetables on medium heat until they reach desired softness. Add some salt and pepper and set aside.

Lightly grease a pie dish. Roll out the dough in the pie dish and even out the edges. Spread 1/2 cup of shredded cheese on the bottom of the dish.

Spread the vegetables over the cheese, evenly.

In a mixing bowl, whisk together eggs, heavy cream, sour cream, salt and pepper.

Pour the egg mixture slowly and evenly into the pie crust.

Sprinkle with the remaining cheese.

Bake for about 35-40 minutes. (The center will still giggle but will not be runny.)
Notes
Recipe from Lyuba @ willcookforsmiles.com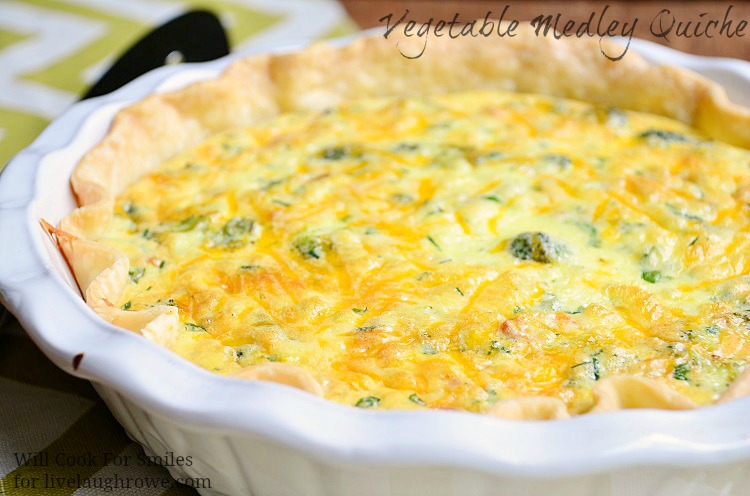 More goodies from Will Cook For Smiles:
Key Lime Cheesecake Pancakes
Coconut Crusted and Stuffed French Toast
Gouda Herb French Toast
Thanks for hanging out with me! Let's stay in touch!
Twitter | Facebook| Pinterest
Author,
Will Cook For Smiles

Food Contributor, Live Laugh Rowe