Happy hellos from the hot state of Missouri! Every morning I wake up thanking the Lord for our air conditioning. Whew! I never want to take that amenity for granted.
I have to admit that this might be the least exciting week to report in the history of the Weekender. Haha. Seriously, I've been sitting here thinking what an absolute bore this week must have been. 😆
Then I gave it a little more thought and remembered some of these highlights.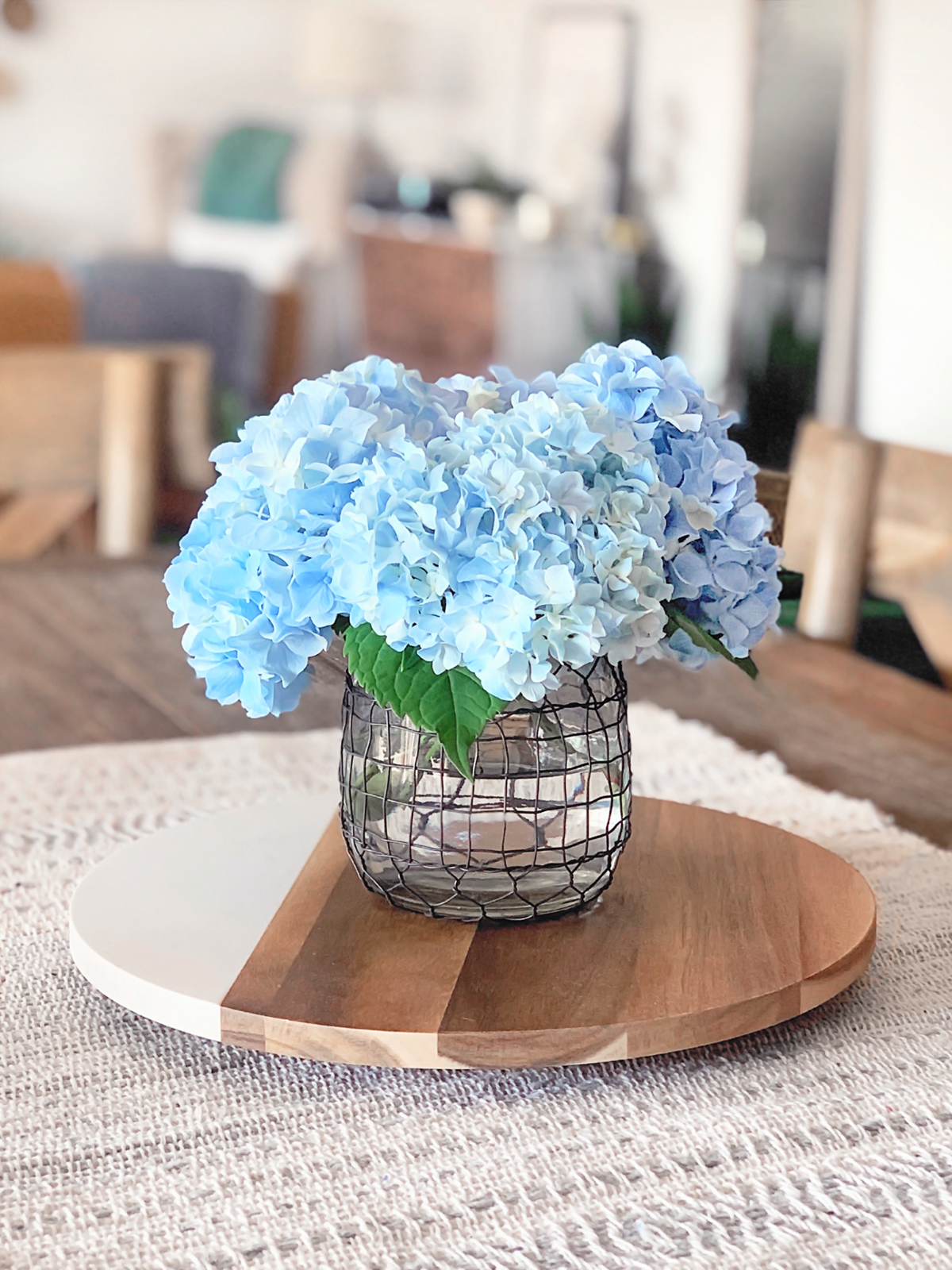 Miscellany:
1. Flowers. See those beautiful hydrangeas pictured above? Those are from my mom and dad's house. Aren't they pretty?
My parents have two sizeable beautiful hydrangea bushes with that lovely blue color. I've adored them all week. The last time I was in town, I asked if I could cut a few stems for display in my home.
I've heard they have to be cared for in a particular way. I would love one of them in my backyard — I'm just afraid I would kill it. 🤷🏼‍♀️ Any thoughts or input?
I clipped a few daisies too. Daisies are one of my all-time favorite flowers.
2. Father's Day. Spending last Sunday with my dad was a blast. It was a long day since I got up at 6:30 a.m. to attend church with them at 8:30 a.m. — and then Steve and I decided to stay in town rather than drive 20 minutes home again. I think we got home around 5ish.
Mom made spaghetti and homemade meatballs, per my dad's request (it's one of his favorite meals). And for dessert, we had cheesecake. I ate way too much but enjoyed the laughs and memory-making. We couldn't have asked for a more beautiful day either.
3. A Dinner Guest. I believe I mentioned that our neighbor recently had to put his wife in a memory care facility. I coordinated meals for J (for privacy reasons, I'll use the first letter of his name) and his wife before she declined and needed additional care.
Well, it's been about a month now. I continue to reach out to J to see how he's doing, and this past week Steve and I invited him over for dinner. We agreed that Wednesday, June 22nd, would be that night. I looked forward to getting to know J better and hearing his story.
As we sat down to eat, J said, "Well, today — June 22nd, that is, is a tough day. Today is our 49th wedding anniversary." My heart sank, and I panicked a wee bit.
At first, I felt terrible. I had no idea! So I said, "Gosh, I had no idea. I hope you don't mind spending it here, having dinner with us."
"Oh no, this is where I need to be. It's perfect."
At that very moment, I knew God had perfectly orchestrated our dinner together. And I learned so much about J and his family. What a blessing.
And might I also mention that this is the very first time in our married life (14 years this November) that we've ever had a neighbor over for dinner. I'd never even taken a meal to someone before we moved to Rogersville.
I'm trying to stretch myself outside my comfort zone. Learning to yield to the voice of the Lord isn't always easy.
My devotional book is challenging me to brave when I might be feeling fearful or experiencing anxiety. Sometimes I scream and kick (theoretically, of course), but I'm stepping out in faith, trusting the Lord knows much more than I do. So, if He wants to use me for His glory — I'll take those baby steps.
4. New Bed Frame. The new bed frame arrived earlier this week (insert happy dance). We assembled it in about 10-15 minutes on Thursday night — and I'm in love. I'll be sure to share pictures after we decide on our nightstands. Mmmkay?
Here's the inside scoop, though — we did go with the following:
Birch Bedframe
Casaluna Quilt
Pillow Shams
Sheets (Kaylo Global)
Casaluna Throw Blanket
At the end of the bed, I placed this stool and this basket (to hold blankets). And these are the nightstands we're hoping to have. I ordered them to see if they'll work. 🤞🏻
So, the bedroom refresh is officially in motion. Woo-hoo!
5. Heat + Pool. I'm not sure what the temperatures are like in your neck of the woods, but like I mentioned last week, it's been hot-hot-hot here. So, we got a pool. #NOT. Correction, my parents got this pool (from a pallet group) which I will use at their home or borrow. Hee hee.
Isn't that the cutest? I love the unwashed marigold color — and guess what? It can hold up to 3 adults! Yep, THREE adults. Go forth and buy this cute pool. Mmmkay?
6. Exercise. With the heat, I've been trying to get up earlier to walk and/or ride my bike before it gets too hot and unbearable. If I'm being truthful, I'm not an early riser. Self-employment has ruined me. I'm usually up too late; therefore, I sleep until 8:30-9 a.m.
This week, I was proud of myself for getting up around 7:30, drinking a cup of coffee, splashing cold water on my face, and heading out to walk a couple of miles. I believe I succeeded 4 out of the 5 (work) days (M-F). It's a small (and probably somewhat silly) victory, but a victory nonetheless. On most days, I also followed the walk with a 2-mile bike ride.
And mad props to my husband for always being the early bird — and helping me get up. Haha. He's also my walking buddy.
Around the Web:
This Book.
These Power Strips (with USB).
These High Waisted (and super soft) Yoga Shorts.
These Switch Plates. 😍
This Simple Patriotic Banner.
Flag Decor Ideas (for around the home).
These Caramel Macchiato Popsicles.
This No-Churn Peaches & Cream Ice Cream.
These Foil Packet Recipes for the Grill. Snack Ideas for Road Trips.
These Yogurt Bites (for kids of all ages).