It's a beautiful Saturday morning and thank goodness for the weekend. Can I get an amen?
Alrighty then. It's been a couple of weeks, so who's ready to catch up…
Miscellany:
1. Well, our trip to Gulf Shores has come to an end. We had a nice time; however, we were both ready to get home sweet home.
The first week it rained and there was a chill in the air. Womp womp womp. Thankfully, the second week we had a lot of sunshine and 60º weather. PTL!
We both worked while we were away. Of course, we made time to do some of our favorite things (walking the beach, walking the trails, outlet shopping, eating fried pickles, sitting by the bonfire, and more). In short, it was nice to have a change of scenery.
Of course, we ate at Tacky Jacks again… it's one of my faves. And don't even get me started on their Amaretto Peach Blossoms. So good. Mmm, so stinking good. I hope to recreate the recipe at home and share it with all of you at some point.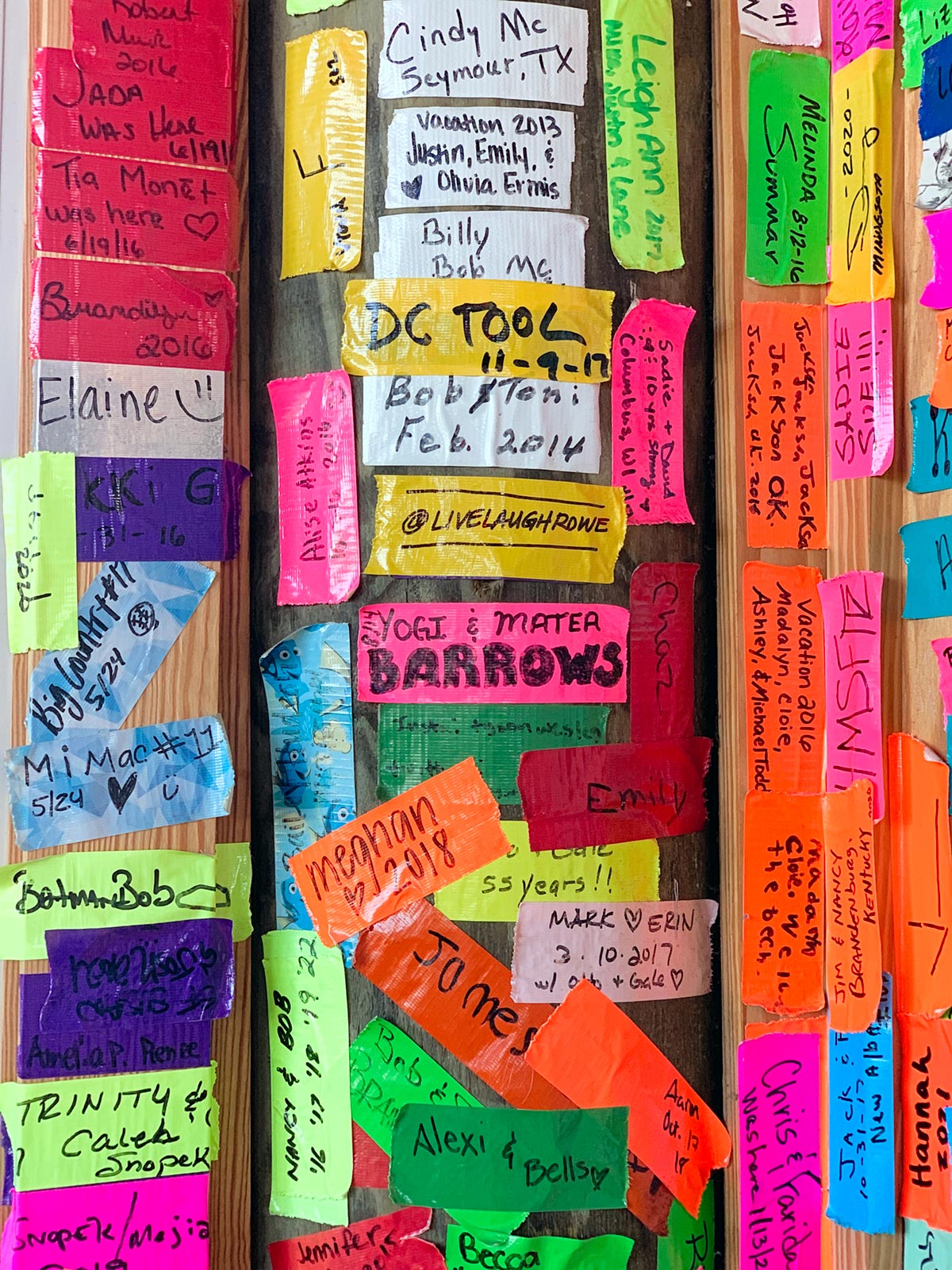 Then there's the tacky duct tape decor. Do you spy my contribution in the photo above?
2. How adorable is this video clip? Kitchen. Chicken. Kitchen. Chicken.
3. A new month meant a new book for my "read a book a month" challenge. I brought The Perfect Marriage: A Completely Gripping Psychological Suspense with me to read while in Gulf Shores and I think finished it within a few days. Haha. I couldn't put the silly book down.
What's funny is I heard a bunch of college girls talking about how good the book was in Barnes and Nobles. So, of course, I had to read it for myself. It was EXCELLENT.
Disclaimer: I'm not easily offended when reading books with language or descriptive love scenes. This book includes both of these, so please keep that in mind if you consider reading it.
4. Did you know that pinecones open and close? While in Gulf Shores, the walking paths near our campground were full of pinecones — both open and closed.
It reminded me of a funny story. One time my sister had some smaller pinecones in a sealed jar. And one day, the jar burst — because one or two of the pinecones were closed and they had expanded. Of course, my sister was like, "what just happened?"
Apparently, they respond to humidity and temperatures. Warm and dry, they open. Cold and damp, they close. (Or something like that… any insight is welcome).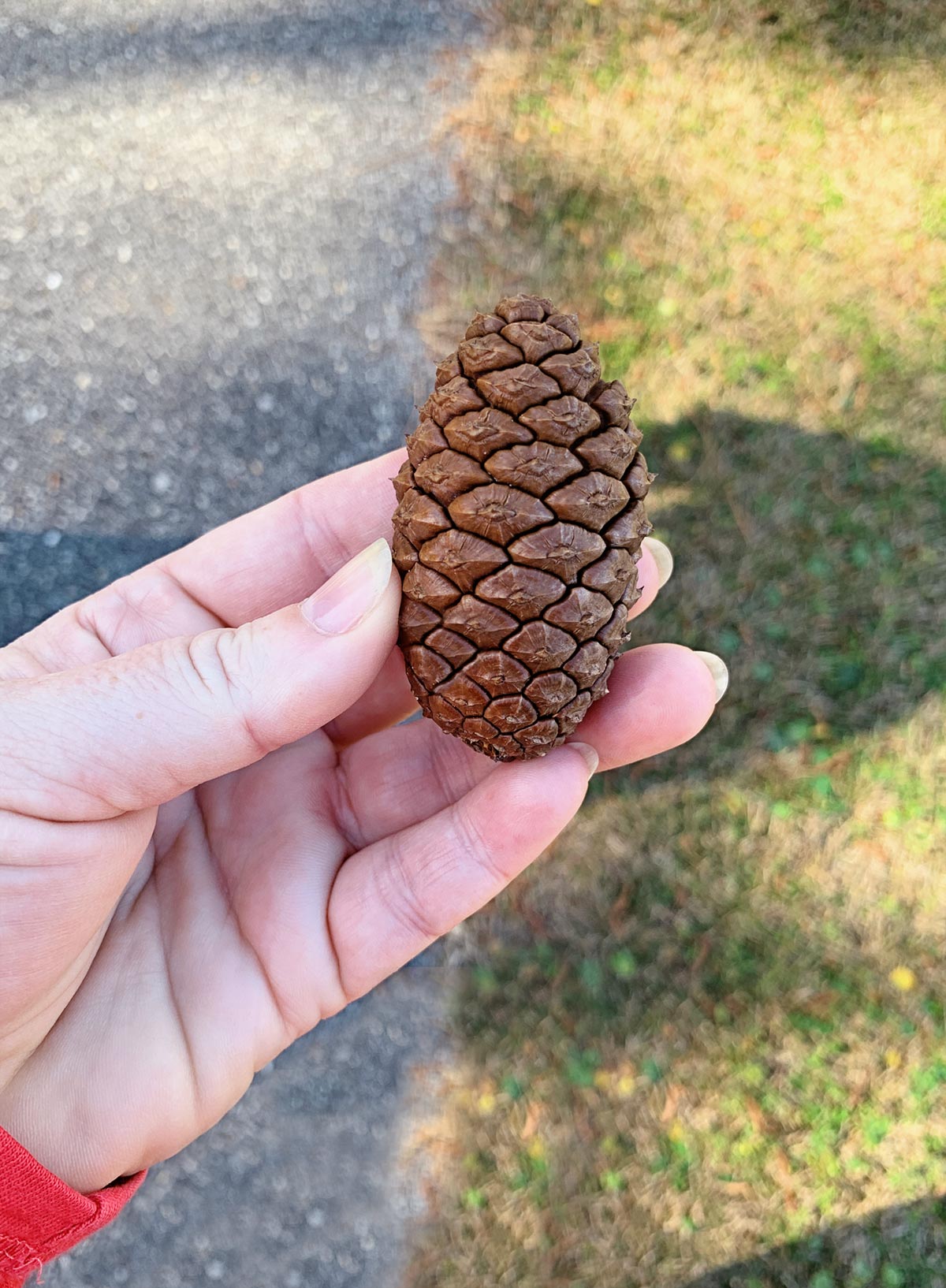 While walking one day, I snapped a picture of one of these closed pinecones and sent it to my sister. We both had a good chuckle.
5. Random Fact. Since the Winter Olympics is currently taking place, I thought this was interesting. Did you know that competitive art used to be an Olympic sport? Yep. Between 1912 and 1948, international sporting events awarded medals for painting, music, architecture, and sculpture. Who knew?!?
6. I shared these Retro-Inspired Mini Card Valentines on the blog this week. Oh my goodness gracious, I love these. Tags, Stickers, Seals? Yep, you can print and use them in several different ways.
7. This Collapsible Salad Spinner is genius! We bought one for the camper since storage is at a premium. I didn't know what to expect, but I'm impressed. If you're short on space in your kitchen, this spinner is worth every penny.
8. Does Anyone love notebooks as much as I do?!? I buy them all the time. My husband sees me looking at them and says, "You don't need any more notebooks." HA! I do use them… and hoard them. LOL. Then I found these ideas on what to do with empty notebooks. Winning.
Around the Web:
This: Aluminum Foil in the Dishwasher?
These No Spend Challenges.
This AMAZING DIY Antique Mirror.
These Bubble Gum Valentine Printables.
This Denim Shirt (in medium indigo). 😍
These Vintage Pyrex Bowl Stickers.
This Philly Cheesecake.
These Easy Slow Cooker BBQ Chicken Wings.
This Orange Scone Recipe.