Years ago, when in college, my sister went on a summer choir tour. One of the homes she stayed at served fruit with a pistachio fruit dip. Kristine came home raving this yummy delight, and we've been making it ever since.
Psst! Let's keep in touch! You know you want to… Be sure to sign up for e-mail updates! Click on that SUBSCRIBE button in the upper right-hand corner, or use the subscription box in the sidebar. As a result, you'll get some happy mail in your Inbox.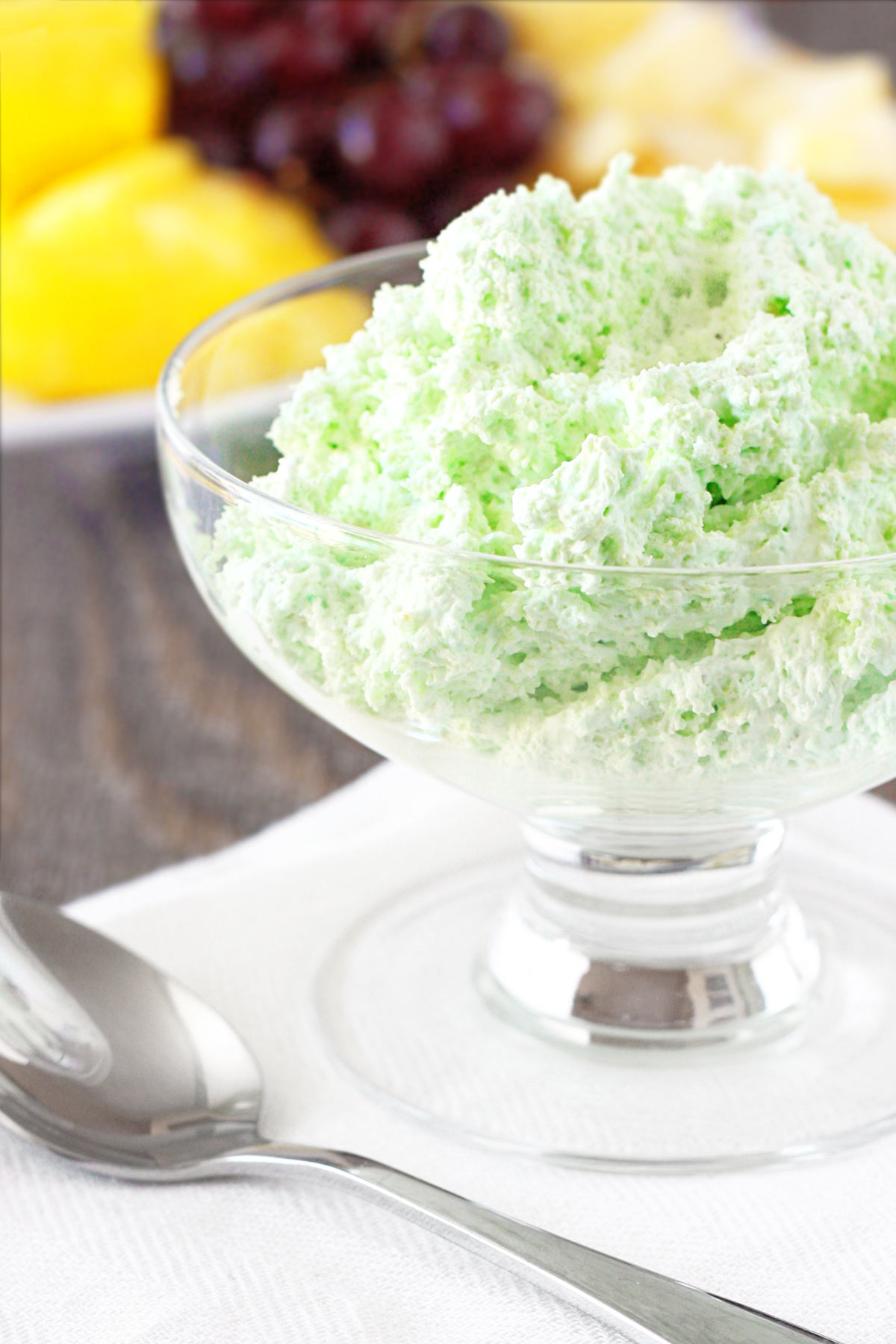 Sometimes I feel like "I'm a day late and a dollar short" for some of my holiday posts. Big fat sigh! Who knew that St. Patrick's Day was going to creep up on me so fast? Ha! Oh well. I at least deserve an "A" for effort, right?
Well, if you like cool whip and you happen to have pistachio pudding mix hiding out in your pantry — you're in some kind of luck. Luck of the Irish, that is. Wink wink.
It's green and it's yummy, so I thought this might be the perfect time to share. A great treat for the kiddos or brunch food for friends and family.
Pistachio Fruit Dip
Ingredients:
Cool Whip
Pistachio Pudding Mix
Fruit
Mix the two ingredients together and serve.
Aaaaand that's it! I don't know about you, but I'm ready to nose dive into that dish. Haha. I'm telling you — this is one yummy fruit dip.
If I'm being completely honest, sometimes I forget about the fruit completely. Hee-hee.
Enjoy this delicious and reasonably healthy treat. Did I mention the green color making it a great addition to your St. Patty's day festivities? Yes, it's a light green, but you can always add a little green food coloring to darken it up. Enjoy and have a Happy and safe St. Paddy's Day, friends!
Other Dips to try:
Cannoli Dip
Apple Dip
Black Bean Dip
Easy Garden Salsa
Pistachio Fruit Dip
Ingredients
1

tup

Cool Whip

1

box

Pistachio Pudding Mix, dry

Fruit, for dipping
Instructions
Mix the cool whip and pistachio pudding together in a bowl.  Chill in the refrigerator or serve immediately.
Notes
Points+ Value:  1/8 cup = 1 point