Slow and Steady wins the Race has become my motto these days…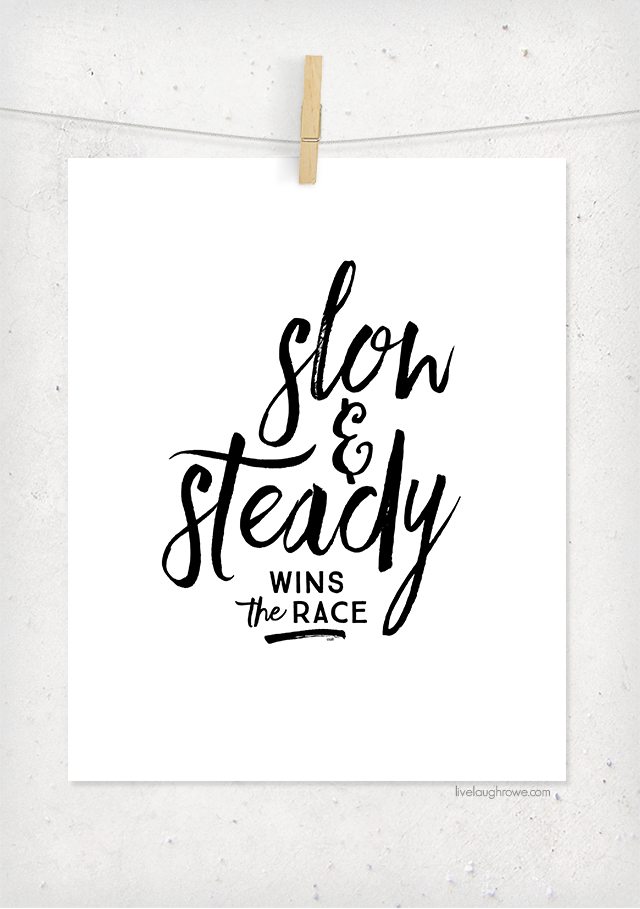 Today I wanted to share some life updates — no crafts, no recipes, just real life. I have an update on my shoulder surgery and some really exciting news (if you haven't heard), but we'll get to that in a bit. Let's start with a HUGE life lesson that seems to be kicking my butt.
Last year, I had some serious trouble with my right shoulder (my dominant arm, of course). I woke up one morning, thinking that I had slept on it funny. About a month after the fact, I thought I better get it looked at. After several doctors appointments, physical therapy and multiple cortisone shots, it was decided that I needed an MRI.
The MRI showed a tear in my rotator cuff and arthritis in my AC joint. Good times, right? To make a long story short, surgery was scheduled for January 12th. The doctor told me it would be a good 6-8 months for total recovery. Phew, that just seemed like a long time, but necessary… While in surgery, they did a third procedure, removing a bone spur (which may have caused the tear in my rotator cuff). I had three small incisions and one larger one. I'll spare you the gore of those pictures (wink).
I was in a sling for 3 weeks — and pretty doped up on pain killers. Knowing I had a long recovery ahead of me didn't prepare me for the day to day restrictions. Sigh. Here's a pic of how I look most days. I snapped this the week after surgery, as you can see I'm sporting my fancy sling. Can you say hot mess? No makeup and messy hair (don't care). Ha!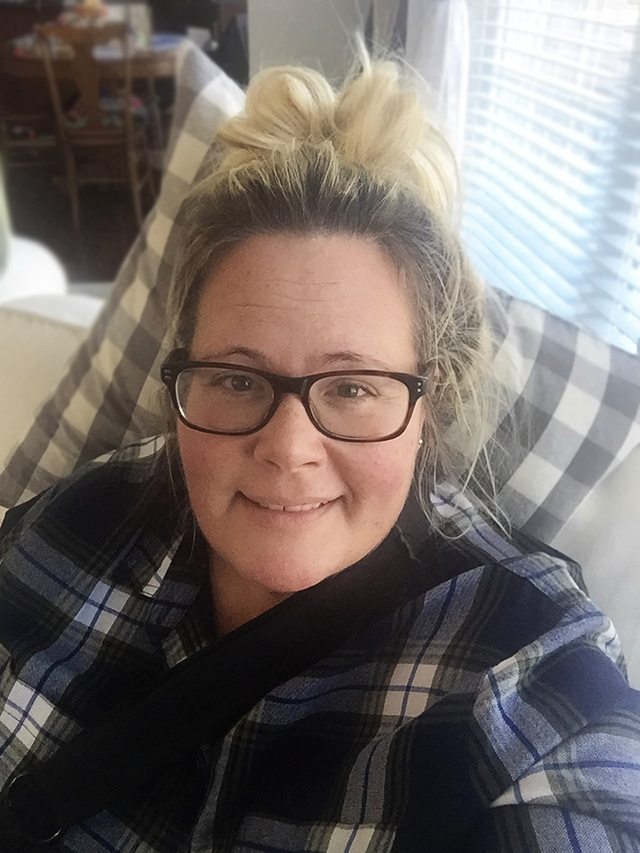 Well, I'm officially six weeks post-op and having to practice the art of patience. I still can't shower on my own, dry my hair, style my hair, put a bra on myself, and so much more. I'm still wearing elastic pants and button down shirts too. It's humbling and, if I had to be perfectly honest, it's getting old. I cried quite a bit this past weekend, after finding out from my physical therapist that it could be another three weeks before I can resume some of these restrictions. The upside is that I can drive…
Right now, every Monday, Wednesday and Friday I get up with my husband around 6:30 a.m, so he can assist me with my bra. I head out around 8:15 a.m. to stop by and see my sister at her place of employment, where she pulls my hair up in the backseat of my CRV. Is that love or what? Then I'm off to physical therapy for an hour to an hour and a half. I usually take a long nap after PT, pain is exhausting, that is a fact.
Computer work has to be done in spurts and I haven't picked up my camera in weeks. For a creative person, this has been incredibly challenging. You have a gazillion ideas going through your head and can't do anything but jot them down in a notebook. To keep my mind off of all the work I should be doing, I've done a lot of Netflix binge watching…. I'm officially hooked on Scandal, How to get away with Murder and disturbed by The Making of a Murderer series (I could write a whole post about this show).
All in all, I have to remind myself daily that slow and steady wins the race… I certainly don't want to rush this process, because I can't imagine having to go through it again. I'm having to practice patience every. single. day. I've realized how much I take for granted in having two functioning arms and my gratitude for my sister and husband is off the charts!
Maybe you're facing something and it's hard to see the light at the end of the tunnel. I hope this post reminds you that you're not alone and YOU CAN DO IT! Here's an 8×10 print of my new motto if you're interested! I'll be hanging it in my multi-purpose room as a daily reminder and inspiration!
*Please Note: All printables and downloads designed by Live Laugh Rowe are for PERSONAL USE ONLY. Please do not alter the file or claim it as your own. This file is not intended for resale, nor are the printed versions of this file. Font: Faith & Glory
Now, about that exciting news!!! On January 14th (two days after surgery), I received an e-mail announcing that I had won the Design Dash challenge!! What the wha??? I think I read the e-mail a dozen times before handing the phone to mom and asking her if I was reading it correctly.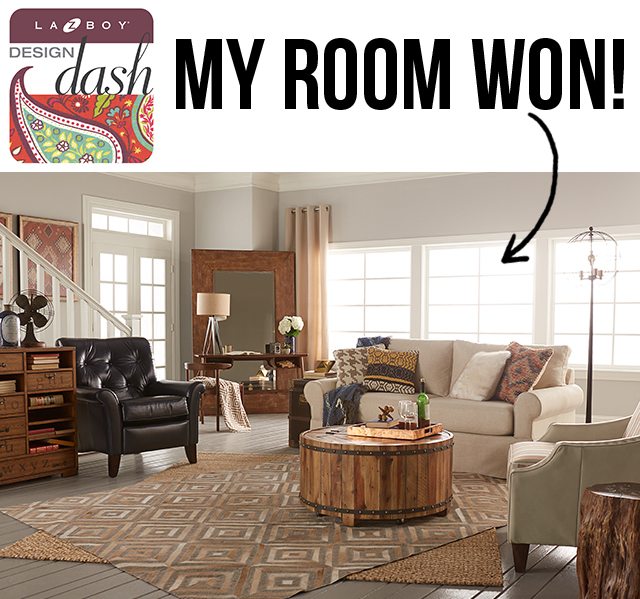 Woo Hoo! I honestly don't think it completely settled in for a week or so due to the pain killers, but I am so incredibly honored. Many thanks to those of you who voted for my Boho Chic room. I'll be featured in the March issue of Domino Magazine. Sooo stinking exciting!! A BIG THANKS to La-Z-Boy for the opportunity to participate in the event!
So, there you have a quick update on what's been happening around these parts! I've been blessed to have some blog friends help out with guest posts and I hired some help as well… things have stayed afloat while I've been recovering and I couldn't be more grateful. Thank YOU for being such a big part of this blog too. Without the readers, this blog is nothing. I hope you leave today feeling loved, in the loop and encouraged. HUGS all around!

Be sure to visit with me here too:
Facebook | Instagram | Pinterest | Twitter |Google+
Linking up to Between Naps on the Porch