Simple and Beautiful Christmas Wrapping Ideas
Find packaging inspiration this holiday season with these Christmas wrapping ideas. They're simple, beautiful, and affordable but won't break the bank.
Recently a friend shared on Facebook that she loves everything about Christmas, except the wrapping. So my first thought was, "what?" Haha.
Wrapping is something I enjoy. It doesn't have to be scary, overwhelming, or expensive. Most importantly, have fun.
Be sure to sign up for my email to get
new recipes and creative ideas
sent right to your inbox!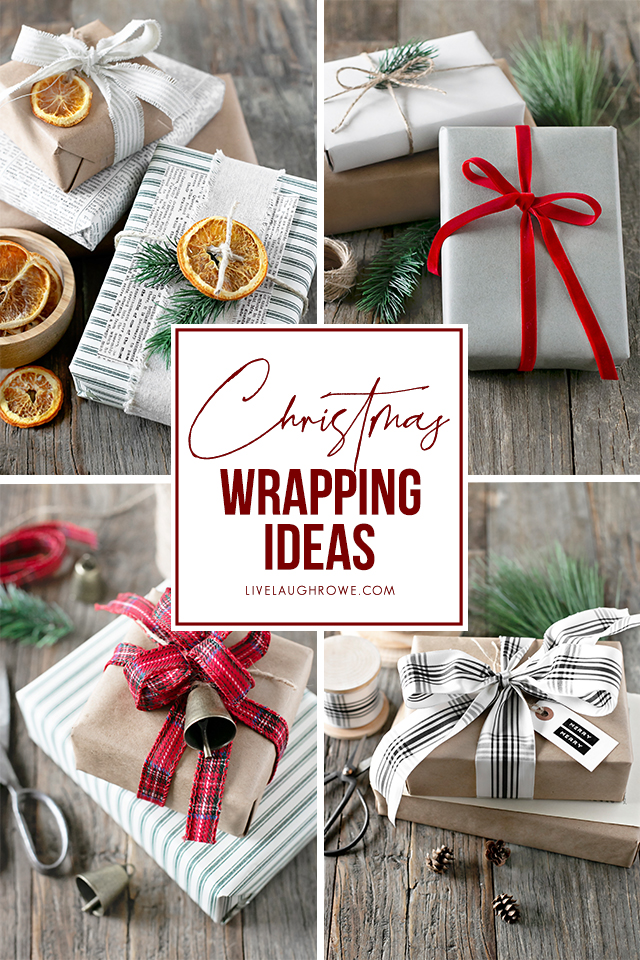 If there is one thing I love about gift-giving — it's gift wrapping. So many papers, ribbons, tags, and more to choose from. There's certainly something to be said about adding a little extra TLC (tender loving care) to the packages.
This year I thought I would share a few Christmas Wrapping Ideas with you that won't break the bank. And most importantly, they're simple and beautiful too.
What is a unique way to wrap presents?
A unique way to wrap presents is something that can be done simply with supplies you probably already have on hand. For example, adding a unique/handmade gift tag, beautiful ribbon, newspaper clippings, kraft bags, kraft paper, and more can take presents from drab to fab.
So let's jump right in and take a look at a few different Christmas Wrapping Ideas ideas. I'm pretty darn excited to share them with you. And, of course, I recruited my sister to join the fun. Her gift wrap is always well thought out and attentive to every single detail.
Other Christmas wrapping ideas:
Creative Gift Wrapping
Holly Berry Muslin Gift Bags
DIY Burlap Gift Bags
Printable Gift Tags
Wood Slice Ornaments
Black Gingham Printable Pillow Box
And here we go, simple Christmas Wrapping Ideas.
Christmas Wrapping with Greenery Stems
Here I used boxwoods stems that I cut off of a bush in our front yard. But, artificial stems could work too. And as you can see, the placement doesn't have to be anything fancy. Buy a few mini grapevine wreaths to use the boxwood stems as accents.
We used some faux berries on the wreath to add a pop of red too.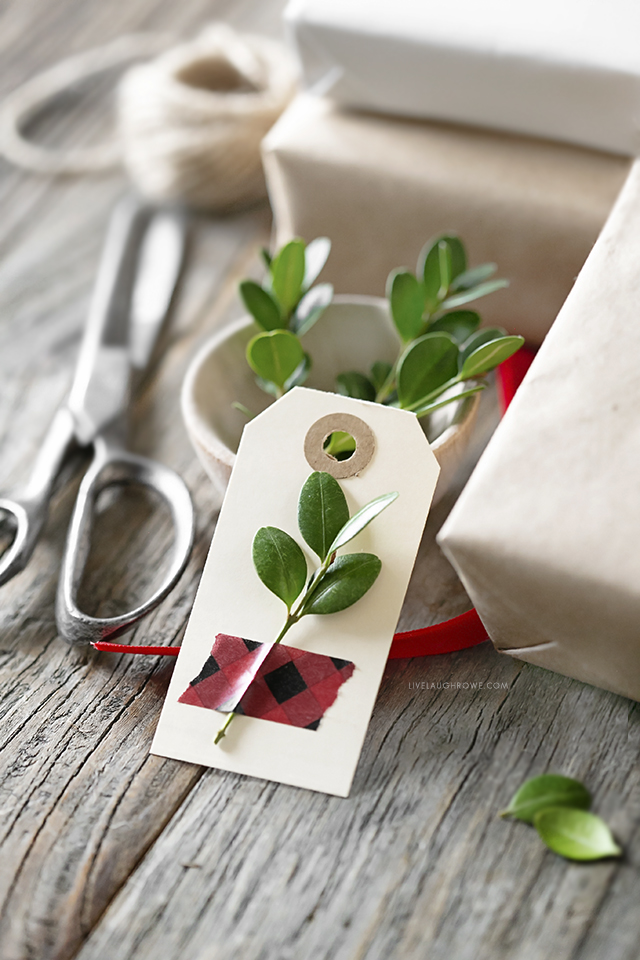 Similarly, tape a sprig of greenery to a manila gift tag. I am obsessed with this idea. So easy yet pretty spectacular, right?
Sophisticated Black and White
How about the simplicity of using some black and white ribbon with kraft paper for a Christmas wrapping idea? In short, I have always been a fan of using kraft paper as wrapping paper. It's so versatile. I love kraft paper.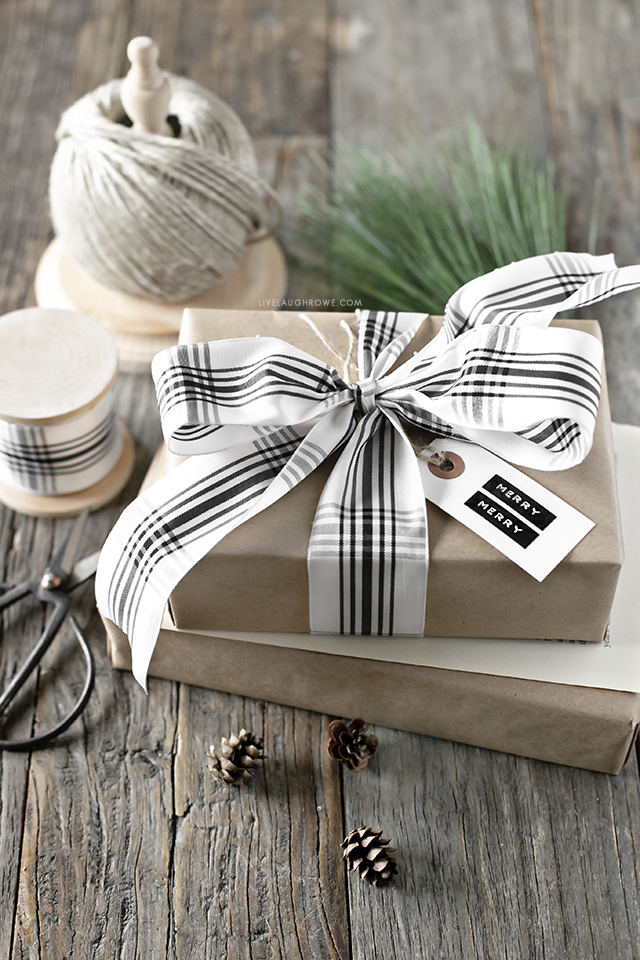 A great idea for a super simple gift tag idea is using a Dymo (embossing label maker) for a message or name on a gift tag. I do this a lot and love-love-love it.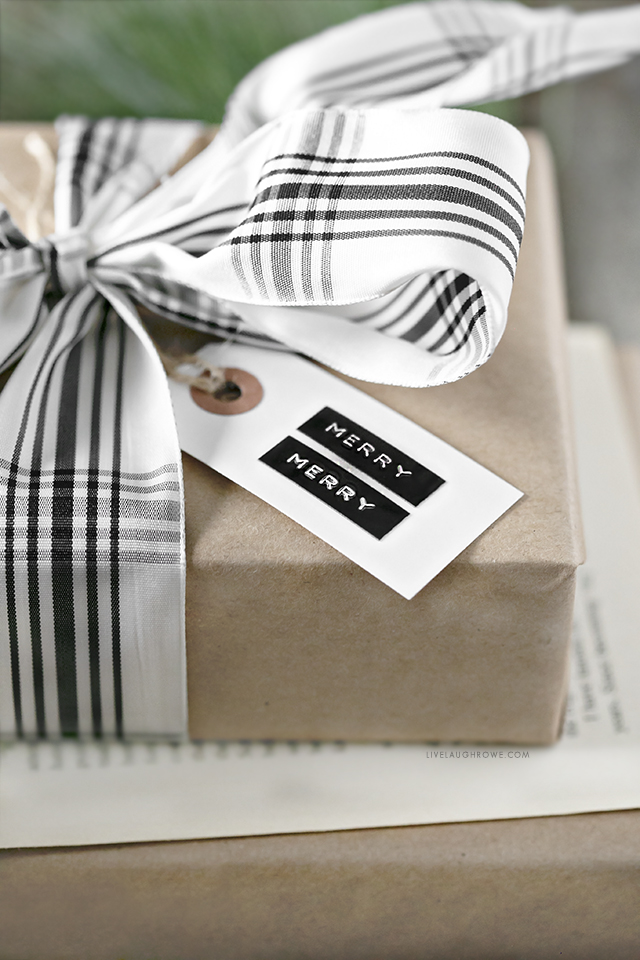 The black and white ribbon used is from Hearth & Hand by Magnolia; however, you could find a similar ribbon on Etsy or at your local craft store. Using a wired ribbon is my preference. It allows you to manipulate the look of the bow, etc.
Christmas Wrapping Ideas: Gray and Red
At some point in time, I found an image on-line that used gray wrapping paper and a deep red velvet ribbon. It was love at first sight. Therefore I bought a red velvet ribbon and some gray wrapping paper to put to good use.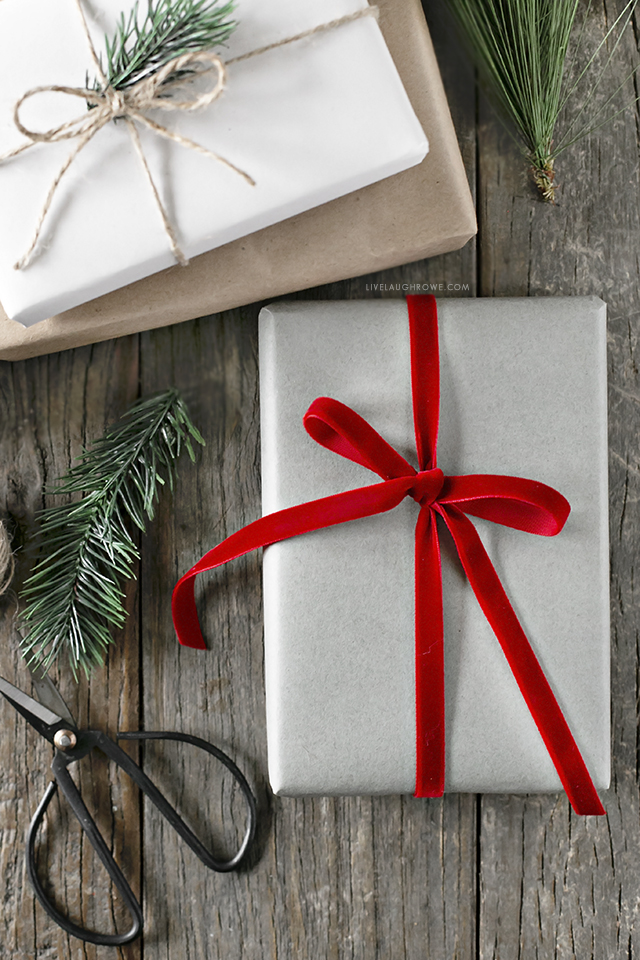 Seriously, it's a very simple look — but it's quite sophisticated and beautiful too. A Christmas wrapping idea that can look so lovely and rich is a win-win for me. I do want to find a deep burgundy to use too.
Let's be honest, dried oranges are pretty amazing. They can be used in potpourri to make our homes smell amazing, strung as garland, decorations, garnishes, and more.
Of course, I'd like to dry oranges on my own at some point; however, I scored a small bag at a local boutique this fall. And as a result, I put them to use on some packaging. Woo hoo.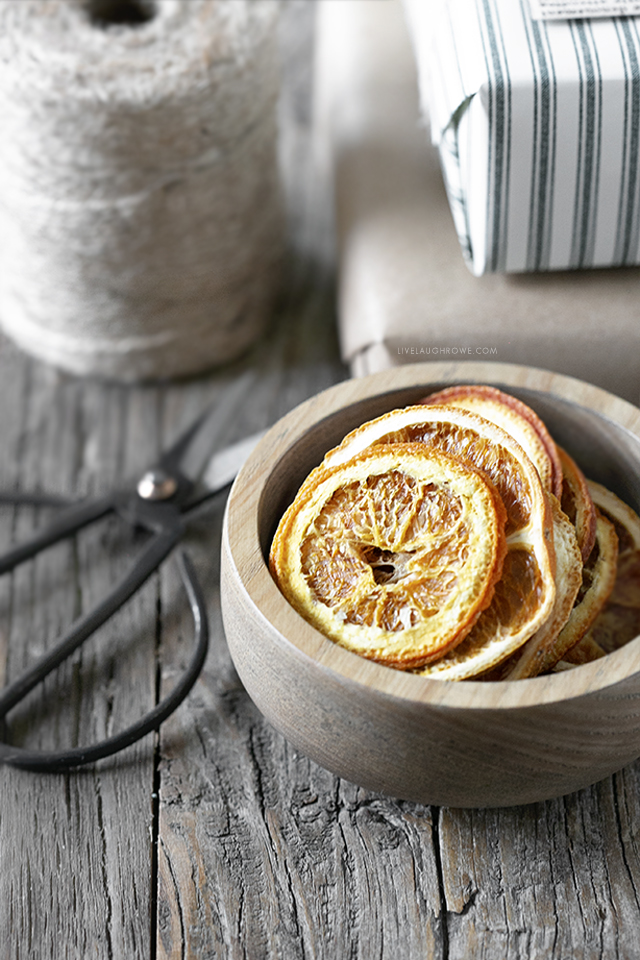 It's crazy how something as simple as dried oranges can add so much charm to so many Christmas wrapping ideas. Right?
Below I wrapped the package with a green ticking wrapping paper (from Hearth & Hand by Magnolia), embellished it with a piece of newspaper and a strip of frayed fabric. After that, I tied in a slice of dried orange and added a faux pine stem to complete the whole look.
Isn't it perfectly simple with a sprinkle of elegance?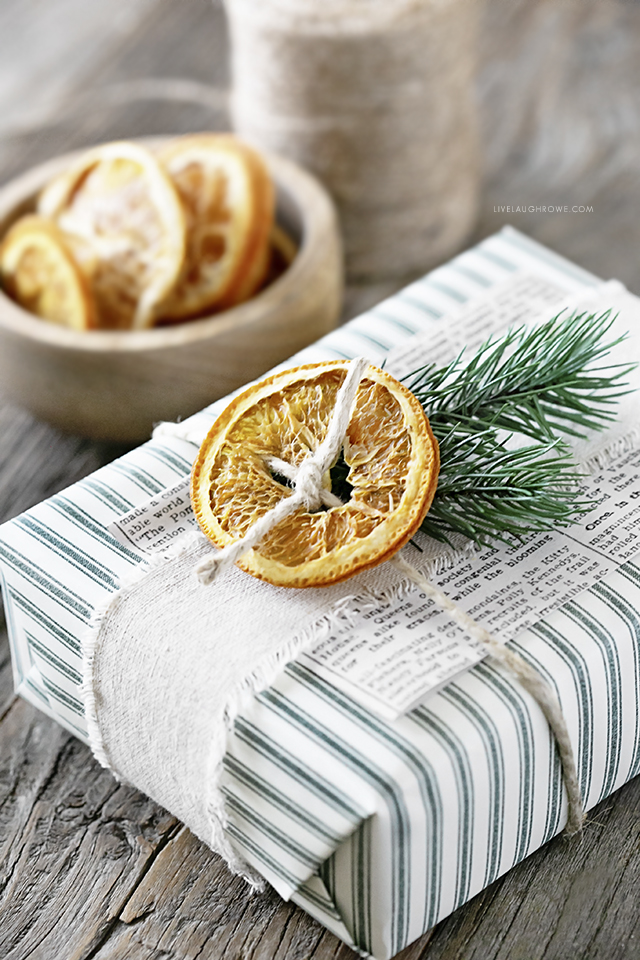 Brass Bells and Ribbon
And last, but certainly not least, we have the use of a red plaid ribbon (that is also wired) and a vintage style bell. The ribbon was purchased at Walmart and the bells are from Hobby Lobby. In short, it's sweet and simple.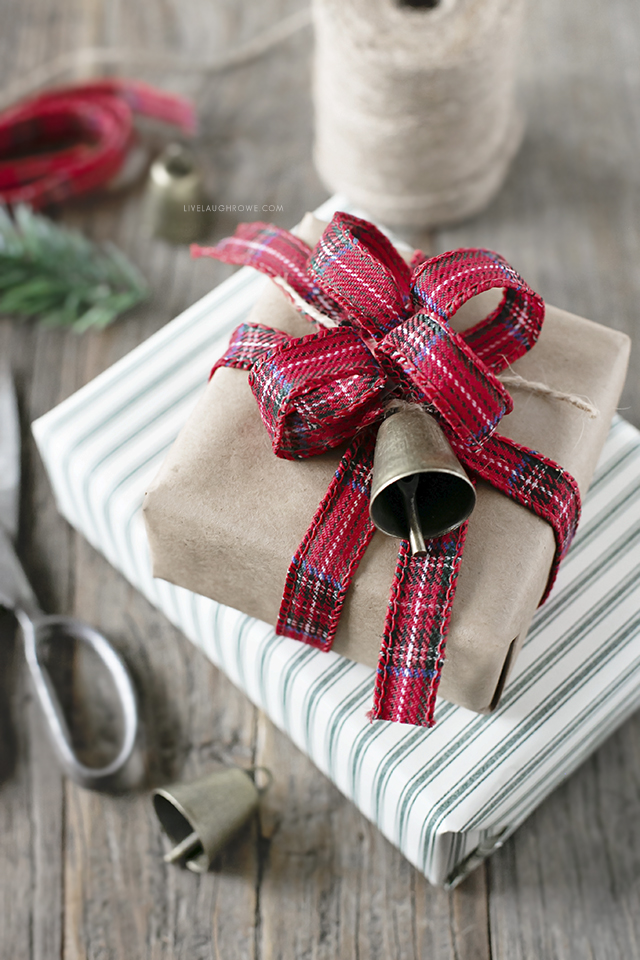 I hope you leave feeling inspired, friends. Have fun, think outside the box, and happy wrapping.
Connect with Live Laugh Rowe!
Facebook | Instagram | Pinterest | Twitter
Hugs and Blessings!