Hosting Christmas breakfast, brunch, or dinner this year? Check out my simple Christmas Table Decor with hints of plaid, greenery, and the cutest little place card holders. In short, it's festive, simple, colorful, and easy to pull together.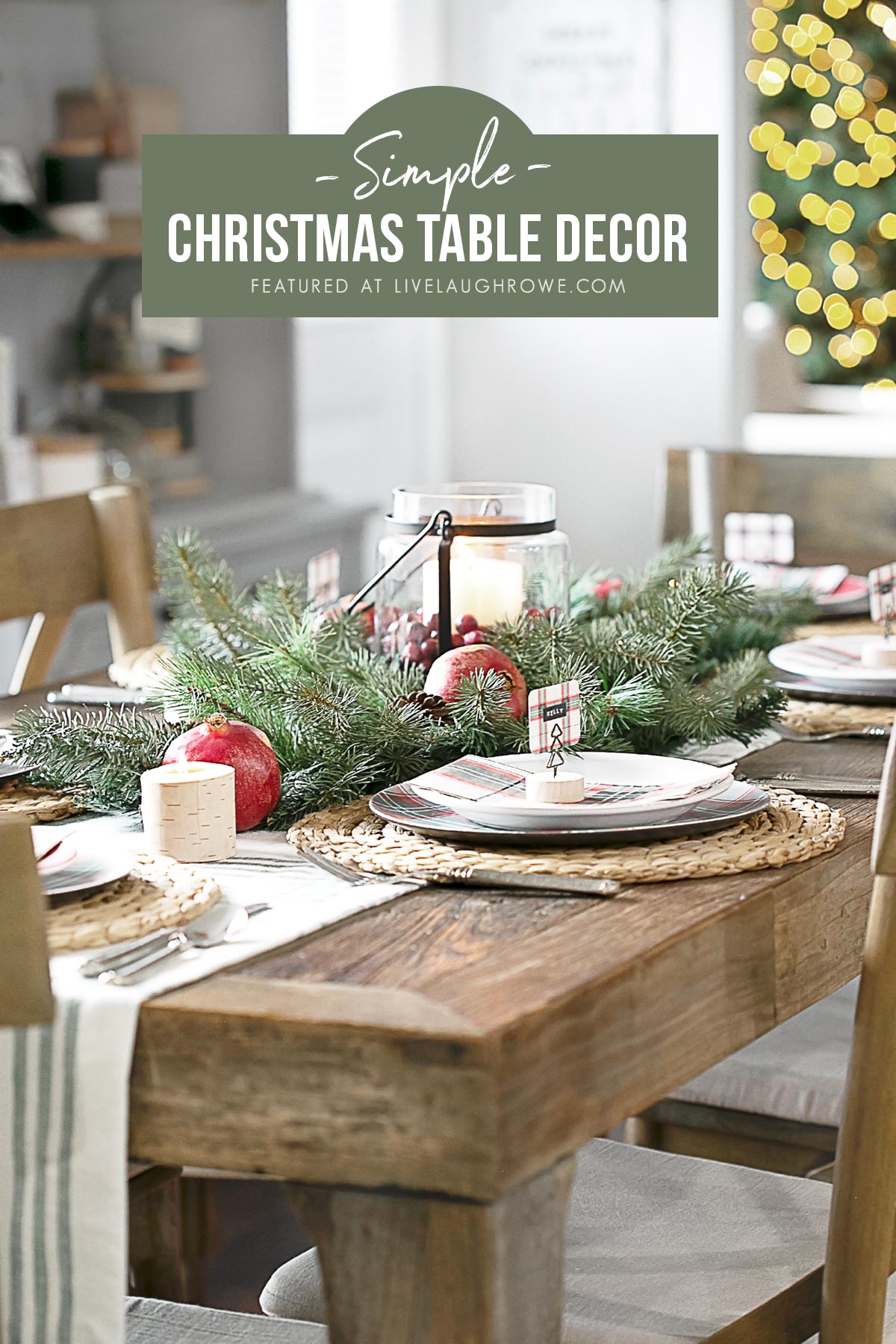 Well, December is literally knocking on our door. GULP. While I'm super stoked about all the upcoming festivities, it's hard to believe it's December. Weren't we just ringing in the New Year?
I'm hosting Christmas this year — and we always indulge in a big, delicious breakfast. As a result, I like to set a nice tablescape for the family.
Believe it or not, this tablescape has been set up in our dining area for the past 3-4 weeks. Insert facepalm.
Life just got a little crazy, so I wasn't able to post it sooner. However, I'm tickled silly to finally be sharing this inspiration with you today. Better late than never, right?
But first… here are my thoughts on the Christmas spirit. I love this quote. ❤️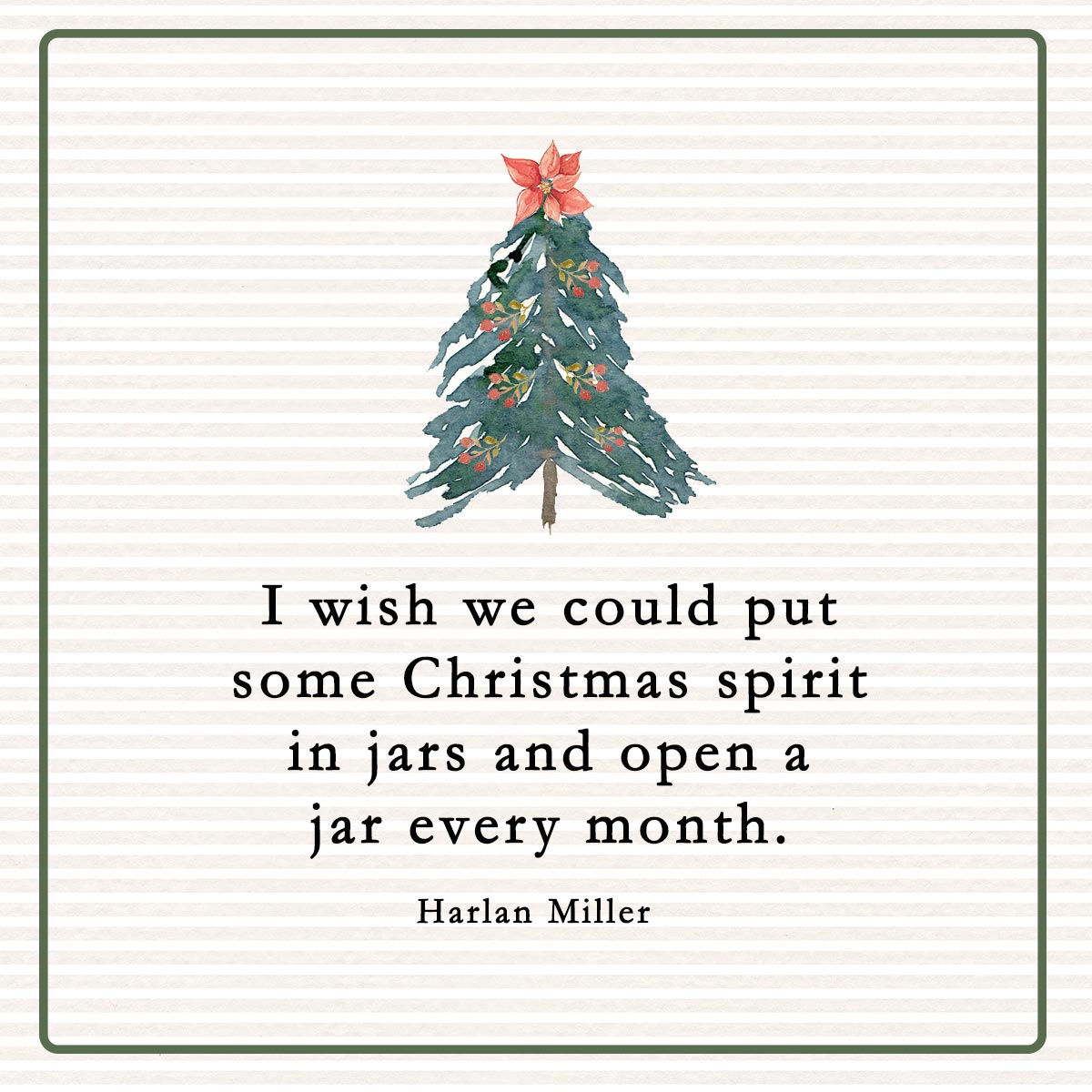 Also, you can print this and many other Christmas Advent Cards over on yesterday's blog post. Furthermore, the advent cards could be used as place cards. Hmmm, why am I just thinking of that?
Christmas Table Decor
This simple Christmas table decor was inspired by some online stalking of Hearth and Hand's new products before their official holiday releases. Haha.
I fell in love with these melamine green and red plaid plates straight out of the gate. So, that's where this Christmas tablescape started.
Plates.
However, I was hoping I'd find some things around the house to pair with these beauties.
And did I mention melamine? Eeeks. Lightweight, durable, and easy to clean.
I used some of my own white layering plates and bought a couple of red layering plates to use at both heads of the table. In other words, all the plates matched well and I couldn't have been happier.
But the plates wouldn't work all by their lonesome now, would they? So I needed more "stuff" for the table.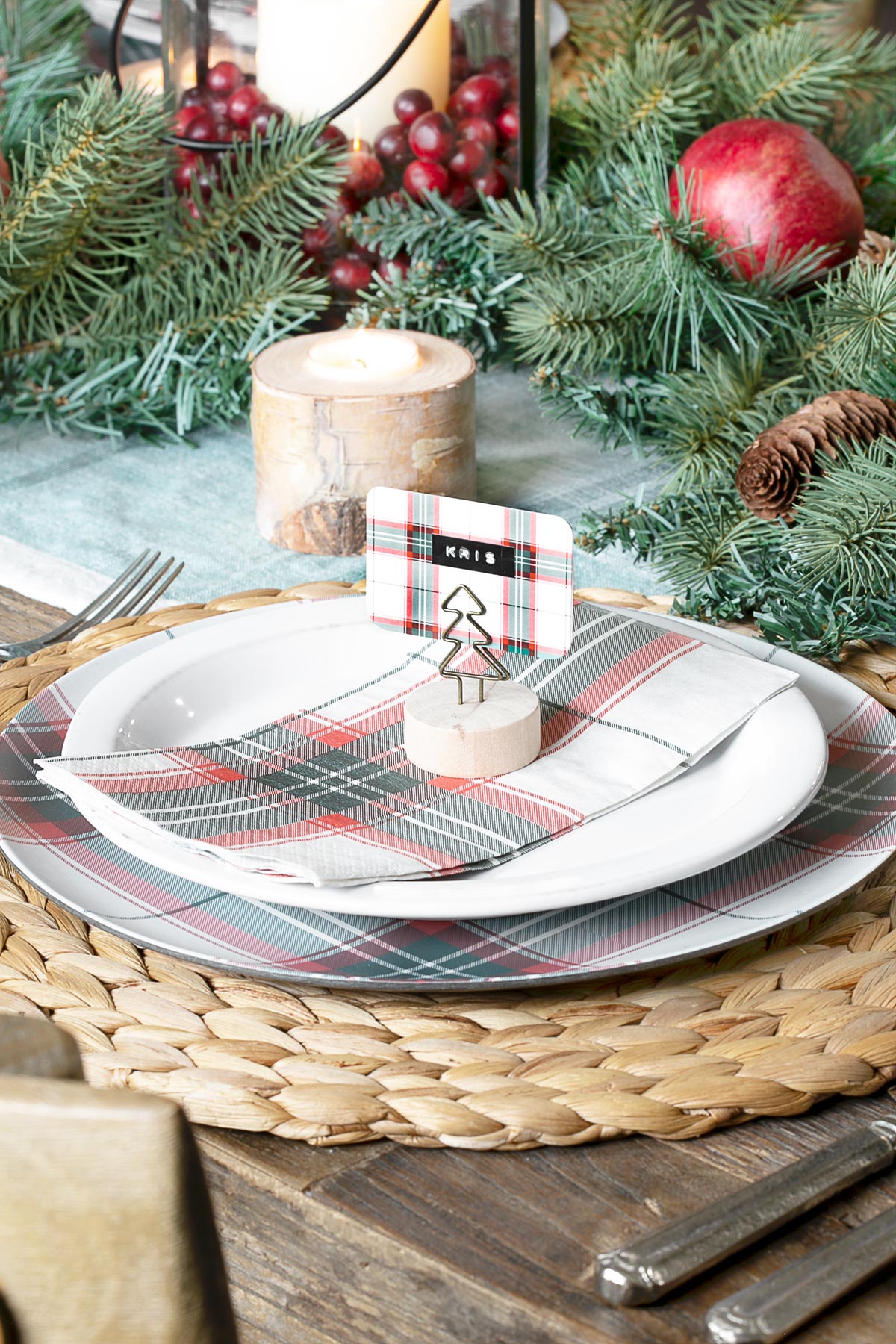 After "shopping my home" (cupboards, garage, and closets), I found I had a runner (formerly purchased from the Hearth and Hand collection) that would work perfectly, along with the water hyacinth chargers, faux greenery (hand me down), and the handmade birch tealight holders.
YES! Things were really starting to come together. Insert happy dance.
Scoring the matching paper napkins was perfection too. If I can find nice paper napkins and avoid the fabric napkins — I do, even if it feels like I'm cheating a little bit. Hee hee.
Other Christmas tablescapes:
Plaid Christmas Tablescape
Rustic Christmas Tablescape
Oh Christmas Tree
And what about those darling place card holders? Oh my goodness. They certainly make a great favor too. Have your guests take them home and use them in their holiday decor (or regift it). Wink-wink.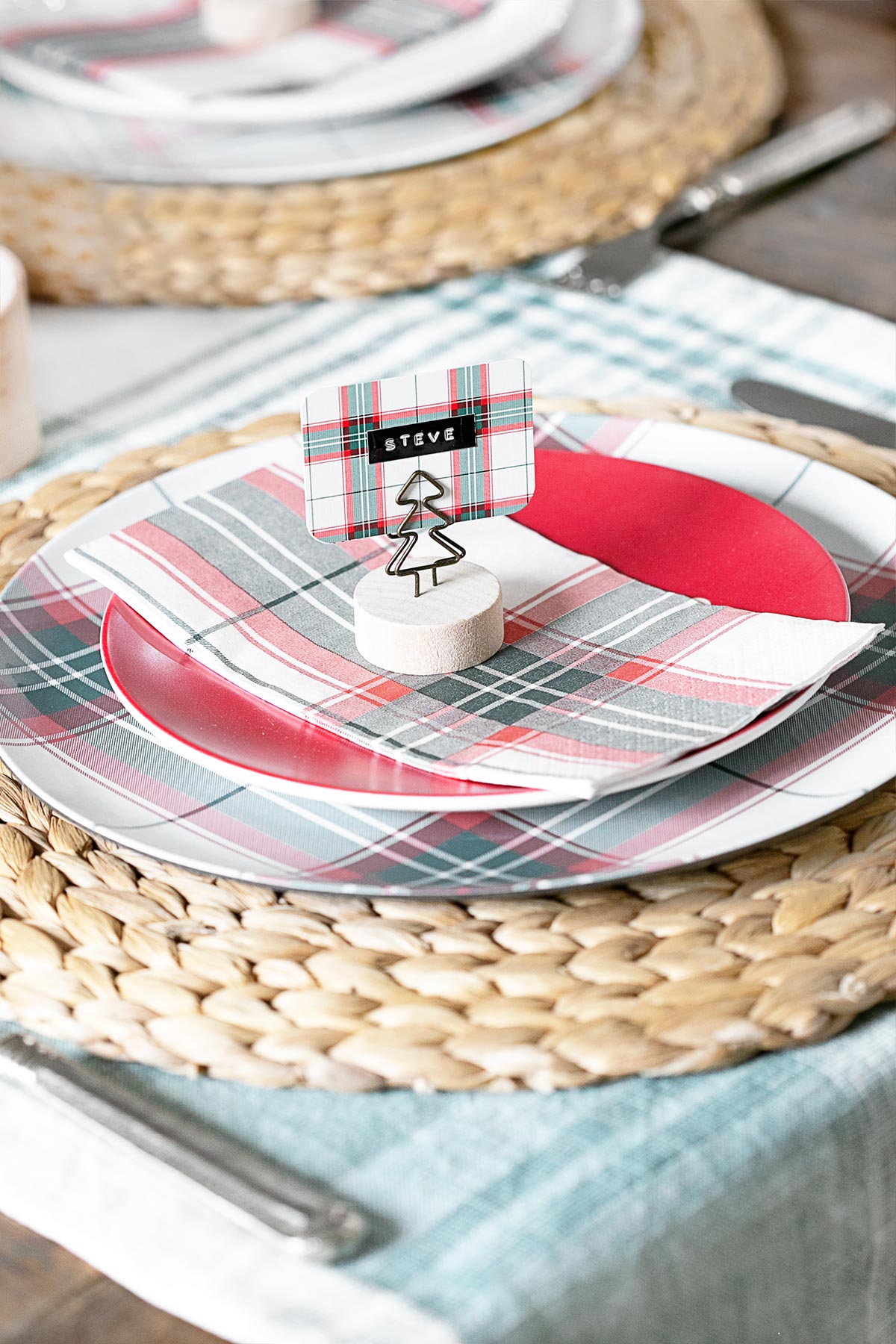 Playing Cards or Place Cards
Call me crazy, but I love using playing cards for just about everything other than card games. Haha. Here I cut a card in half, used a corner punch to round the cut corners, and attached them together using double-sided tape.
To clarify, I wanted them to be double-sided on the table. I didn't like seeing the numbered side cut, etc. It just looked unfinished to me.
Centerpiece
A simple lantern tucked into some greenery with pops of color from the cranberries and pomegranates embraced the simplicity I was looking for. There can be so much beauty found in the simplest of things. Don't you agree?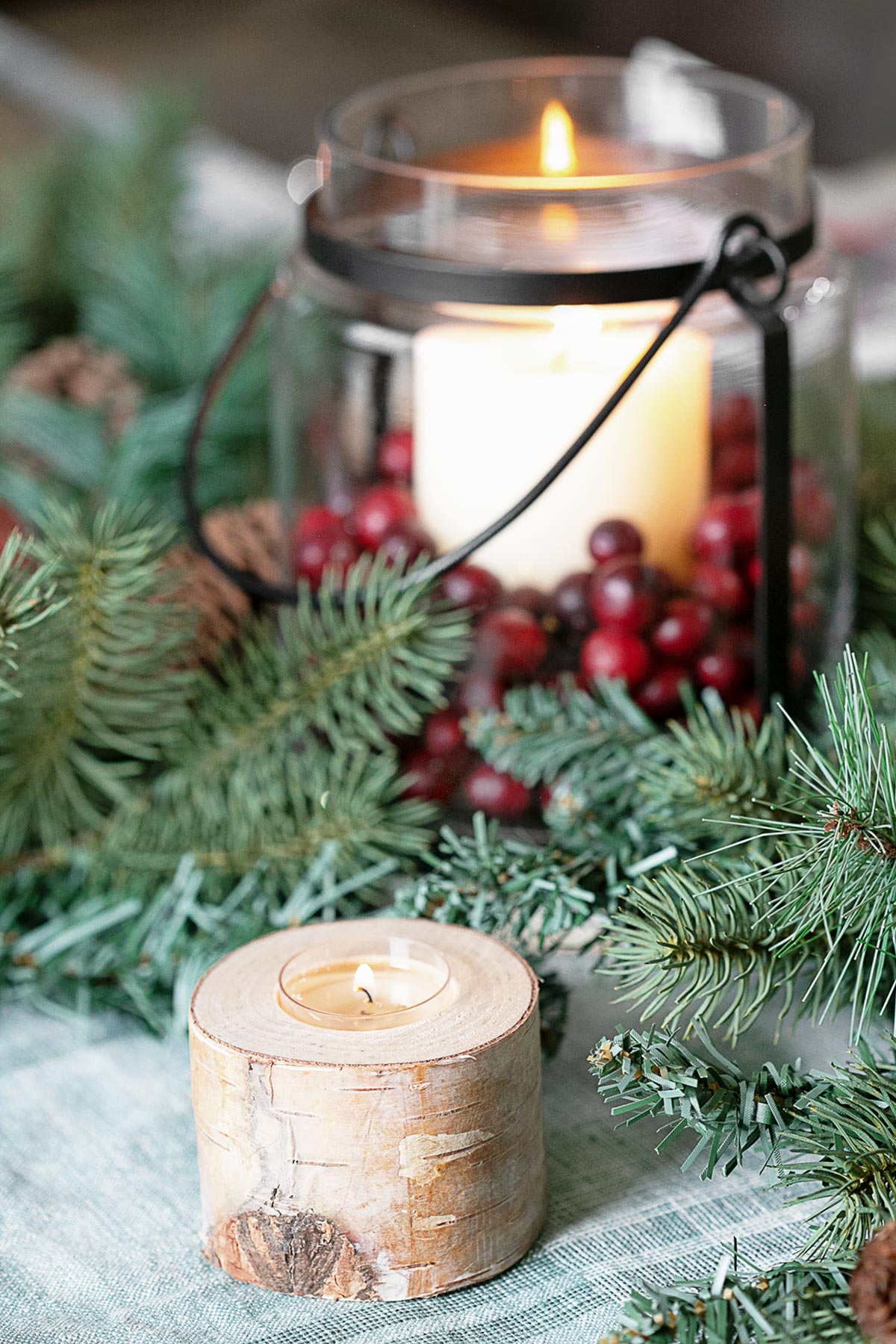 And how about considering a swap? Swap out the place cards for a small dish of peanuts or candy. A great alternative, don't you think? It also gives your guests a little snack or sweet treat.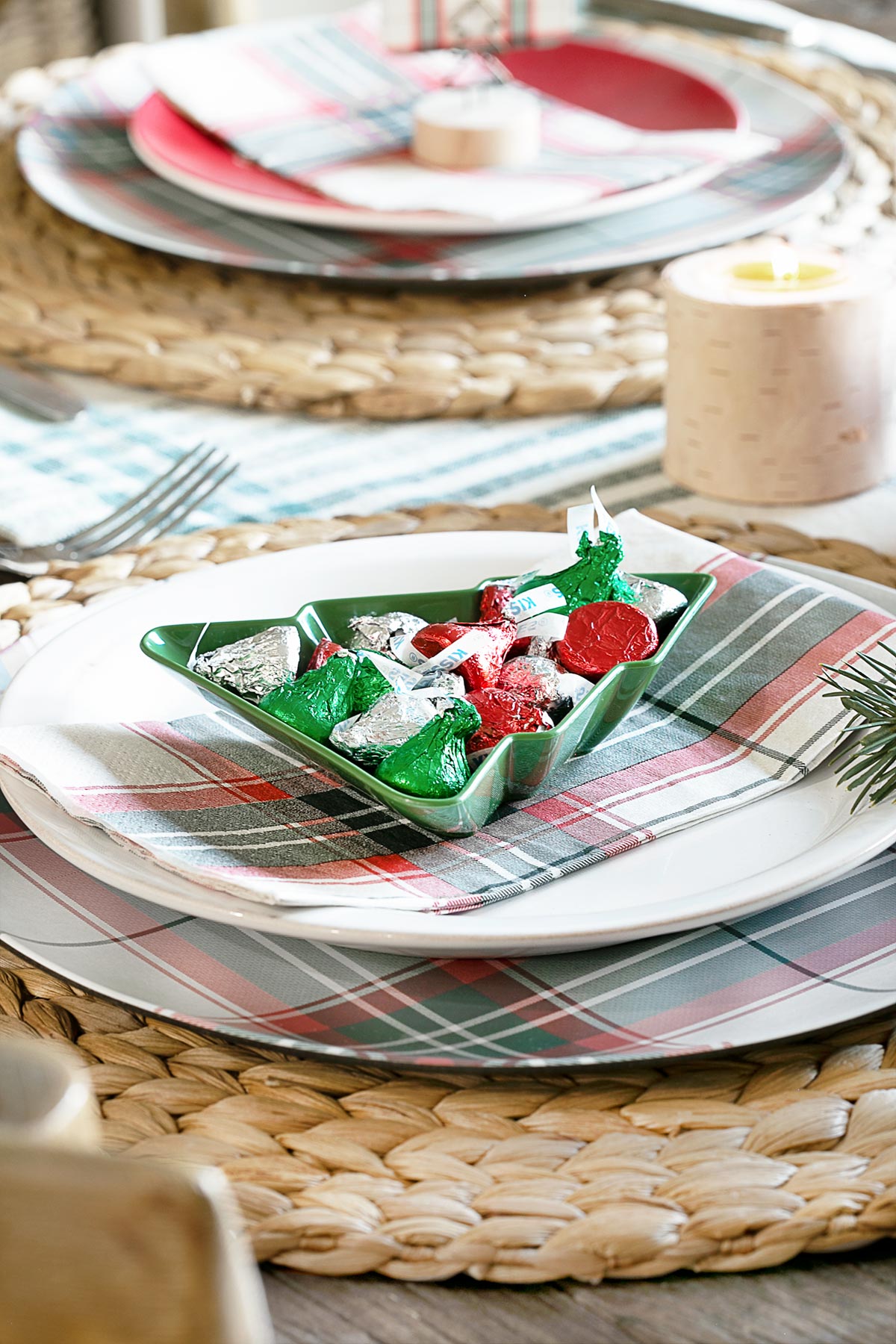 Well, I certainly do hope you're feeling inspired. In addition to all the photos, here's a list of items used.
Resources:
Plaid Plates
Plaid Paper Napkins
Playing Cards, for Placecards
Dymo Junior, for names
Water Hyacinth Chargers (similar)
Place Card Holders (smaller quantities here)
White stoneware layering plates, previous purchased (Crate and Barrel)
Red Layering Plates (used at heads of the table)
Tree Candy Dish
Silverware
Runner, previously purchased (Hearth and Hand)
Lantern, previously purchased (Target)
Birch Tealight Holders, homemade.