Hi there! It's Lyuba again, from Will Cook For Smiles. I'm hanging out here today, giving Kelly a day off. While the cat is away, the mice will play, now let's have some fun! I'm sharing one of my all-time favorite recipes with you, a Russian dish called Mushroom Julienne.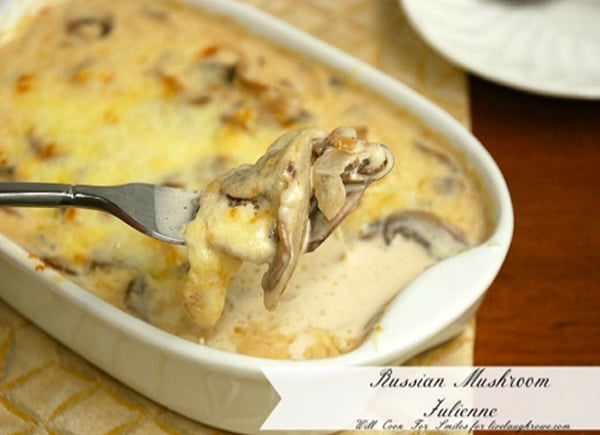 If you guys are not familiar with me and my blog, you probably don't know that I'm Russian. Now you know… and it explains my name (in case you were wondering). I want to share something special with you, it's one of our (my husband and I) favorites. Actually, it becomes everyone's favorite after they try it. Every time my hubby's best friend comes over, he begs for some Mushroom Julienne.
This is a traditional Russian dish, Russian/French to be exact. It's made with thinly sliced mushrooms, sour cream, cheese and cream. It's very rich and creamy. I actually have my own variation because I find that using mainly sour cream it a bit too "sour-creamy." Traditionally, this dish is served as an appetizer, although I found it goes very nice as a side or as a topping for meats. If you love mushrooms, this dish is perfect for you. If you don't really like mushrooms, I still recommend that you try it. I've turned a lot of people into mushroom lovers with this dish!
A Russian Dish | Mushroom Julienne
Ingredients
16

oz

of white mushrooms

thinly sliced

1/2

of a medium yellow onion

thinly sliced

2

tbs

butter

1

tbs

butter

separate from above

1/4

cup

white wine

3/4

cup

sour cream

1/2

cup

heavy cream

salt

fresh cracked pepper

Mozzarella cheese
Instructions
Preheat the over to 375.

In a large skillet, melt the 2 tbs of butter and add mushrooms and onions. Saute, on medium heat, until mushrooms give out liquid and about half the size. Pour most of the liquid off and transfer the mushrooms into a small casserole dish or ceramic pots (you can use large ramekins too).

In a small sauce pot, melt the 1 tbs of butter and add white wine. Simmer on medium heat for a couple of minutes, until the alcohol cooks out. Add the heavy cream and stir in the sour cream. Stir until all combined and add salt and pepper. Bring it to boil and pour over the mushrooms. Stir the mixture.

Sprinkle generously with cheese and bake for about 10 minutes (until the cheese is melted and starts to golden.)
Let's stay in touch!
Twitter | Facebook| Pinterest
Author,
Will Cook For Smiles

Food Contributor,
Live Laugh Rowe