Happy Spring! I'm excited to be joining you with another edition of the Photography 101 Series! Before I jump in…how did you do with ISO? Did you go and experiment with different ISO settings? In case you missed part one in the series, be sure to read up on the ISO Settings in part one of the series.
Well, today's focus is on Aperture Settings. I think Aperture is great because it can give you a lot of creative ability as far as blurring or keeping your images in focus. So let me start with the definition of Aperture.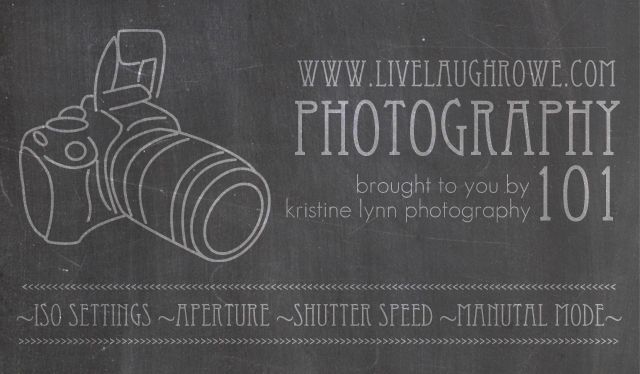 Aperture Defined: A hole or an opening through which light travels. The aperture is the opening inside the lens of your camera that adjusts larger or smaller to control the amount of light that enters the lens.
Aperture is also known as "f stop" and to simplify the definition…it's what allows you to have those blurry backgrounds.
Lower aperture:
Lower aperture only allows for a small part of your photo to be in focus and then slowly gets blurrier as you go out from your focal point. If I shoot "wide open" (on the lowest number your lens will go) then I will probably only have one eye in focus but will have a nice blurry background. It is possible to get both eyes in focus, but you need to be sure your on the same plane as your subject. You would need your camera to be parallel to your subject's eyes. Basically, get down on their level.
Higher aperture:
Higher aperture allows for more of your picture will be in focus. For example, if you are shooting people and only want them to be in focus then you want to make sure that your aperture is at least at the same number as there are people in the photo. (If I were taking picture of two individuals, I would want to make sure my aperture was at least at f/2.0…I usually keep it at f/2.8. If there are 5 people then you would want to be at least at f/5.0 and so on.) When shooting landscape you would want your aperture number to be a lot higher so that majority of your picture is in focus.
Changing your aperture affects the amount of light in your shot. The lower the number, the more light is brought in. The higher the number, the less light. Therefore, if you do a lot of indoor shooting, you'll want a lens with a lower aperture such as f/1.8. I've included a little chart below that allows you to see how the openings control your light.

Remember:
Lower number aperture = more light and a blurrier background
Higher number aperture = less light and a sharper background
What I did to practice when I first got started in photography was I went and bought a kids set of bowling pins. I placed them in a line that angled as it went along. Then I starting capturing images by starting to focus on the first pin and blur the rest of pins…then focus on the second pin…etc. This was a really fun way of seeing firsthand how aperture worked. Think about giving it a shot. The type of lens you use is also a big factor as to what aperture you can set your camera on. I encourage a 50mm, f/1.8 prime lens. This is an EXCELLENT lens if you are serious about learning how to shoot on manual, it's an inexpensive lens with a pretty low aperture. Just note…some cameras are not compatible with this lens. Nikon users would go with a 35mm 1.8. If you have questions, feel free to email me at info@kristinelynn.com. HAPPY APERTURING!
.
You can also find me on Faceboook and
Instagram
.

Owner, Kristine Lynn Photography