Oh happy day! It's Wednesday. We made it half way through the week — aaaaaand tomorrow my mom flies in from New Jersey. Squeal! I am soooo excited. I can't wait to hug her neck. Plus, she always brings a couple Jersey treats our way. So, I'm bustling around trying to make sure everything is just right for her arrival. I feel like I put cleaning on the back burner most weeks, so now is the time to do a massive overhaul. Hee-Hee! (Only for you, mom!)
How is your week going? Any exciting weekend plans? I can't say that we have any specific plans. We'll most likely be winging the weekend… who knows, maybe we'll do a little crafting, or shopping! We talked about hitting up some of the Food Trucks too. Can you tell I'm excited? I wish my dad was coming too; however, they'll both be back in September. What? YEP!! Woot!!

Let's see, today I have a little Royal Blue and Peach color combo. I whipped this together for church and I thought the colors really complimented each other well. What do you think?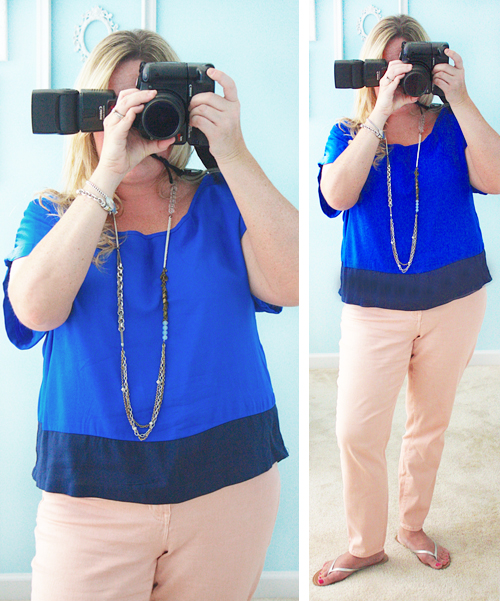 Shirt: Target (last season)
Skinny Jeans: Gap Outlet
Necklace: Maurices
Silver Sandals: Old Navy
Have a fantabulous day, friends!!
.
I'll be linking up over at WIWW with The Pleated Poppy.
Subscribe to Updates | Like on Facebook | Follow on Pinterest