Hello Live, Laugh, Rowe readers! My name is Jamie and I am visiting from my blog, anderson + grant. I am so excited that Kelly invited me to share a project with you today.
I can hardly believe that it is just about time to start planning for Christmas. As I'm sure many of you would agree, Christmas is my favorite time for decorating. I love adding greenery throughout the house, tucking some vintage ornaments in unexpected places, and decking out my Christmas tree. I love the holiday so much that last year I shared 25 whole days of Christmas inspiration on my blog!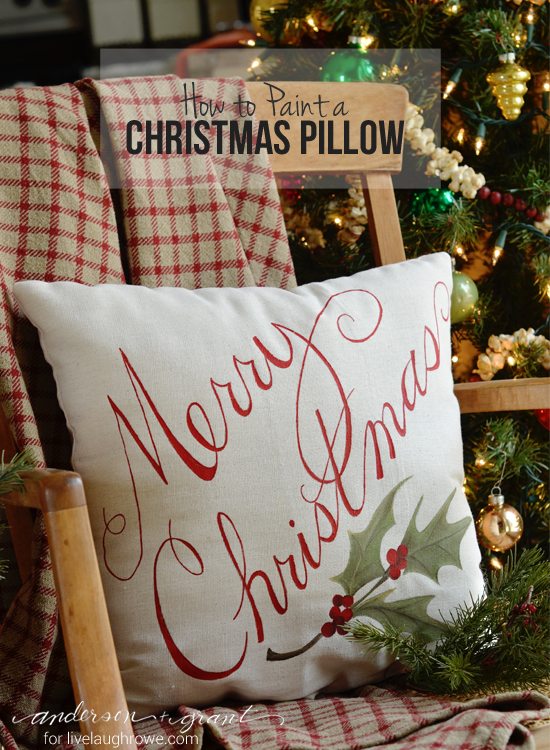 Another way I love to decorate is by adding pillows throughout my house during the holiday, and that is what I'm going to be making with you today. Decorative pillows are the final touch to any room, whether they are tossed on your living room couch, rest on a bench in your entryway, or placed on your bed. They can add a great pop of color, pattern, or texture to any area. I designed this pillow on a neutral fabric so that it can be added into almost any space for the holiday.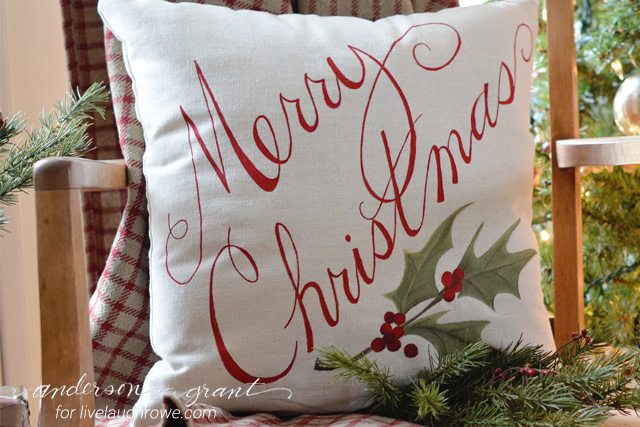 So, let's get crafting and learn how I paint a Christmas pillow!
To make the pillow you'll need some kind of neutral fabric that is heavy-duty enough for a pillow. I used osnaburg from the fabric store. You could also use linen or a home decor fabric. You'll also need a pillow form and some craft paint. (I prefer Americana brand paint.) For this project, I used Tuscan Red for writing Merry Christmas and the holly berries and Light Avocado Green, Avocado Green, Celery Green, Camel, and Burnt Umber for the holly leaves.
Cut the fabric into two squares that are an inch wider in both directions than the pillow form you are using. My pillow was 16 inches square, so I cut out two pieces of fabric 17 inches square.
Trace the pattern (see pattern link below) onto your pillow with carbon paper. Then paint the design onto the fabric with craft paint. The number of paints I listed may lead you to believe that painting these leaves will be hard. Exactly the opposite is true. I don't enjoy doing shading or highlighting when I paint, so all the paint goes on at one time. You really can't mess up the painting (as long as you basically stay inside your traced lines!)
Before beginning, layer waxed paper underneath the fabric you will be painting. Start painting by coating your leaves with light Avocado green. And then layer the other colors on top of it, slightly blending everything until it looks like you want. I use the Medium Avocado toward the middle and bottom of the leaves and the Celery Green around the outside. I focus the burnt umber on the areas where the veins of the holly leaves would be. The camel goes near the outside where you want to highlight the leaves.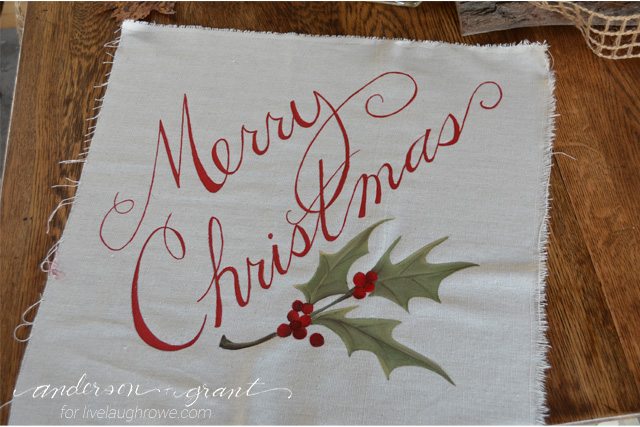 When the paint is dry, sew your two squares of fabric with the right sides together leaving a space at the bottom to insert your pillow form. You'll need to leave about a half-inch seam allowance around the entire pillow. Then turn the pillowcase right side out. Insert your pillow form and close up the opening on the end with a needle and thread.
And your pillow is complete! What do you think?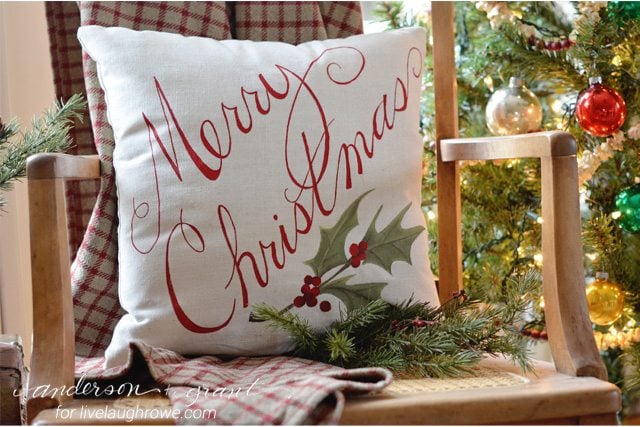 I have no real sewing abilities but can handle stitching up the four sides. If you don't have a sewing machine or would like to avoid the sewing process, you could always purchase a pre-made pillow in a neutral color and paint the design right on it. And if pillows aren't your thing, this picture could be painted on just about anything for the holiday.
If you'd like to make this pillow for your own home, you can download the PDF pattern or save the picture to your computer. To enlarge the picture, it can be added onto a Word document, and click on the corners to make it as big or small as you'd like. You may need to print it out on more than one piece of paper.
Thank you so much for allowing me to share a little bit of Christmas inspiration with you today. If you are interested in a few more projects, be sure to check out the links below!


Be sure to follow Jamie on her Blog | Pinterest | Facebook | Twitter | Shop
https://betweennapsontheporch.net/