TGIF! Check out my new oversized chalkboard! It's hanging with great pride in my kitchen and it's being put to good use too. I'm in love…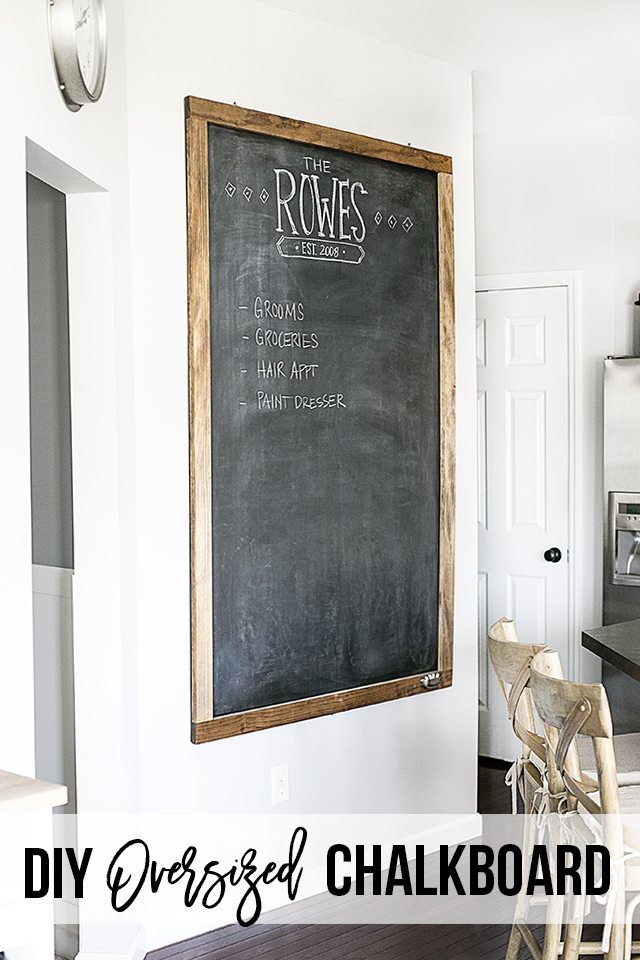 Back in 2012, I shared my very first DIY Chalkboard. Then I was incredibly proud of that project. Looking back today, I chuckle. The photographs are awful, the stain is little to be desired and bigger is always better, right?
Supplies for Oversized Chalkboard:
Large Sheet of Thin Plywood
Wood for Framing, (I used 1×3 boards)
Chalkboard Paint (I believe mine was Rustoleum)
Mini Rollers
Stain (Minwax Provincial is my favorite)
Rags or Brushes for Staining
Staple Gun
Kreg Jig, optional for assembling frame.
Rather than publishing the entire tutorial twice, swing back over to the original kitchen chalkboard post for the full tutorial. It's an easy project that you can whip up in a couple of hours — plus drying time.
The most tedious part of this project is applying the chalkboard paint. Due to it's size, it will take a little time and I highly recommend two coats of the chalkboard paint. Be sure to season the chalkboard really well before using as well.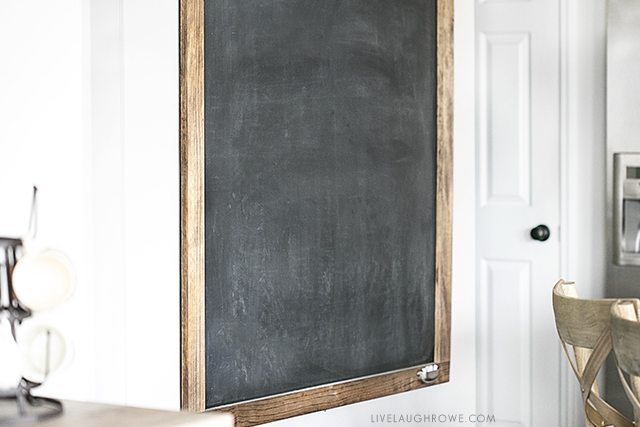 I made this larger chalkboard last year, but wanted to share this quick update with all of you. I snapped this picture in our garage (pardon the poor quality).
I'm 5′ 3″, so this picture is a great indicator of how big the chalkboard really is. I remember captioning the picture on Facebook with, "I like big chalkboards and I cannot lie." Ha!
Oversized Chalkboard
When we first brought it into the house, I think my sister and husband thought it was a little too big. I was like, "no way!" I loved it.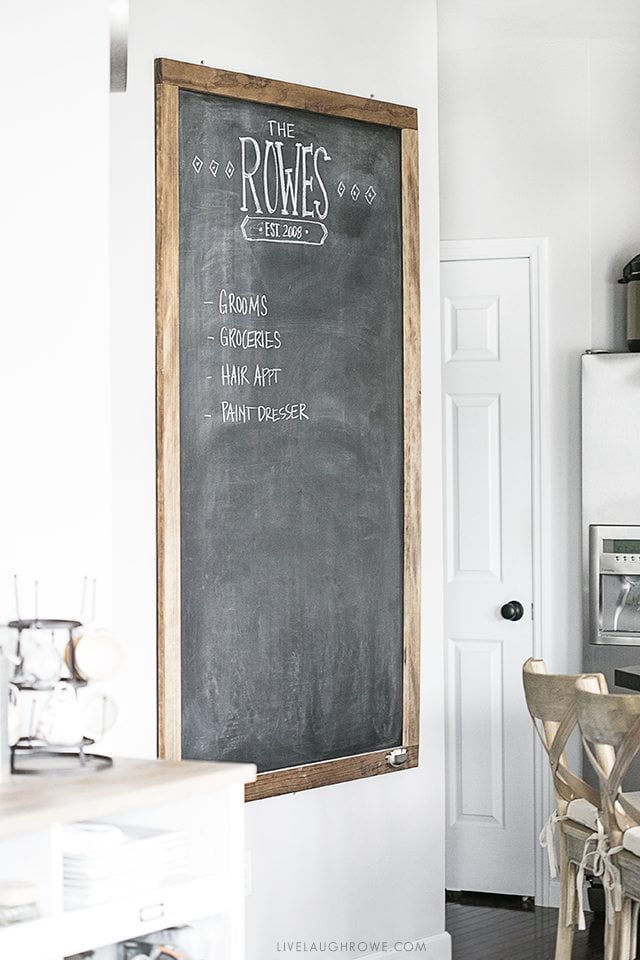 She's a beauty. I'm thrilled with how the framing turned out — and the stain! Trust me, it's a great conversation piece too.
How about my little chalk holder? Using a cupped drawer pull is pretty clever, right? I saw this idea YEARS ago and kept it in my back pocket, knowing that one day I would put it to good use! And I finally did.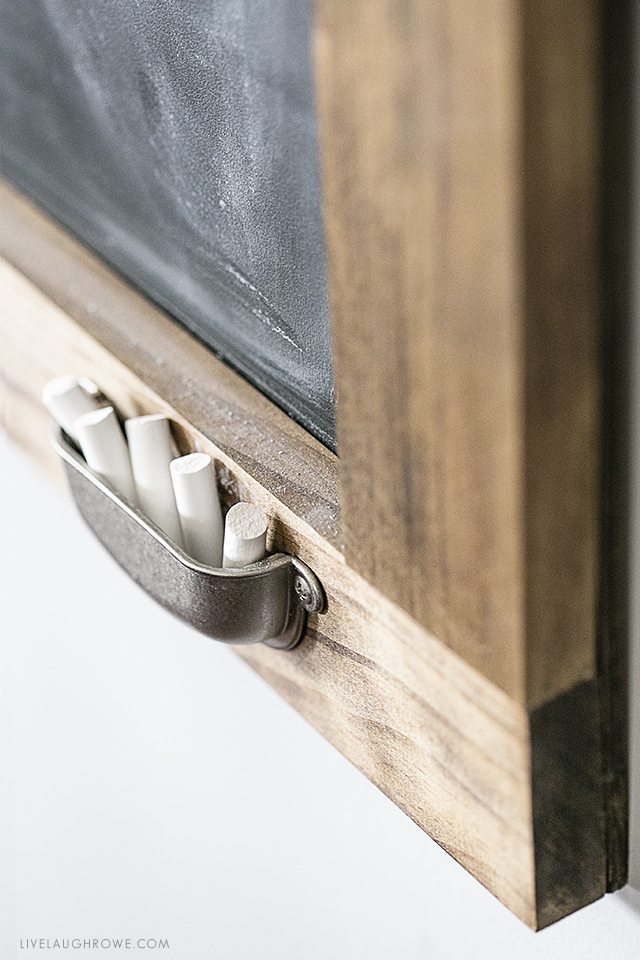 Since painting the kitchen and hanging the new (larger) chalkboard, I also got some new stools for our counter.
I have the French Bistro Side Chairs from World Market around both our kitchen and dining room tables, so decided I would get the French Bistro Counter Stools for the counter.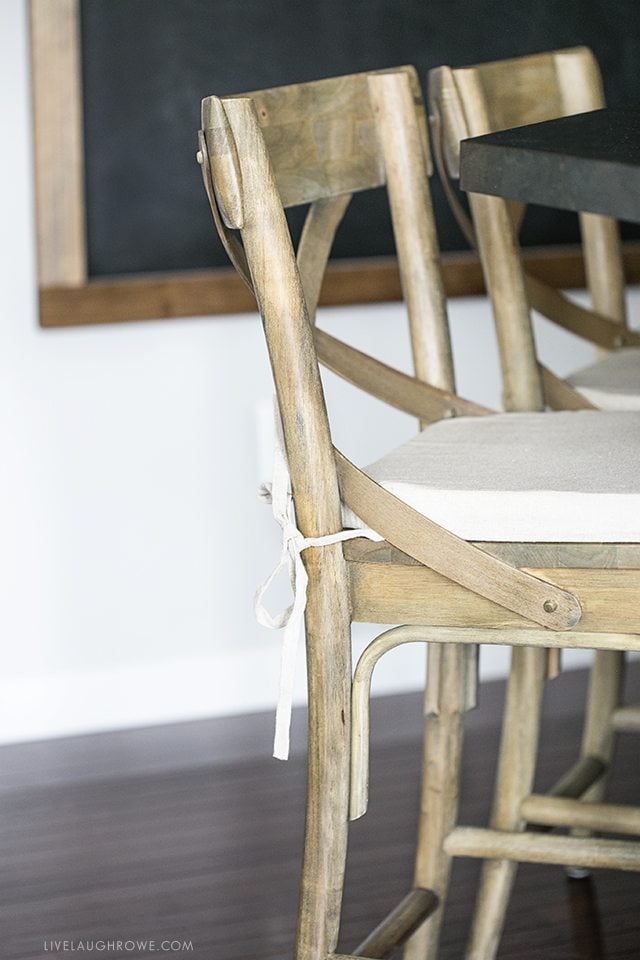 These stools (and chairs, not pictured) are FANTASTIC. They're solid and sturdy. I also love that they offer seat cushions that were made to fit these pieces like a glove.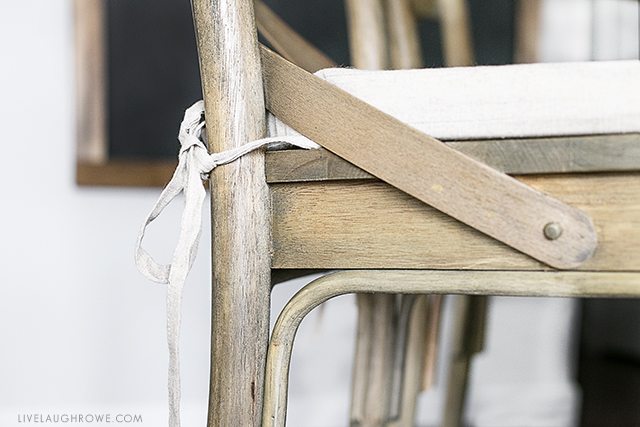 The distressed hardwood is just beautiful! The cushions are the Natural Bistro Chair Cushion (from World Market).
Would you like to have a chalkboard this size in your home? Where would you hang it? I think it make a great command center, chore chart, grocery list, or just a great command center.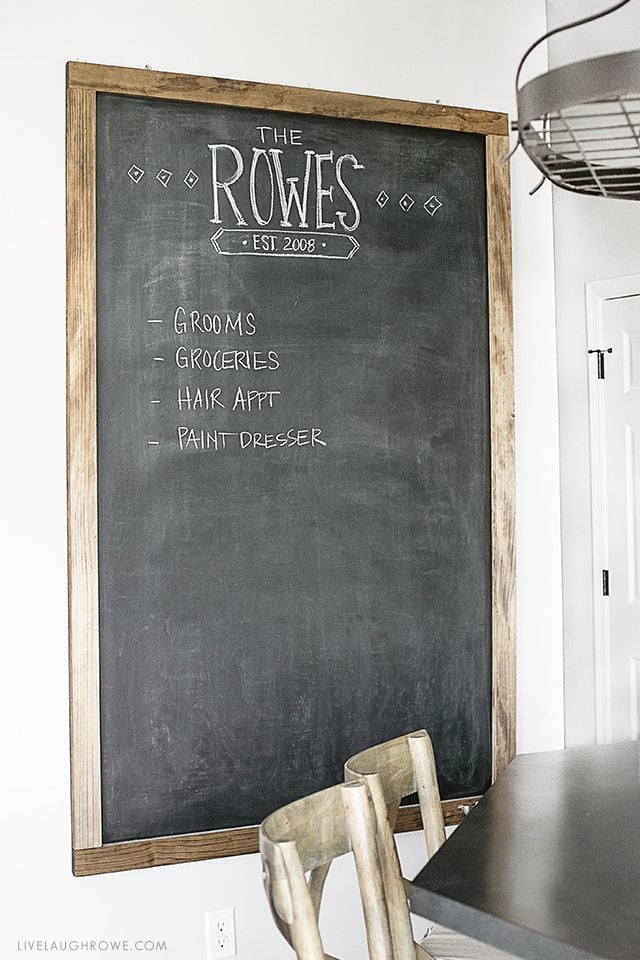 Feeling inspired? If you should make a chalkboard, be sure to tag @livelaughrowe on social media or e-mail me. I'd love to see your work!