Craspedia is my latest obsession. They're a part of the daisy family, which is probably why I love them so much. Daisies are a happy flower and craspedia looks like little balls of sunshine. I can see the similarities, how about you?
Craspedia is also known as Billy Balls, Billy Buttons and Woollyheads. The names are all kind of fun too, huh? I'll refer to them as billy balls from here on out throughout the post, craspedia is a little too formal for me. (wink)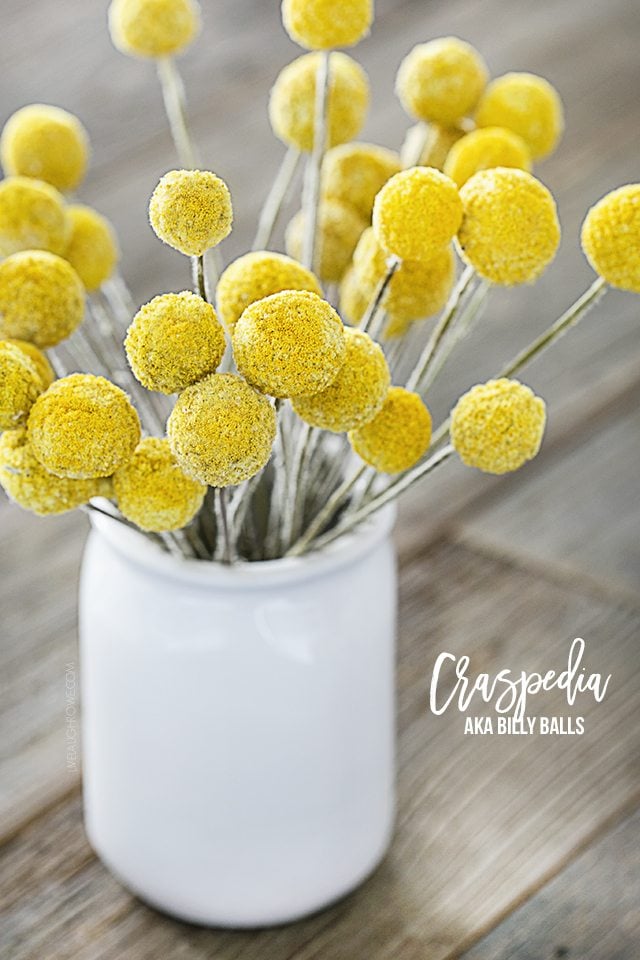 I remembered seeing billy balls on the Painted Fox website awhile back. I'm not much of an impulse shopper, so I saw, I loved and I moved on… haha! However, I didn't completely forget and did a little research on pricing. After a few days, I decided to buy some of these cuties to have around the house.
I bought a couple of bundles on Amazon (from Nettleton Hollow; however, they were a little less at that time) and I kind of want more. You can also purchase them in a number of other places — including Etsy. Please note that affiliate links are used, but there is no cost to you.
I'm excited to use them for centerpieces, styling and more! Here are just a few of the many uses that caught my eye while surfing the web….
This Rustic Centerpiece using tree logs and billy balls is a favorite of mine, featured on Fixer Upper (of course).
source: HGTV
Billy Ball Place Setting | Terrariums | Vintage Tin Arrangement
Man-rangement | Simple Rustic Arrangements
Hanging Bottle Decor | Modern Yellow and White Tablescape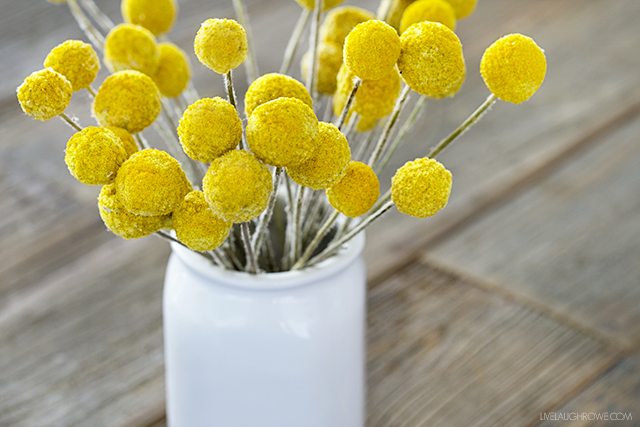 You'll find billy balls are very popular in weddings as well — from boutonnieres to bouquets, centerpieces to jewelry. Yellow and white are a beautiful pairing. If I could plan my wedding all over again, I think it would be a rustic theme and billy balls would certainly be a part of it! Hope you leave a little happier today, friends. Hugs!

Be sure to visit with me here too:
Facebook | Instagram | Pinterest | Twitter |Google+