It's that time, friends! The August 2016 Calendar is ready to go.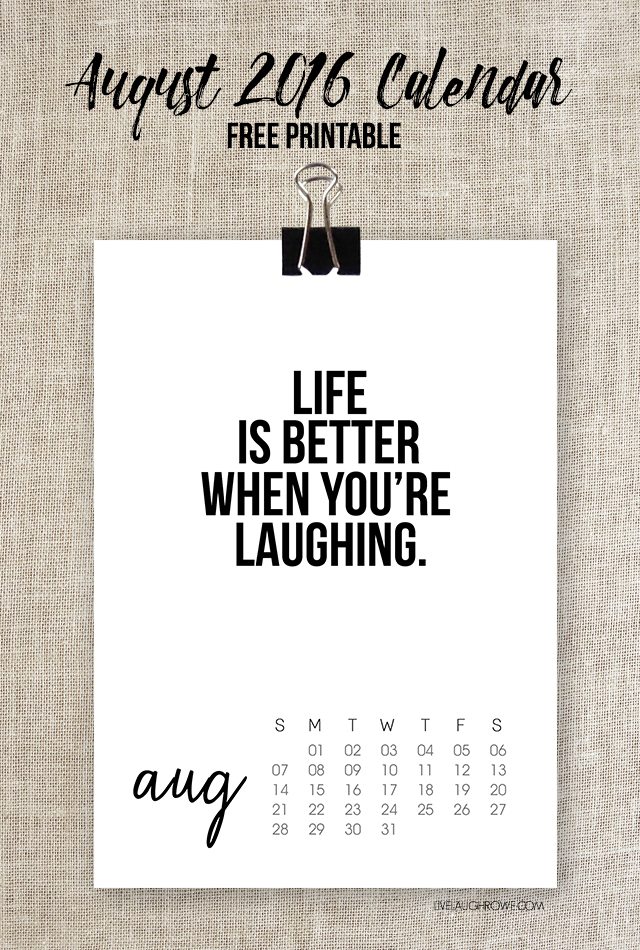 Yet another month has come and gone! Wowzer. Before we know it, the kids will be heading back to school and we'll be preparing for Thanksgiving! It's been a hot summer, so I have a confession – I'm looking forward to fall weather. Fall is one of my favorite seasons and with August almost here, that's usually around the time I start to get super anxious for all things fall. Anybody else feel the same way?
This month I thought I'd focus on laughter. I firmly believe that laughter is good for the soul. If you ask any of my family, laughter is something that comes a little too easy to me. HA! I'm laughing at myself 99% of the time too.
I'm blessed that my twin sister lives here in St. Louis too. We do all the girly things together and usually we're laughing all along the way.
Laughter is like an instant vacation. -Milton Berle
Recently we were in Target and couldn't get something off one of the hooks. I mean we were pulling, yanking and doing all kinds of ninja moves (just kidding). The one thing we didn't do was push up and pull out. Of course when we did, the item slid off the hook like butter. Oh my gosh! We stood there and laughed so hard, then looked up at the camera above us and laughed even harder. I mean, seriously, it doesn't take a rocket science to get something off of a hook at Target. We both announced what dorks we are and wondered if our moment would make it onto America's Funniest Home Videos.
Laughter, it's a beautiful thing. I think that it truly does make life a little easier, and probably a bit healthier too.
One of my absolute favorite sounds is hearing a small child laugh – it's music to my ears and makes me smile. I hope this months calendar is a reminder for each of us to laugh more often. Share a joke, even if it is cheesy. Laugh more! Laugh at yourself! Now on to the August 2016 Calendar.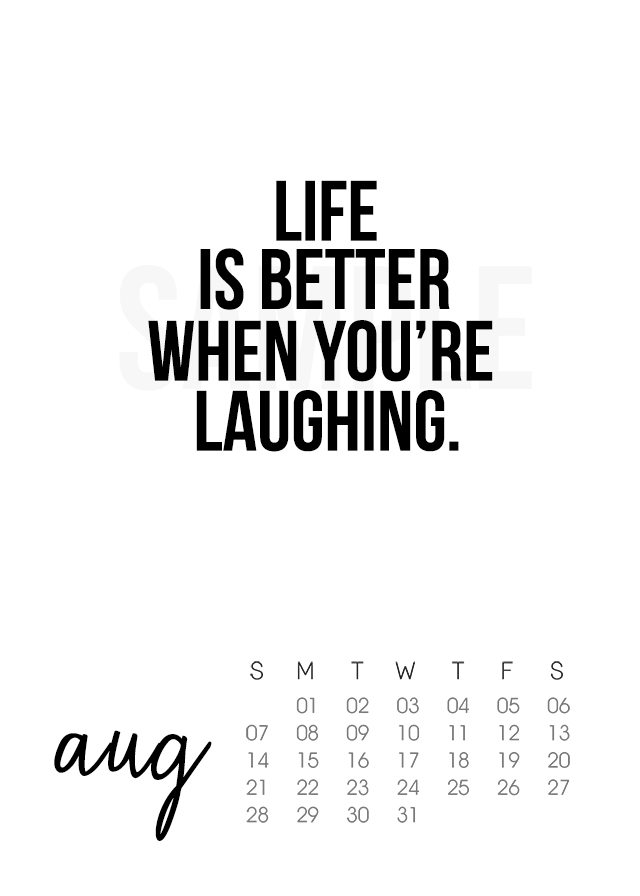 *Please Note: All printables and downloads designed by Live Laugh Rowe are for PERSONAL USE ONLY. Please do not alter the file or claim it as your own. This file is not intended for resale, nor are the printed versions of this file.
Here's to a month and a goal to laugh more and spread a little happiness.

Be sure to visit with me here too:
Facebook | Instagram | Pinterest | Twitter |Google+