Simple Spring Buffet Decor | Flowers, Herbs & Spices
A beautiful spring buffet featuring minimalistic decor that included some faux greenery. Paired with a Herbs & Spices poster, this light, and airy space radiates a sense of spring. Partnering with Photowall was a no brainer when I saw some of the beautiful prints they offered.
Most importantly, be sure to stick around until the end of the post. Why? There may just be a discount code for you to use. Woo hoo.
Be sure to sign up for my email to get new
recipes and creative ideas sent right to your inbox!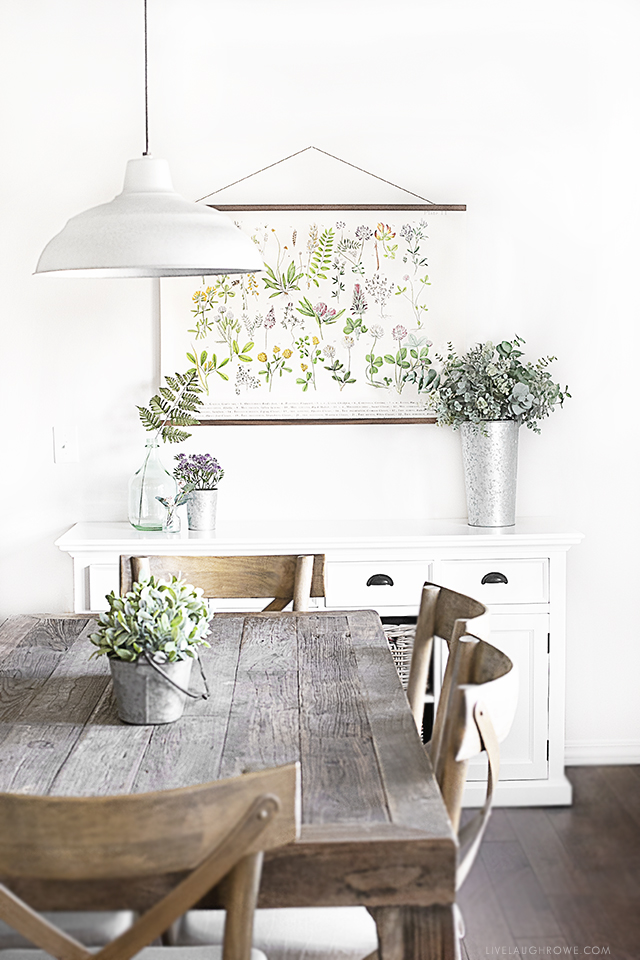 I've mentioned a time or two that I'm anxiously anticipating the arrival of spring. Winters here in Southwest Missouri have become one hot mess. Warm one day and ice the next. Confusion is an understatement and sickness abounded around every corner. Over it…
Excited about spring? These free printables might interest you:
Vintage Inspired Botanical Spring Flowers
Spring Flowers in a Watering Can Print
Daffodils Printable
Happy Spring Printable
Simple Spring Buffet Decor
Since we moved in a couple of years ago, I've had an old window on my buffet with different wreaths hanging on it seasonally. After perusing the Photowall website, I was super excited to find that I could do a large horizontal print. Eeeks. A lot of botanical posters are vertical, like this one I have in my workroom*. Options are always nice, right?
Hanging an oversized poster above the buffet would be a great alternative to change things up every once and a while. So, I pulled out my handy measuring tape, I measured what size artwork I would need for it to look proportionate to my buffet. I decided on a 39″ x 28″ (100 cm x 70 mm) print. Again… a horizontal print (yay).
The search tool offered on their website was very helpful in narrowing down the print. I searched the word "botanical." When I saw the Herbs & Spices poster, it was love at first sight.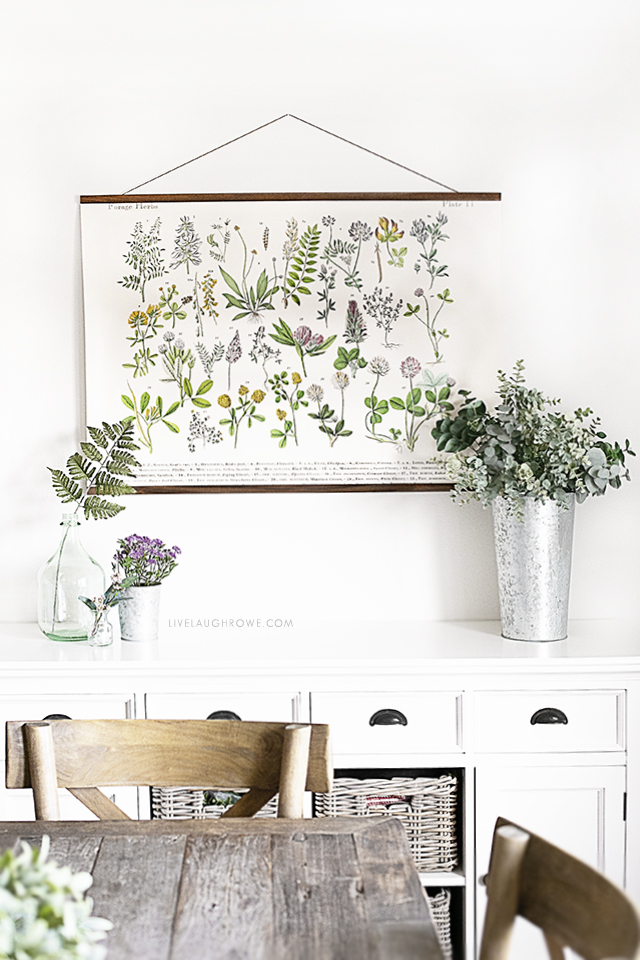 The posters are printed on premium paper, UV-resistant prints and age-resistant paper — which is a win-win for long-term use. As you can see below, colors vary from the website and between monitors and in photos.
Herbs & Spices Print | Photo courtesy of Photowall
It was an easy choice to add the Smoked Ash Hanger to my cart too. The last thing I wanted to do was run around looking for a frame, hanger, etc. This simplified the entire process for me.
Aaaaannd did I mention FREE SHIPPING? Winning, friends.
Side Note: I decided on another poster too, but I'll share a peek at that one at the end of the post. So stay tuned…
The posters arrived quickly and were easy to assemble. I wasted no time getting them hung up.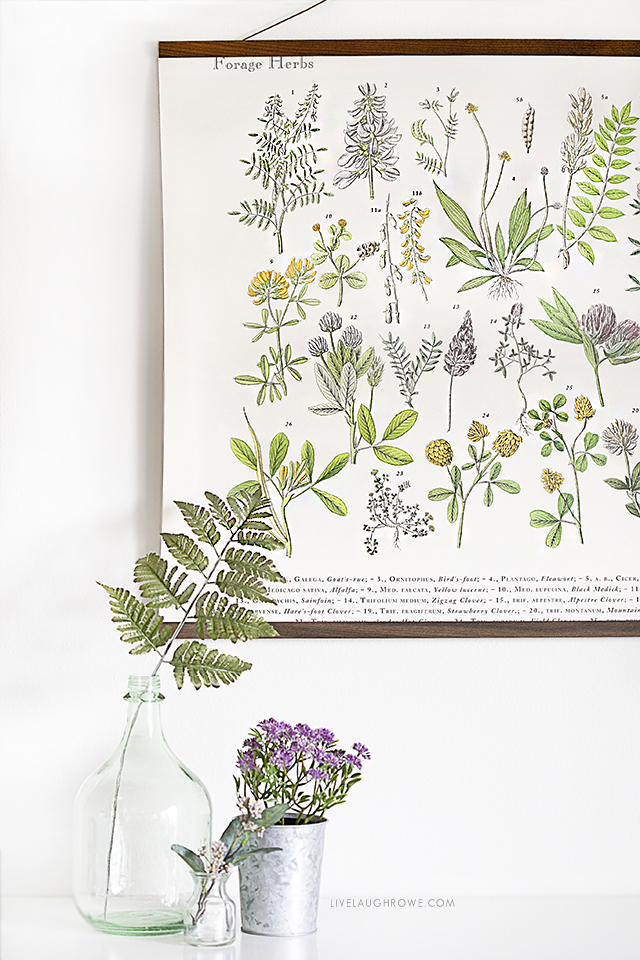 Next up was adding some pieces to make it look more like a spring buffet. I certainly didn't want to cover up the poster, so I shopped all the decor items I have in our garage. I think it came together beautifully — incorporating florals along with the herbs & spices. It all seemed to flow together.
Fern and Flowers within Spring Buffet Decor
What do you think? Simple and springy with a side of perfection. Ahem, in my humble opinion.
I loved using the glass jug with the fern sprig — and adding a couple of pops of color with the flowers. A nice clean vignette that looks like spring has moved in. Honestly, it lifts my winter blue spirits a bit too.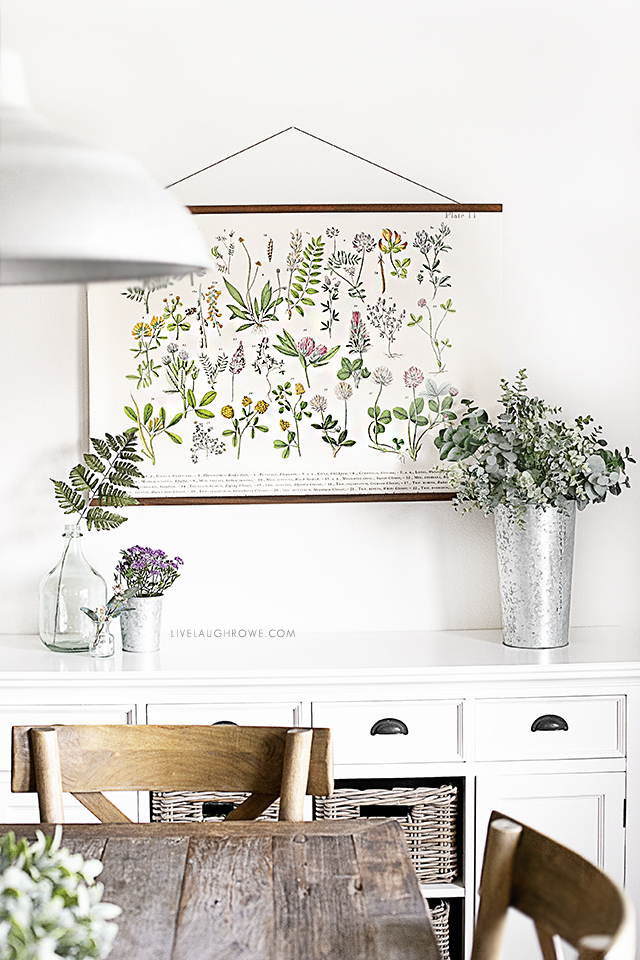 Quote Poster
As I mentioned earlier, I did get another large poster print… I went with this quote poster, sized at 28″x 39″ (70cm x 100cm). It's currently hanging in my living room; however, it may migrate into our guest room at some point.
"Take a step back today
look at all those beautiful
things you have."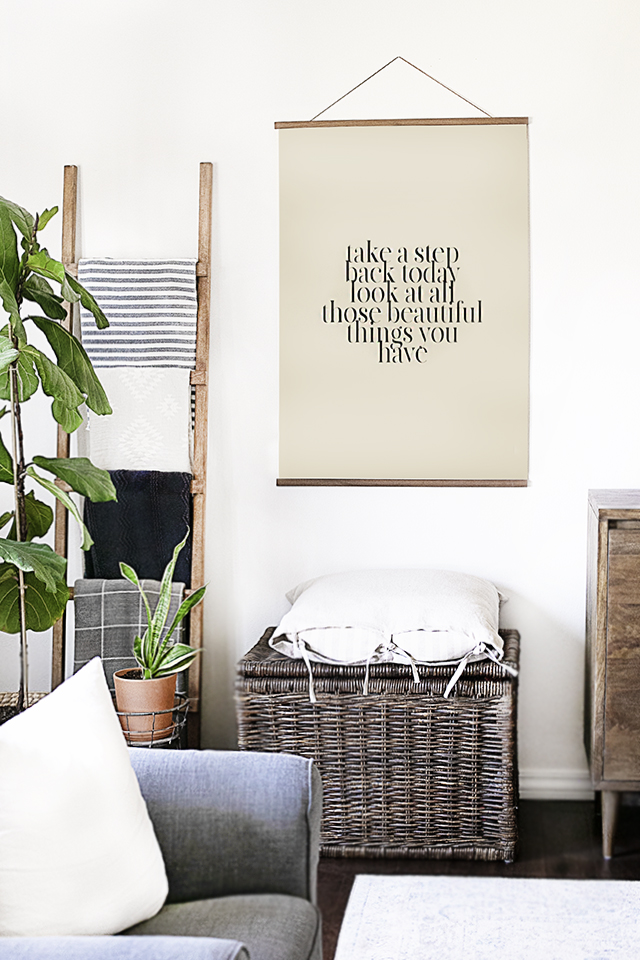 GUESS WHAT?
Photowall is offering Live Laugh Rowe readers a discount.
Use code livelaughrowe2021 to save 25%
Feel free to use the code as much as you want for a month.*
*(Please note that the discount will not work after 4/4/20)
Connect with Live Laugh Rowe!
Facebook | Instagram | Pinterest | Twitter
Hugs and Blessings!