Thoreau Quote | Wild And Free Printable
Quotes are something I cherish. And it doesn't matter if they're from great poets like Henry David Thoreau, a friend, celebrity or my pastor. They have a great way of making me think about a topic, dig a little deeper into my thoughts, feelings, and emotions. Consequently, there can be a great deal of self-awareness from quotes too… like this printable Thoreau quote.
I honestly can't remember where I originally saw this quote (probably Pinterest, haha). However, it does make me think of nature and all that transpires around us. Adventure anyone?
Be sure to sign up for my email to get new
recipes and creative ideas sent right to your inbox!
Wild and Free Printable
Have you ever watched any of the National Geographic shows that feature the animals of Africa hunting their prey or mamas protecting their young? Did you see the harlequin tuskfish crack open a clam? Umm, it's pretty AMAZING. In short, this fish carries clams to a spot and throws the clam onto a rock until it cracks open to eat. Sounds pretty crazy, right? Steve and I sat in complete awe.
My husband is a big fan of National Geographic shows. Therefore, I've watched more on there (and the Discovery channel) than I care to admit — but it's always eye-opening. There truly is so much to see and experience in this world. The intelligence of animals amazes me. Not to mention the beautiful scenery that fills each state and country around the world.
"All good things are wild and free."
(Henry David Thoreau)
This quote is a clip from the essay/writing titled, Walking by Henry David Thoreau. It's a passage about the relationship between man and nature. So maybe that's why I've always associated this Thoreau quote with nature and the great outdoors.
Every time I see this print, I want to pack up the Oliver (out travel trailer) and head out on an adventure… doesn't that sound perfect?
Thoreau Quote 8×10 Printable
Regardless, it's an awesome quote and I wanted to create a printable with wildflowers as a reminder to experience life and connect with nature. You know, be wild and free.
The print has an eclectic-boho feel. Sized at an 8×10, I created two color options for you. However, one is more "ink" friendly with an all-white background (see below).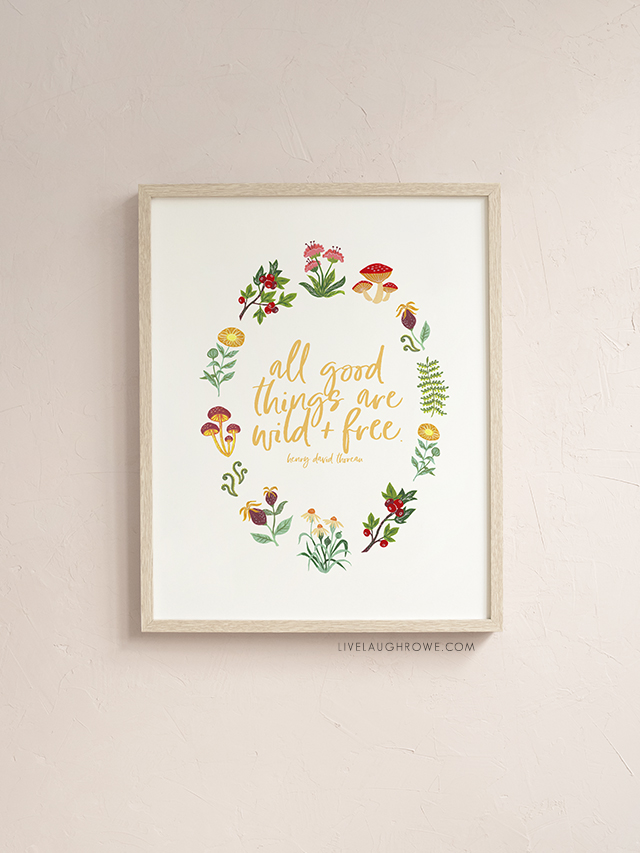 Other quote printables that might interest you:
Inspirational Message Printables
You are my Sunshine Print
Never Too Old Inspirational Printable
Smile Printable
So, I hope that you're able to enjoy this Thoreau quote and/or print as much as I have. And don't forget to share it with your friends.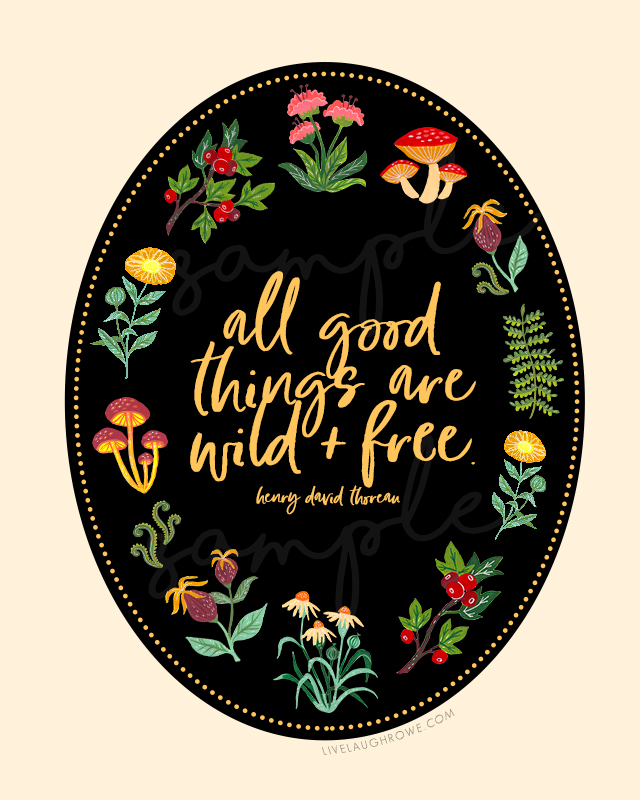 *Please Note: All printables and downloads designed by Live Laugh Rowe are for PERSONAL USE ONLY. Please do not alter the file or claim it as your own. In addition, this quote printable is not intended for resale, nor are the printed versions of this file.
Connect with Live Laugh Rowe!
Facebook | Instagram | Pinterest | Twitter
Hugs and Blessings!