Jelli is back today from Jelli Bean Journals sharing a delicious recipe for Lemon Cream Crepes.
Nothing says "elegant" like French food, and these easy crêpes with lemon cream filling are no exception. Plate them up at your Saturday morning brunch and be prepared to scribble down the recipe for all your guests.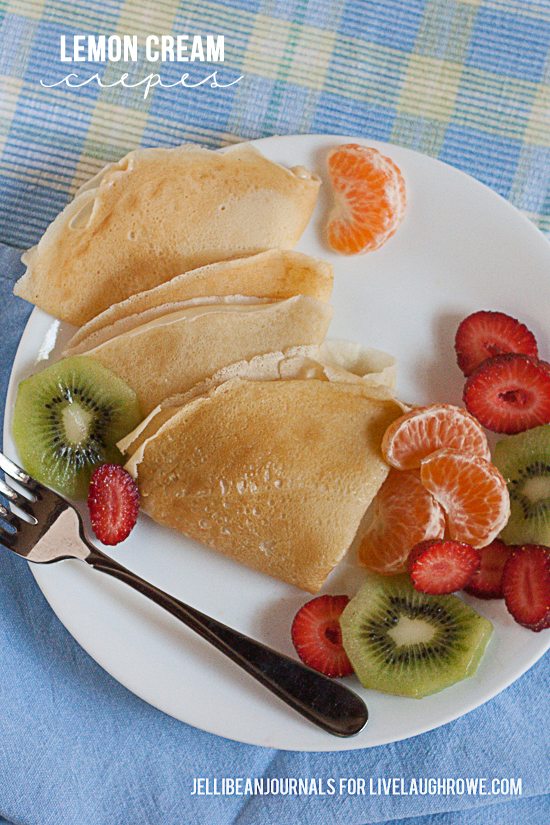 Crêpes might seem tricky, but today we'll take all the guesswork out of it. I'll give you all the tips you need to not only make beautifully golden crêpes, but to enjoy the process too!
First things first, no matter what you've been told, you don't need any fancy equipment to pump out bistro-style crêpes. No expensive single-purpose crêpe pans required. A simple 4-6″ nonstick skillet or omelet pan is perfect for the job.
Let's talk ingredients. Homemade crêpes are even more basic than pancakes. See, this is no big deal at all. I mean, we make pancakes all the time, right? All you'll need for the batter are eggs, flour, milk, and salt. We'll stir it together, refrigerate for an hour, and then fry our crêpes to perfection.
Wanna know another insider secret? You can make your easy homemade crêpes a day in advance! Same goes for our lemon cream filling. Who doesn't love a good make-ahead recipe?!
Pouring and swirling the batter is usually the most intimidating part of making crêpes for most of us, but it doesn't have to be. The key is to keep the skillet well-buttered so the crêpes don't stick to the pan. Depending on your skillet, adding a pat of butter after frying every 2 or 3 crêpes should work. When you pour your batter, be quick. Determine how big you want your crêpes to be and use a measuring spoon to pour the batter. I used a 1/8 cup measure to make the 5″ crêpes here.
When your skillet is hot, add a pat of butter and swirl to coat the pan. With a quick flick of the wrist pour your batter into the center of the pan with one hand and swirl the skillet with the other to coat with a thin layer of batter. Cook until small blisters appear beneath the surface and the edges begin to pull away from the skillet. Use a spatula to gently lift the edges. Flip and cook another 30 seconds or until golden brown.
Now that we know how simple the crêpe batter is to make, let's talk about this filling, shall we? Lemon cream filling is a basic pastry cream flavored with fresh lemon zest and a pinch of cinnamon. The cinnamon might sound a tad bizarre, but it infuses the silky cream beautifully alongside the lemon to create a smooth, mellow citrus flavor.
Pastry cream is made by heating milk, sugar, salt, and flavorings over medium heat and then tempering an egg mixture with the hot liquid. We'll return the cream to the stove until it thickens and then stir in a few tablespoons of butter for good measure. The beauty of pastry cream is that once you master it, and you will, you can change up the flavors to just about anything your heart desires.
All that's left is to assemble your beautiful French crêpes on delicate China platters (for "wow" factor, of course) and chow down! On with the recipe!
Lemon Cream Crêpes
Ingredients
Crêpes:
1

cup

flour

300

ml

milk

1

egg

1/8

teaspoon

salt
Pastry Cream:
2

cups

whole or 2% milk

1/2

cup

sugar

1/2

vanilla bean

split lengthwise, seeds scraped or 1 teaspoon extract

Pinch

of salt

4

egg yolks

1/4

cup

cornstarch

2

tablespoons

butter

1/2

teaspoon

cinnamon

1

teaspoon

lemon zest

2

mandarin oranges

separated

2

kiwi

sliced

handful of strawberries

sliced
Instructions
Crepes
Combine flour and salt in a large measuring cup with a spout (or alternatively, in a bowl) and pour in egg and milk. Whisk to combine and refrigerate one hour. Make pastry cream.

When ready to fry crêpes put a small skillet over medium heat. When hot add a small amount of butter and swirl the coat the skillet. Quickly pour in batter and swirl to coat the bottom of the pan. The first ones may not look perfect, but you can fold them up to look top-notch. As you get the hang of it, you'll get better! Cook until small blisters appear under the surface and the outer edges begin to curl away from the skillet. Gently flip and cook another 30 seconds or until golden. Remove to a plate and repeat with remaining batter, buttering the skillet as often as necessary to keep crêpes from sticking.
Pastry Cream
In a small saucepan combine milk, 1/4 cup sugar, cinnamon, lemon zest, and salt. Bring to a simmer. Meanwhile, in a medium bowl whisk together yolks, cornstarch, and remaining 1/4 cup sugar.

When milk gets to a simmer, slowly ladle about 1/2 cup of milk into yolk mixture, whisking constantly. In a slow stream, continue to pour in milk, whisking constantly. Return mixture to saucepan over medium heat and cook until thickened, about 3 minutes, stirring constantly.

Remove from heat and whisk in butter and vanilla. Cover with cellophane directly on top of the creme and refrigerate 2 hours or up to 2 days.
Assembly
Determine whether you'd like to serve your crêpes chilled, room-temperature, or warmed. You may reheat them on a greased cookie sheet in the oven set to 300 degrees Fahrenheit for about 12 minutes.

Place a tablespoon or two of lemon pastry cream into one quarter of the crêpe and fold it in half and half again. Alternatively, you can fill the crêpes right down the center and roll up like mini French burritos.

Slice fruit and arrange on the plate and serve.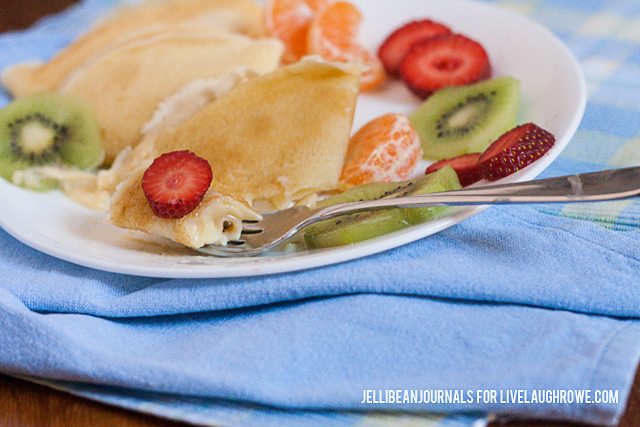 Check out even more brunch-time favorites: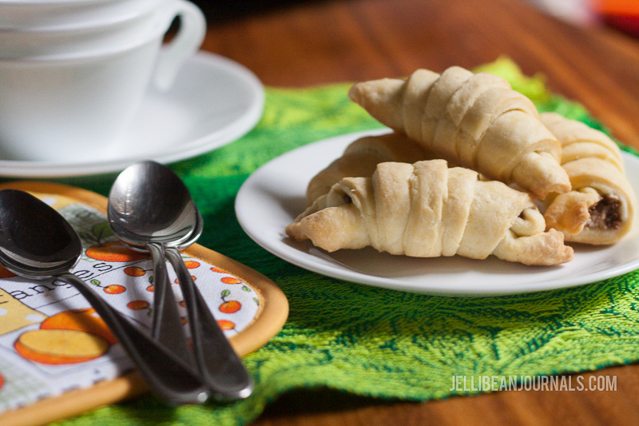 Nutella Cream Cheese Pastries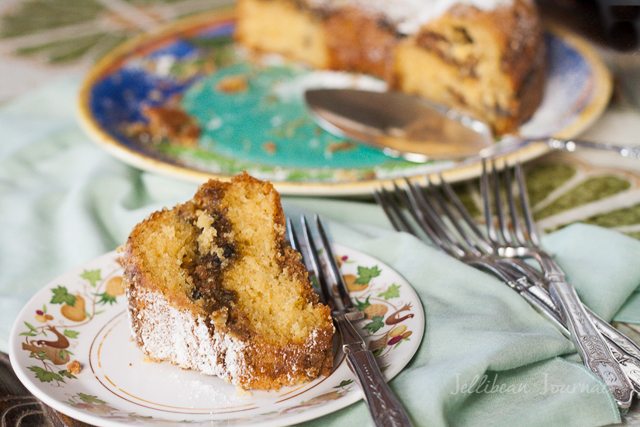 Fig Walnut Streusel Cake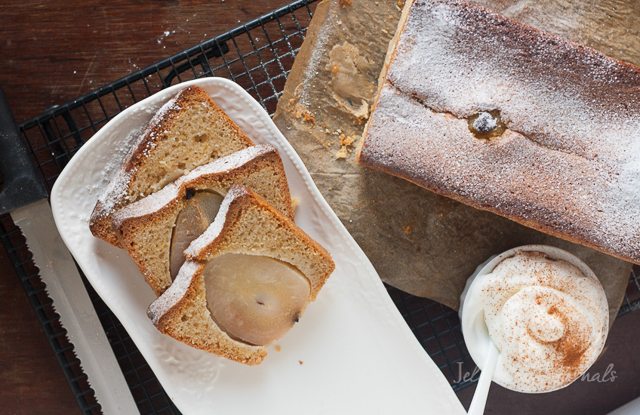 Ginger Pear Cake
You can also find me hanging out here:
Pinterest | Facebook | Twitter | Google+
https://betweennapsontheporch.net/