Homemade Iced Coffee | Go-To Coffee
This is a sponsored post written by me on behalf of Seattle's Best Coffee®. All opinions are 100% mine.
My name is Kelly and I'm addicted to coffee. Iced, hot or frozen? I'll take it! This Homemade Iced Coffee is as good as the coffee shop, if not better (ahem). As the warmer temps roll in, this will be my go-to coffee drink.
Coffee Anyone?

How many of us are on the lookout for a good deal? I know I am. For example, maybe a boxed wine tastes just as good as a private label. Sometimes you can find products that are a good price with high quality. For example, Seattle's Best Coffee® (used to make this Homemade Iced Coffee).
Why settle for average coffee when you can get Seattle's Best® Coffee for THE SAME PRICE (or maybe a teeny tiny more)? It's seriously like a FREE upgrade.
Seattle's Best Coffee, great blends to choose from.
Enjoying better coffee has never been so rewarding. Seattle's Best Coffee® is offering a Price Match Guarantee as a way for you to try the coffee! Simply find the coffee aisle, choose your roast of choice, purchase and enjoy the quality promised (additional details available on their website regarding the price match).
One of my favorite snacks with coffee (hot or cold) is Almond Biscotti. Mmmm… I love dipping them in hot coffee and I don't mind them nice and crunchy with my Homemade Iced Coffee.
Hot or cold, Seattle's Best® won't disappoint. Drinking a cup of coffee in a cute mug doesn't hurt either, right? Another one of my kookie quirks — cute coffee mugs (wink).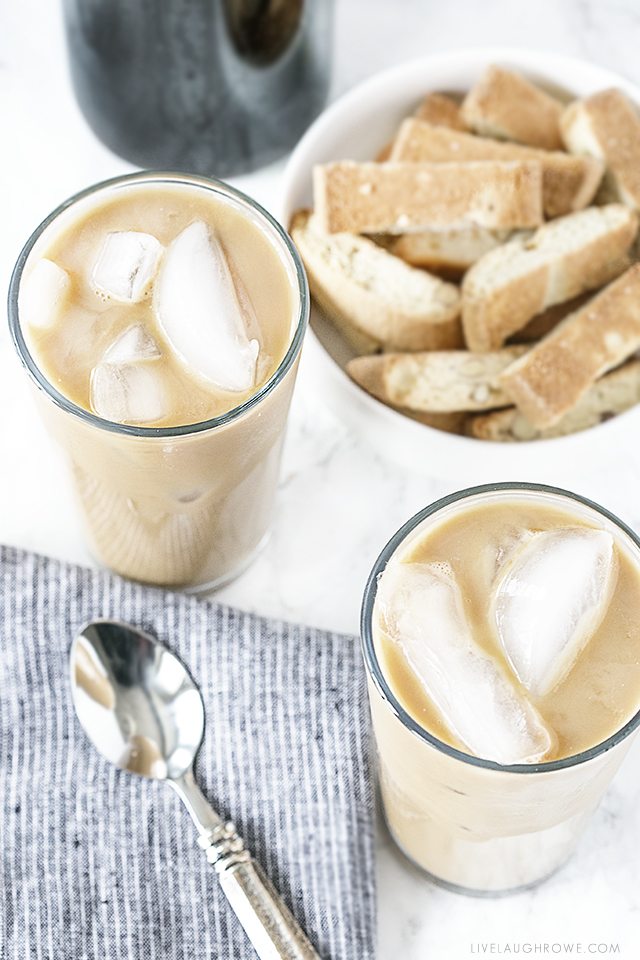 I've always been a fan of Seattle's Best® — it's reasonably priced, has a smooth taste and comes in a variety of blends. Discover Seattle's Best® Coffee at Walmart, the coffee is at an everyday low price, making it a great everyday coffee!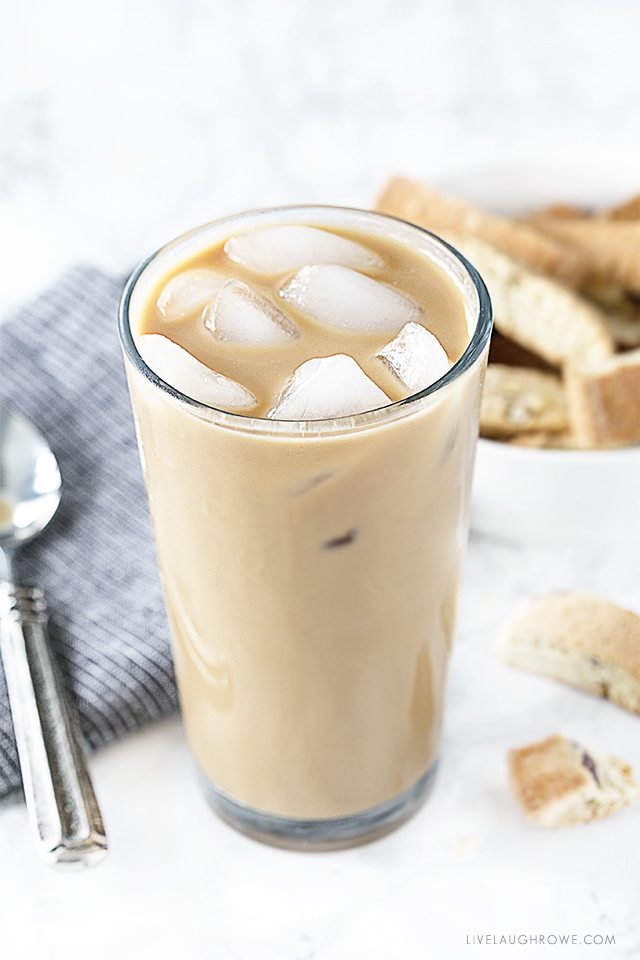 When out ordering an iced coffee, I often become frustrated with all of the granulated sugar settling at the bottom of the cup. So, I tried using simple sugar in mine. What a fantastic idea that was. This Homemade Iced Coffee is made to fit the bill of light cream, light sugar. Enjoy.
Homemade Iced Coffee
Ingredients
Water

Ice

Ground Coffee

Simple Sugar

Half and Half Creamer
Instructions
Brew 10 cups of coffee, measuring five 1/8 cup heaping scoops.

After brewing, refrigerate until chilled, optional.

Place 1 cup of ice into a 16 oz. cup

Pour 1-1/4 cup coffee over ice.

Add 2 teaspoons simple sugar and 2 tablespoons of creamer.

Mix and serve.
Notes
NOTE: The longer the coffee sits in the fridge, the stronger it will become. Adding more or less sugar and cream is at your discretion.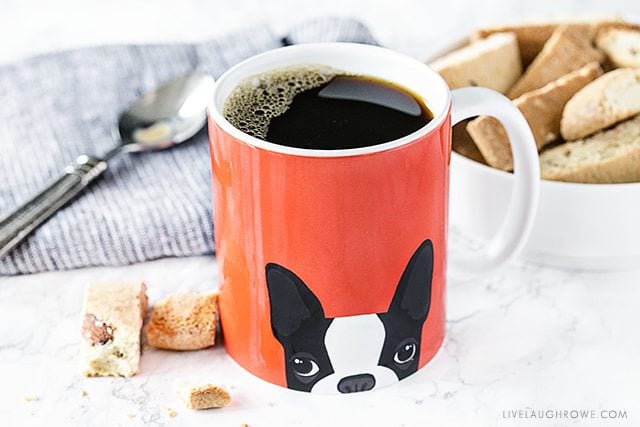 How do you like your coffee? Hot? Cold? Iced? Cream and Sugar? Let me know in the comments! I'd also love to hear how you like this Homemade Iced Coffee if you give it a try.
p.s. Isn't' that mug adorable. Search Boston Terrier by Anne was Here on Society6.com
Connect with Live Laugh Rowe!
Facebook | Instagram | Pinterest | Twitter
Hugs and Blessings!