Dalgona Coffee Drink Recipe
Have you jumped on the Dalgona Coffee trend yet? Maybe you're not familiar with it. If you enjoy milk and coffee, then this might just be your new guilty pleasure.
Be sure to sign up for my email to get new recipes
and creative ideas sent right to your inbox!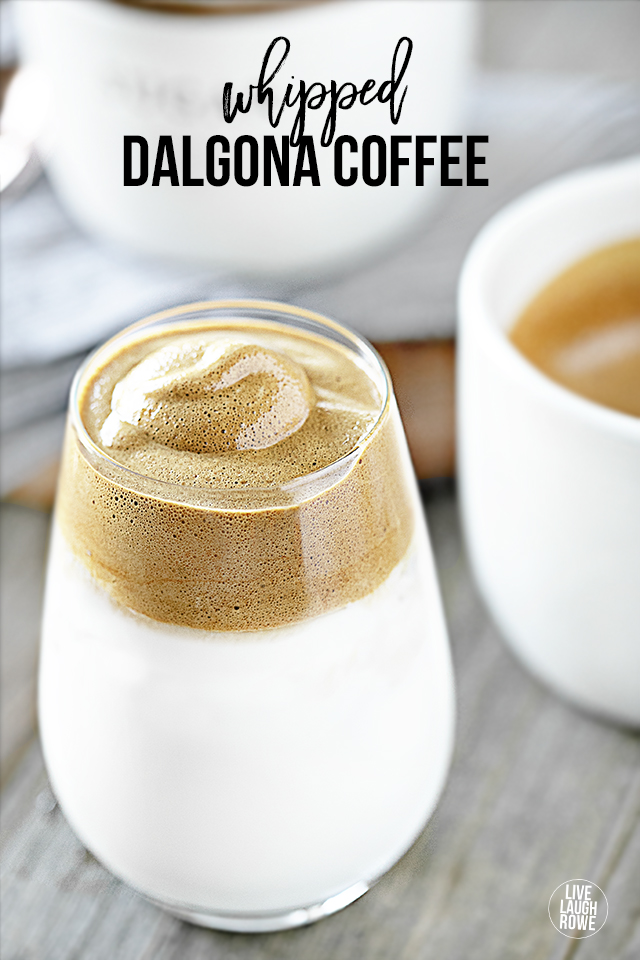 So, I read an article about Dalgona Coffee several weeks ago. Meanwhile, I never did get around to trying it. However, I recently learned that a couple of my friends had been making it frequently. My gal pal said it had become a guilty pleasure.
In short, I thought it was about time to pull out my whisk and create this fluffy goodness.
What is Dalgona Coffee?
Dalgona Coffee is made with equal parts of instant coffee, sugar, and hot water. These ingredients are whisked together until they become fluffy and creamy. It's then served over cold or hot milk (or even coffee).
It kind of resembles a reversed cappuccino. Right?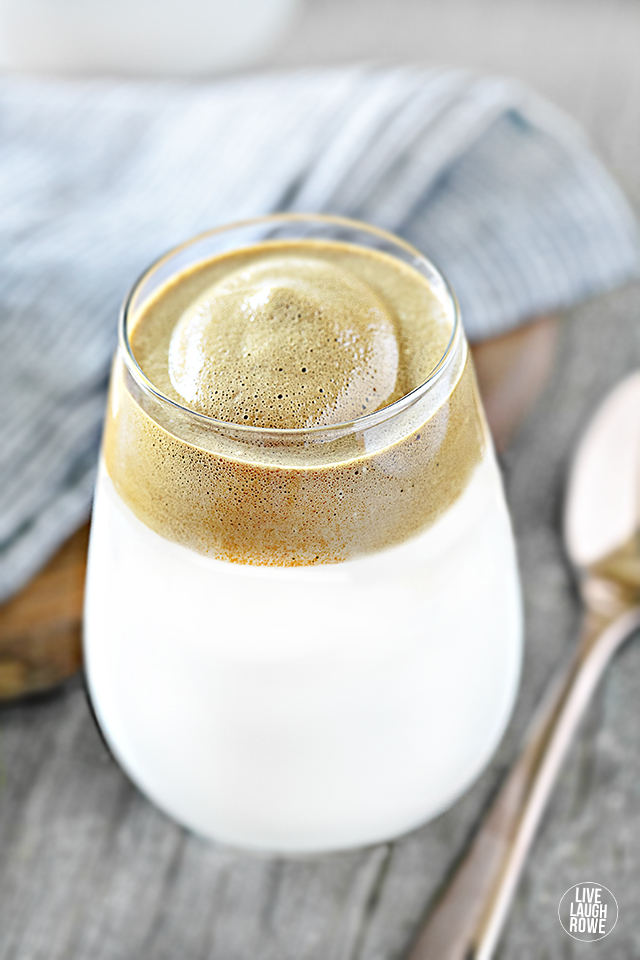 First and foremost, I'm going to say that if you're not a fan of instant coffee or consider yourself a coffee snob, this might not be the drink for you. I most certainly love coffee and milk. But after tasting it, I believe it's an acquired taste.
After reading about Dalgona Coffee on many websites, I found that much wasn't said about the coffee used. Below I'm documenting what I used and how it turned out.
First attempt…
After heading out to our small local market, I picked up some Folgers® Noir Golden Dusk Instant Coffee to start with a medium roast instant coffee. Friends, it tasted nasty.
Meanwhile, I started to wonder what all the fuss was about. It's safe to say that I did not like it at all.
Second attempt…
On the second attempt, I tried Dalgona Coffee with Starbucks Via Instant Coffee, which didn't seem to work. The coffee within the packets was super fine. Maybe it was a user error. However, I was under the impression that Starbucks Instant coffees are not made the same as other instant coffees. Consequently, it won't work. Please let me know if you experience something different.
Third attempt…
Next, I tried Maxwell House French Vanilla Coffee beverage mix. My husband mentioned this and I thought it was a great idea… until it wasn't. Another fail.
Fourth attempt…
On the fourth attempt, I used the basic Folgers® Classic Roast Instant Coffee. This whipped up nicely and tasted much better than my first attempt. However, I'm not going to lie — still not loving the flavor. It tastes like instant coffee to me, even after stirring it into the milk. I do not like instant coffee. Blah.
FINAL attempt at Dalgona Coffee…
My last and final attempt was with Medaglia D'Oro Instant Espresso Coffee. Guess what friends? We had a winner! This version tasted the best to me (and my husband).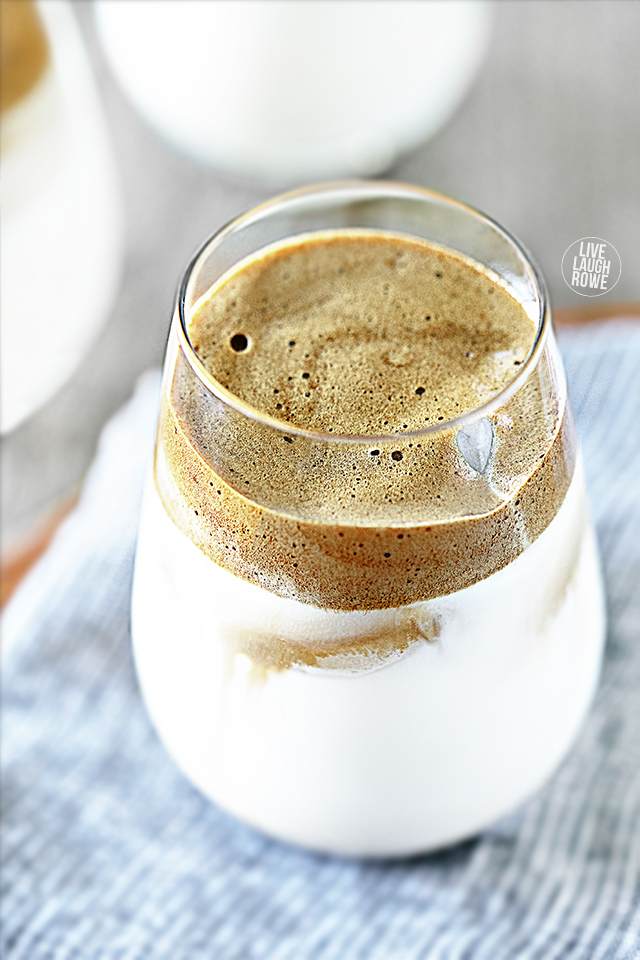 Conclusion…
I made all of these the same way, using equal parts of water, instant coffee, and sugar. Seriously, you can't mess that up. You pull out an electric blender or whisk and a few minutes later you'll have a fluffy whipping to add to the top of your milk or coffee.
I concluded that you will either love Dalgona Coffee or dislike it — or you can acquire a taste for it. Considering that I love milk and coffee, this seemed like a win-win. However, as you can see it took me a few tries to find what worked for ME.
So I encourage you to do the same, experiment. Here's the basic recipe. Enjoy.
More coffee-flavored favorites:
Homemade Iced Coffee
Coffee Mocha Shake
Cappuccino Tiramisu
Caramel Macchiato Popsicles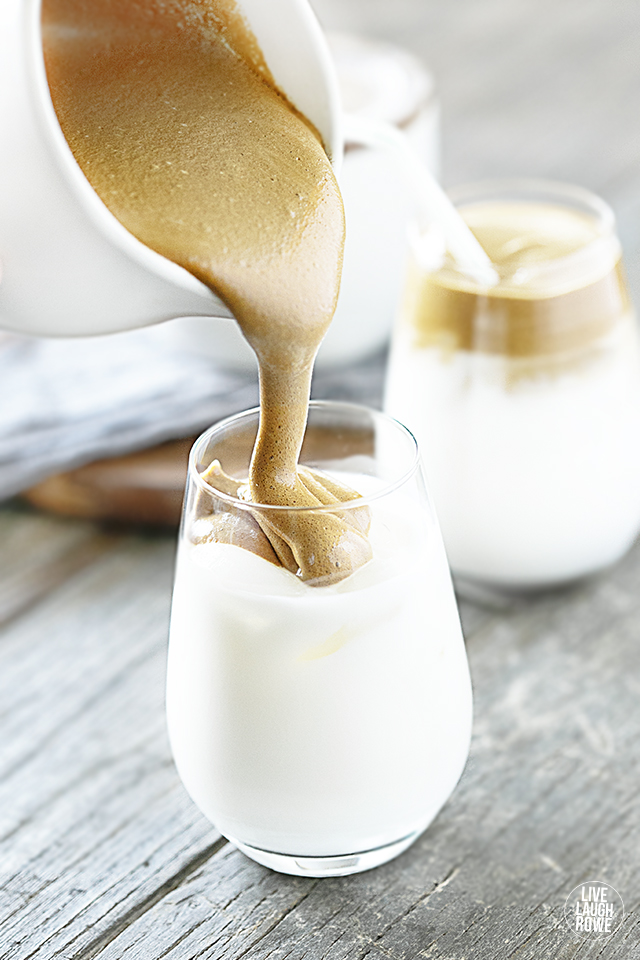 Dalgona Coffee
Ingredients
Whipped Coffee Topping
2

tbsp

instant coffee

2

tbsp

sugar

2

tbsp

hot water
Instructions
Add ice to cup and pour milk over ice.

Place instant coffee, sugar, and water in a deep bowl and whisk until fluffy and creamy.

Pour the whipped topping over iced milk.

Garnish (optional) and enjoy.
Notes
Garnishes you might use:  honey, cocoa powder, crumbled graham crackers, chocolate sprinkles, cinnamon, and sugar, etc.
Connect with Live Laugh Rowe!
Facebook | Instagram | Pinterest | Twitter
Hugs and Blessings!