Printable Happy Thanksgiving Card
Thanksgiving comes with a variety of wonderful things and memories. From sharing delicious meals around the table and reflecting on all that we have to be thankful for to pumpkin pie and more. Add this sweet vintage Happy Thanksgiving Card to the mix this year by sharing with friends and/or family.
Festive Vintage-Inspired Thanksgiving Printable


Thanksgiving is a holiday to celebrate the harvest and blessings of the past year. I think the words Happy Thanksgiving are heavily weighted. It's certainly not something we should say without some thought. Why?
Well, often we take things for granted and overlook what we should be grateful for. I saw this quote not too long ago…
The things you take for granted,
someone else is praying for. -Unknown
Did that smack you in the face like it did me? Right? However, isn't there a great deal of truth to it? Yep. So, when you print off today's free Happy Thanksgiving card, consider all that you have to be grateful for — both big and small. And take some time to ponder on all that you have been blessed with, and others are desperately praying for.
I support a young boy from Ethiopia through Compassion International — reading his sweet letters and realizing the poverty he lives in makes my heart heavy. Therefore, I never want to take the roof over my head for granted. Or the refrigerator full of food we have in our kitchen. I am so incredibly blessed and grateful.
Be sure to sign up for my email… to get new recipes,
printables and other creative ideas sent right to your inbox!
Sweet Happy Thanksgiving Card


Recently I found this vintage card and decided to spruce it up a bit. Remember my recent Halloween Printable post? I did something similar there. Thank goodness for Adobe Photoshop.
I wanted the Happy Thanksgiving to stand out a bit more and the colors to pop. After a few clicks here and there — tada. What do you think?
Before and Ater of Thanksgiving Card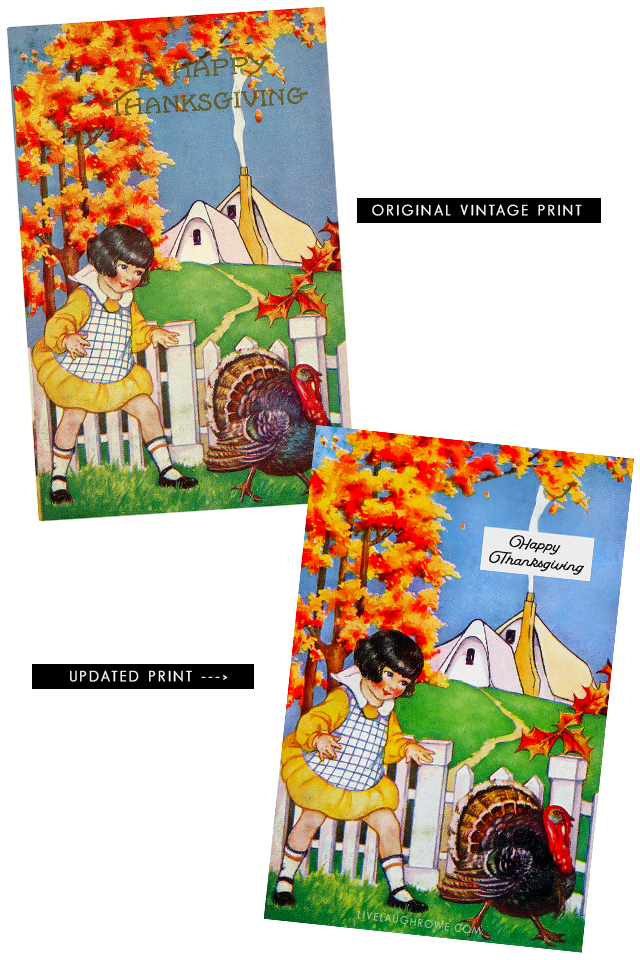 I like that the holiday greeting is more visible and readable — and what about those vibrant fall colors? I wish we were getting foliage like that here in Missouri. Womp womp womp.
And yes, with a vintage image, there is a slight grainy look — but doesn't that add to the character of the print? I think it does.
Sized at approximately 3-1/2″ x 5-1/2″, this Happy Thanksgiving Card printable has versatility. Use one for place cards of favors this Thanksgiving, send one to a friend or use as a part of your decor by placing it in a wooden stand, floral frog or frame. Enjoy!
Other fall printables to check out:
I Never Met a Pumpkin I Didn't Like
Thankful Printable
Fall Bucket List
Thankful Printable Bookmark
Oak Acorns and Leaves
Thanksgiving I Spy Game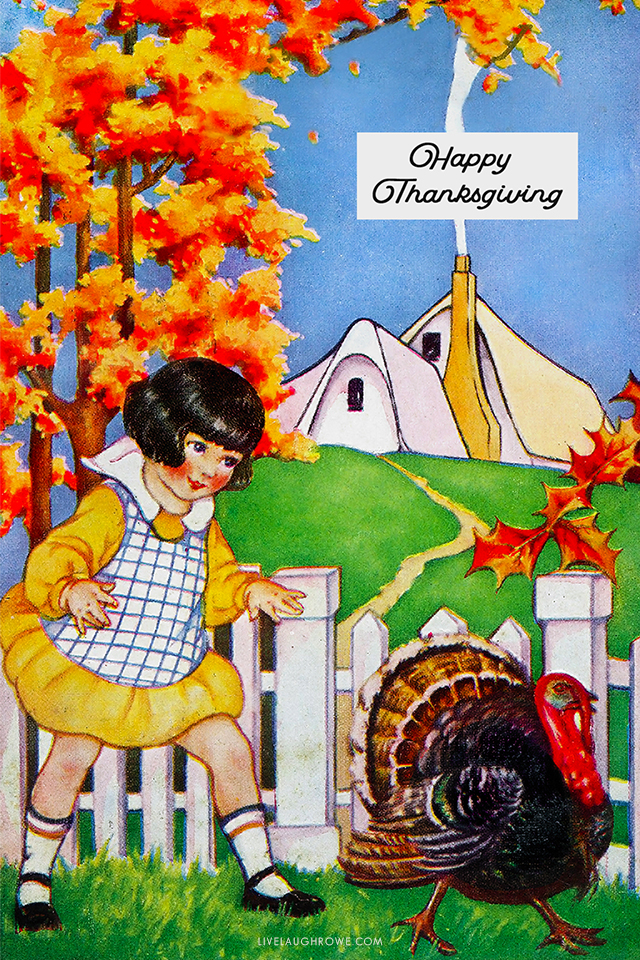 Please Note: All printables and downloads designed and created by Live Laugh Rowe are for PERSONAL USE ONLY. Please do not alter the file or claim it as your own. Resale of electronic files and/or printed versions are prohibited. This is not a vintage print due to revisions made to the original print.
Connect with Live Laugh Rowe!
Facebook | Instagram | Pinterest | Twitter
Hugs and Blessings!