I love plants! As a result, I wouldn't be opposed to hanging some fern wall art in my home! How about you? Well, greenery seems to be trending right now — real or faux, it adds such a beautiful pop of color to any decor! Consequently, I've been obsessing over ferns. So, I decided to created this beautiful Fern Botanical Print.
Fern Wall Art


Ferns are considered foliage plants. They don't produce flowers and seeds. Ferns reproduce by means of spores. Ironically there is no single family of ferns. They have so many common characteristics, so ferns tend to be discussed as a single group.
There are three different shapes to a ferns frond: Straplike (undivided), Lance-Shaped (pinnate) and Triangular (quadripinnate). I primarily used lance-shaped and triangular shaped on this fern print.
Beautiful 8×10 Fern Botanical Print
I've been doing my homework. Can you tell? Ha.
The staghorn fern is very popular right now — but until recently, I didn't even know it was a fern! I want to get my hands on a Maidenhair Fern. For instance, their fronds are so dainty and beautiful.
Anywho, I created this print while recovering from my hysterectomy. I wanted to share this with you and send a 5×7 print to all of the beautiful souls who provided meals for us as well. I thought sharing something I made would add a personal touch. Don't you agree?
I used this 8×10 and had it sized to fit a 5×7 at Staples to make flat cards. They turned out beautifully… and I can't wait to send them off. I hope you'll enjoy this print as much as I have.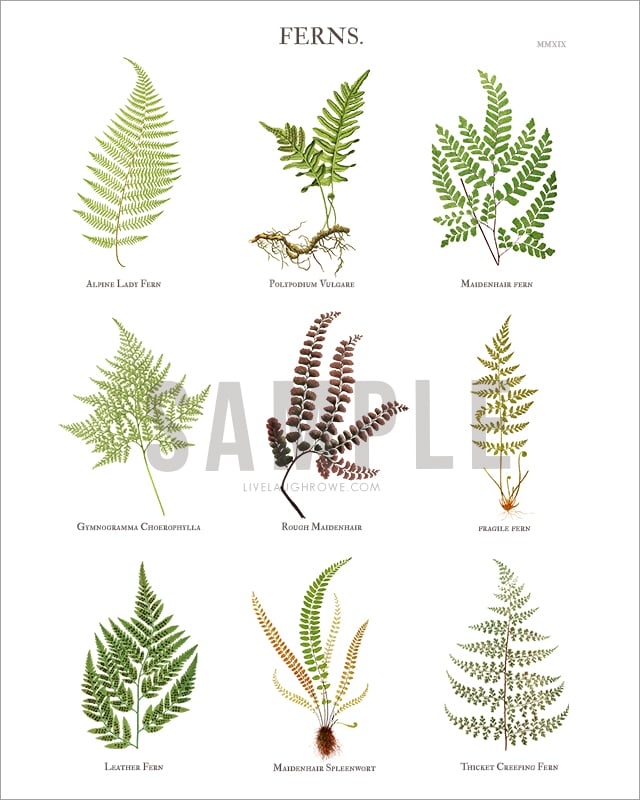 *Please Note. Printables and downloads designed by Live Laugh Rowe are for PERSONAL USE ONLY. Please do not alter the file or claim it as your own. This file is not intended for resale, nor are the printed versions of this file.
Check out these Botanical Printables too!
Vintage Botanical Calendar
Botanical Spring Flowers
May Quote with Botanical
Oak Acorns and Leaves
Spring Botanical Prints

Be sure to visit with me here too:
Facebook | Instagram | Pinterest | Twitter | Google+