If you love the rustic feel of galvanized decor and/or storage — or you love the farmhouse feel, these Galvanized Home Decor and Storage Ideas are for YOU. So many options, so little time!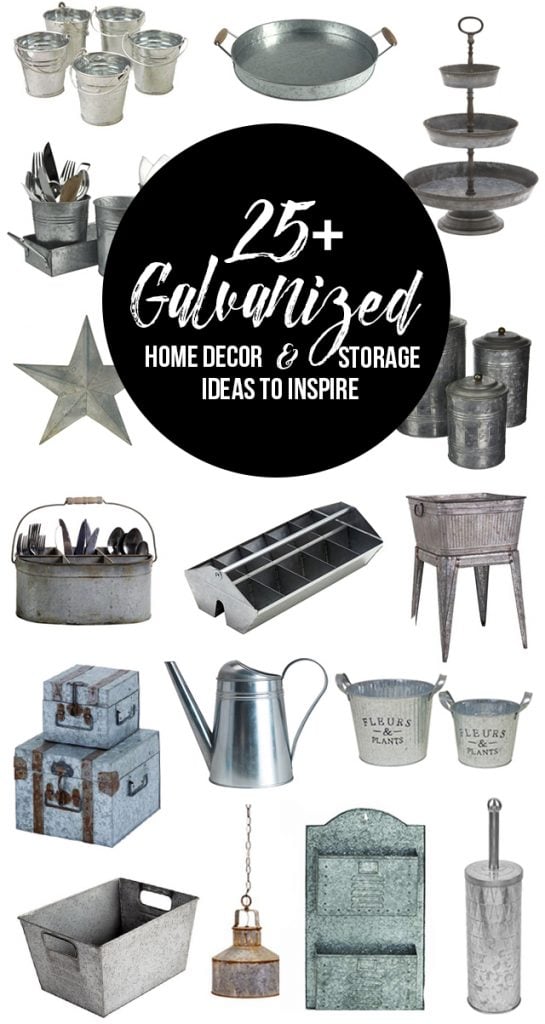 For me, I love the simplicity of farmhouse decor — but I like the rustic twist too! One thing I love about galvanized home decor (and storage) is that some of it can look new and others can look really old and rustic. There are no rules!
I am in love with all of these pieces. I can totally picture the Galvanized Tub in a farmhouse laundry room and the 3-Tier Serving Stand is swoon worthy and perfect for hosting a tea party! I recently ordered the Salt and Pepper Caddy Set and LOVE it — it's simply darling. I think the Galvanized Coin Bank would make a great piggy bank in any room around the house too. Anywho, enough about my thoughts… I hope you're inspired!
*This most may contain affiliate links; however, they're free of charge to use! Booyah.
25+ Galvanized Home Decor and Storage Ideas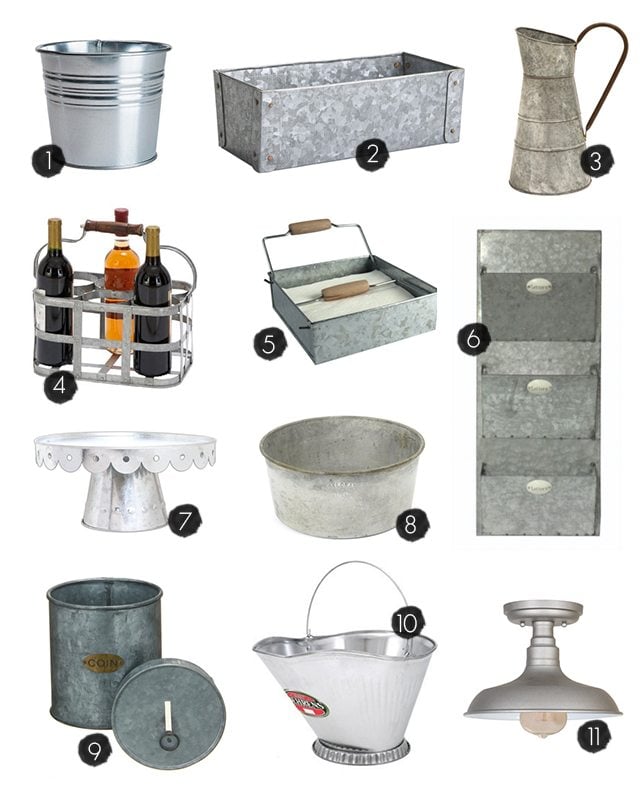 1. Ikea Galvanized Plant Pot (Pack of 3)
2. Galvanized Basket
3. Watering Jug
4. Wine Rack
5. Galvanized Napkin Holder – I purchased a similar one at Walmart.
6. Mail Wall Storage
7. Original WWII British Officer Galvanized Steel Foot Bath
8. Scalloped Edge Metal Cake Stand
9. Galvanized Coin Bank
10. Galvanized Steel Coal Hod
11. Galvanized Indoor Ceiling Light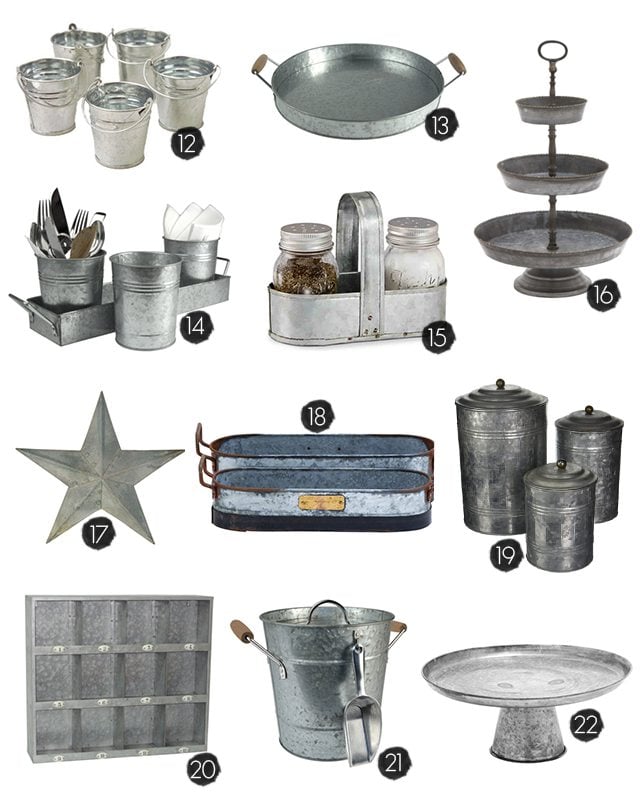 12. Mini Buckets (Set of 12)
13. Party Tray – I purchased a similar one at Walmart.
14. Picnic Caddy (or Planter) Set
15. Salt and Pepper Caddy Set
16. 3-Tier Serving Stand/Tray
17. Galvanized Star
18. Metal Planter (Set of 2)
19. Galvanized Canisters (Set of 3)
20. Wall Cubby Storage with Number Labels
21. Ice Bucket with Scoop
22. Cupcake Stand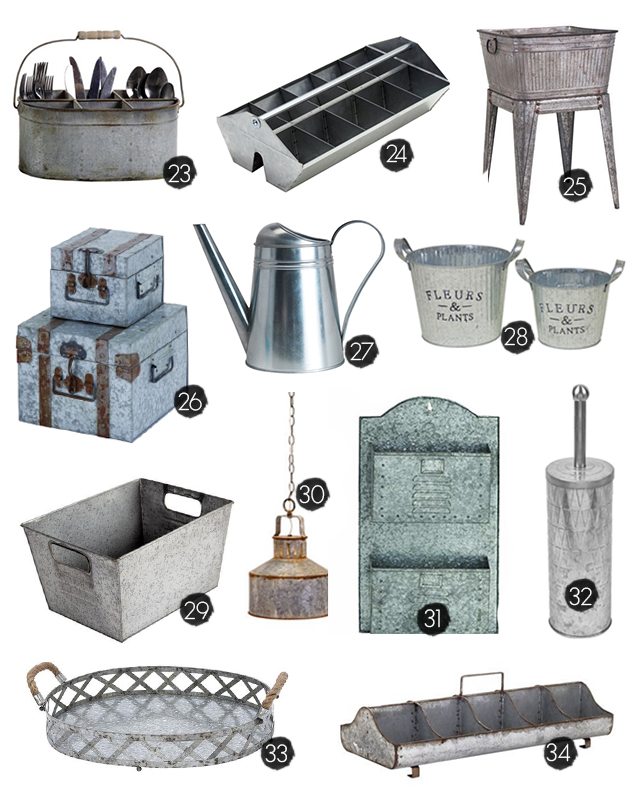 23. Caddy with Six Compartments
24. Stak-N-Tote® Fittings Tote Tray
25. Galvanized Tub on Stand
26. Galvanized Boxes for Storage
27. Ikea Galvanized Watering Can (see mine styled for Spring)
28. Ribbed Tin Planters (with lettering)
29. Small Galvanized Bin
30. Pendant Light
31. Wall Pocket
32. Toilet Bowl Brush with Holder
33. Galvanized Tray (oval)
34. Galvanized Organizer – I bought a similar one at Hobby Lobby.
If you're up for a making a galvanized piece on your own — this DIY galvanized tray is something you could whip up in 15-20 minutes and for less than $10.00.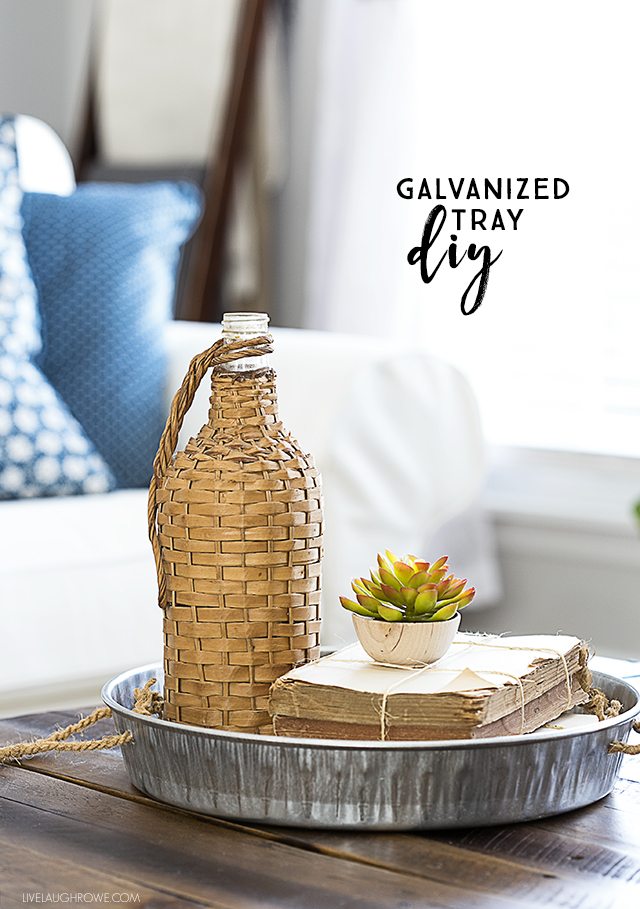 Here's to galvanized everything and farmhouse decor that makes your heart go pitter-patter!

Be sure to visit with me here too:
Facebook | Instagram | Pinterest | Twitter |Google+
Linking up to Between Naps on the Porch