Oh happy day! Today, Kyla is back from House Of Hipsters back with us sharing a dreamy cocktail! I'm excited to give this Hugo Cocktail Recipe a try… I bet you will be too! Cheers.
Hi guys! I've just returned from visiting family in Germany. We took both kids across the pond and had an absolute blast! Oma and Opa watched the kids while The Boy and I gallivanted across Munich. Then it was back to their house for some much needed rest and relaxation. Now I sit here in my office, day dreaming of The Fatherland, but to take me back, I sip on a Hugo.
Hugo Cocktail Recipe


My mother-in-law (Oma), well known for her fancy libations, made me a cocktail called a Hugo…amongst many others. (I swear, I can drink for days over there.) But this one in particular, she likes to enjoy on the patio during the summer months because of it's nice crisp, refreshing taste.
After one sip, I exclaimed, "I'll enjoy one of these bad boys any day, any time, any where." Super delicious, but then again, how can you go wrong with a drink she described as a champagne aperitif with elderflower and mint? Since it's happy hour o'clock, I'd like to share with you my mother-in-law's Hugo cocktail recipe.
Delicious Hug0 Cocktail
I'm always suspicious when someone pours me a drink, and says, "Here, try this." Maybe it's because of all the bad jokes we played on one another back in my college days with cement mixers and black licorice shots. Ewe, so nasty. But The Boy's mom has good taste, so I trusted her.
I was also incredibly jet-lagged when she handed me an icy beverage. The first of many was called an Aperol Spritz. Basically the same recipe as a Hugo, but instead of the Elderflower syrup which is sweeter, you use Aperol. It was a little bitter, but it was mixed with champagne, so there was no sending this one back. I drank it to the last drop.
Some people think you can only drink champagne on special occasions. I beg to differ.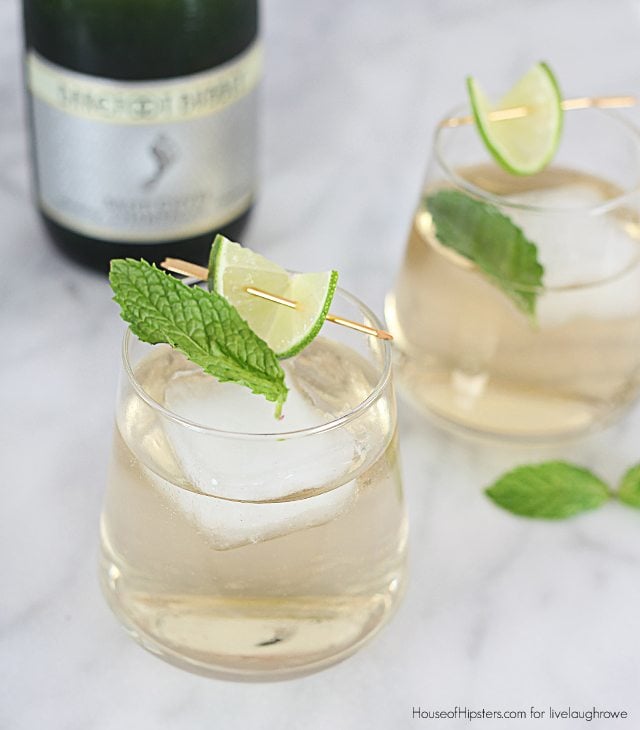 Champagne is delicious… and before everyone starts to correct me, yes, I know true champagne only comes from France, but let's all play along. Besides, the mother-in-law's champagne was actually from France since she lives a stone's throw away.
Seriously, France is like 8 mins from her house. So jealous. Anyhoo, back to my champagne point. I don't buy fancy champagne when I make these drinks. I'm mixing them with other ingredients, so I like to keep it under $10 a bottle or there abouts. Personally, I really like to use Barefoot Bubbly or Korbel Brut. For the price, you can't beat the taste.
Also something to note, since you are adding a sweet syrup to this drink, I like to use a Brut. It's sharper in taste. Enjoy!
Hugo Cocktail Recipe
Ingredients
200

ml

champagne

Brut

100

ml

sparkling water

1-2

teaspoons

elderflower syrup

found at IKEA or Amazon

1-2

mint leaves

1-2

slices

of lime
Instructions
Muddle the mint and a slice of lime in your glass.

Add 1 teaspoon elder flower syrup (if you want it sweeter, you can always add more)

Add champagne and mineral water. Stir.

Add ice.

Garnish with a mint leaf and slice of lime.
Other drink recipes you might enjoy here on Live Laugh Rowe:
Amaretto Sour
Pitcher Cocktails
Raspberry Limoncello Cocktail