Hi friends! I had intended for this post to be all hearts, love and kisses! Then some sad news kind of rained on my parade: reality. Last night while I was debating what I wanted to write, if I wanted to write, and thinking of the 100 things on my to-do list, the knot in my neck seemed to become more uncomfortable. Then I saw a devastating post on Facebook. A college friend was diagnosed with melanoma cancer this summer and it's turned into something much more aggressive, so much so that he is now in hospice. What? As tears began to fall down my cheeks, I was quickly reminded that my silly stresses were absolutely ridiculous in comparison to what this family is going through. It also made me want to march upstairs and give my husband a big kiss and say, "love you." I guess the Lord's timing was perfect when this shabby chic printable was penciled into my editorial calendar. It was time for a reminder…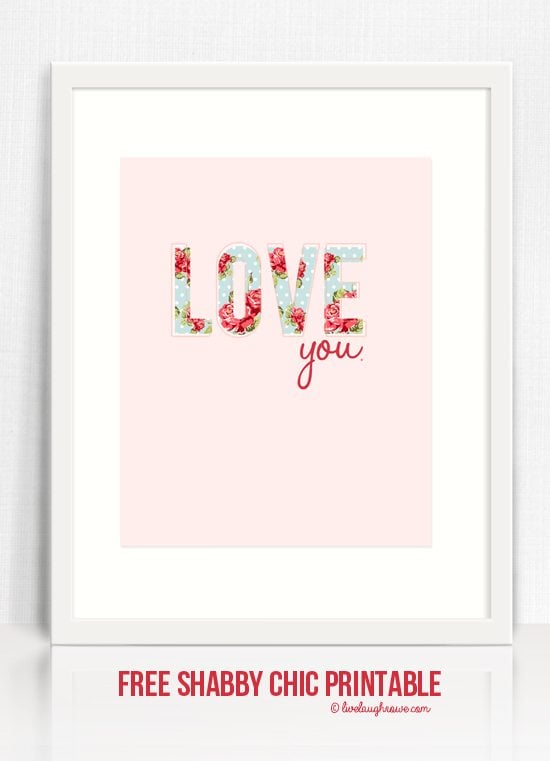 A reminder for what, you ask? Life is uncertain and, often times, it's unexpectedly cut entirely too short. Let this printable serve as a simple reminder to express your love more often and with a passion, friends.
When my husband and I were dating, we took a road trip to Toronto to visit friends of his, Jim and Teresa. We had a lovely visit, but I'll never forget watching Teresa send her son off to the school bus and hearing their dialogue:
Mom: Love you!
Son: Love you more!
Mom: Love you most!
Son: Impossible!
It was their interaction, expressions and emotion that made me feel all kinds of warm and fuzzy inside. The sweet power of love.
These sweet shabby chic printables are available in both the 5×7 and the 8×10. Print one off for your home, office or a friend. You might even tuck one into your hubby's briefcase, wife's lunch bag or the kiddos backpack. Oh the lovely possibilities! I think it will spread a little love, don't you?

*Please Note: All printables and downloads designed by Live Laugh Rowe are for PERSONAL USE ONLY. Please do not alter the file or claim it as your own. This file is not intended for resale, nor are the printed versions of this file.
"Being deeply loved by someone gives you strength,
while loving someone deeply gives you courage." (Lao Tzu)
This post and message of love is dedicated to Greg and his family. Our prayers are with you, friend!
Care to stay in the loop? I'd love to have you!
Catch me snapping + sharing pictures over on Instagram.
Subscribe to Updates | Like on Facebook | Follow on Pinterest
https://betweennapsontheporch