Yesterday I shared my new (and fabulous) curtains in my breakfast room. Today I'm back to share how to build a wood cornice with attached curtain rod — on a dime! This project had a lot of trial and error. I'll share a little more about that later… let's get started!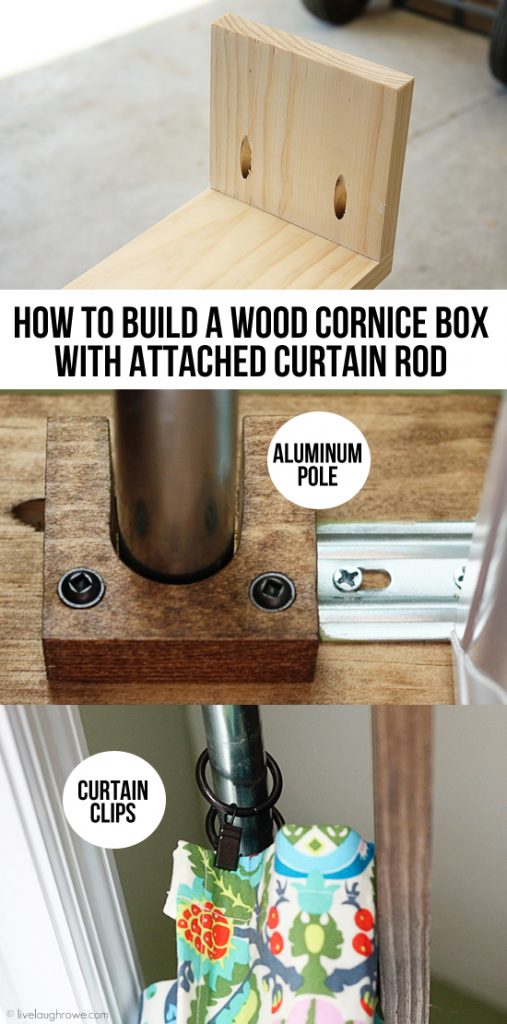 Supplies:
Pine Wood
Aluminum Pole
L-brackets
Wood Glue
Screws
Drill
Kreg
First things first, you have to measure your window/doors/etc.
Our sliding glass doors measured 63″ side to side. So we had to take into consideration the sides of the cornice and decided on the front board measuring in at 65″ x 5-1/2″ and the side pieces were 5″ x 5-1/2″.
You'll then want to cut your wood down to size and attach the side boards to your front board. We used our Kreg for a nice clean look. Those pockets make me ooh and aww every. single. time. However, if you don't own a Kreg — no worries, you could also use L-brackets. You should always try add some wood glue for a little extra support too. Here is a picture of ours assembled.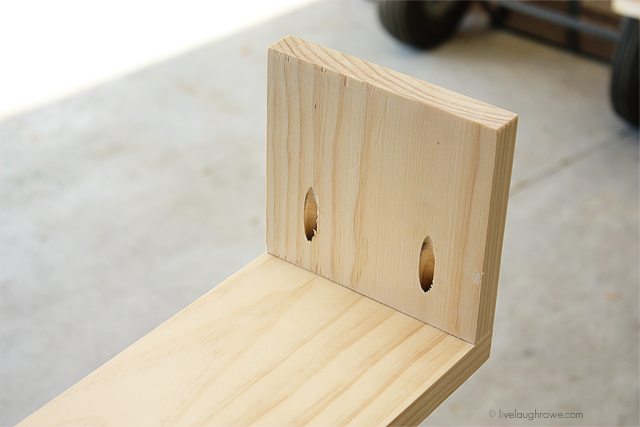 Now that the wooden cornice box is assembled, it's time to stain! I used the Minwax Provincial stain for this project.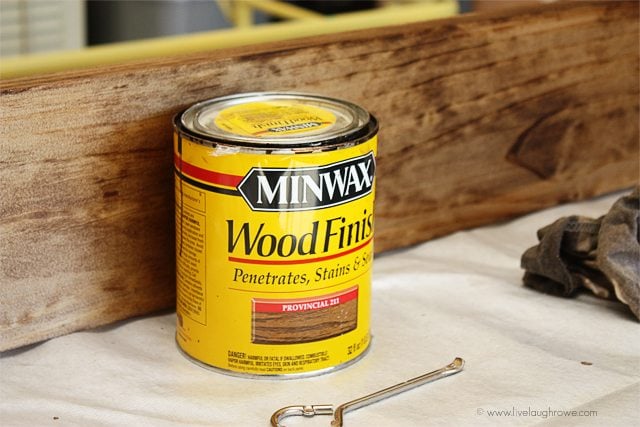 At this point we attached the wooden cornice box to the wall with L-brackets. See, our original plan was to use a single adjustable curtain rod and take advantage of the middle brace. Ahem, these curtain were a little too heavy and we didn't have stud at the center to keep the brace stable and curtains from drooping. Plus, we wanted to keep our dry wall in place (hee-hee). We tried a couple of other things before we finally had the genius idea to create our own curtain hardware and attach it to the cornice box.
The hubs cut out two squares of wood to fit within the side boards of the cornice. He then cut a U shape the diameter of the aluminum pole and prepped two pilot holes. (I apologize that we didn't get a picture before assembly).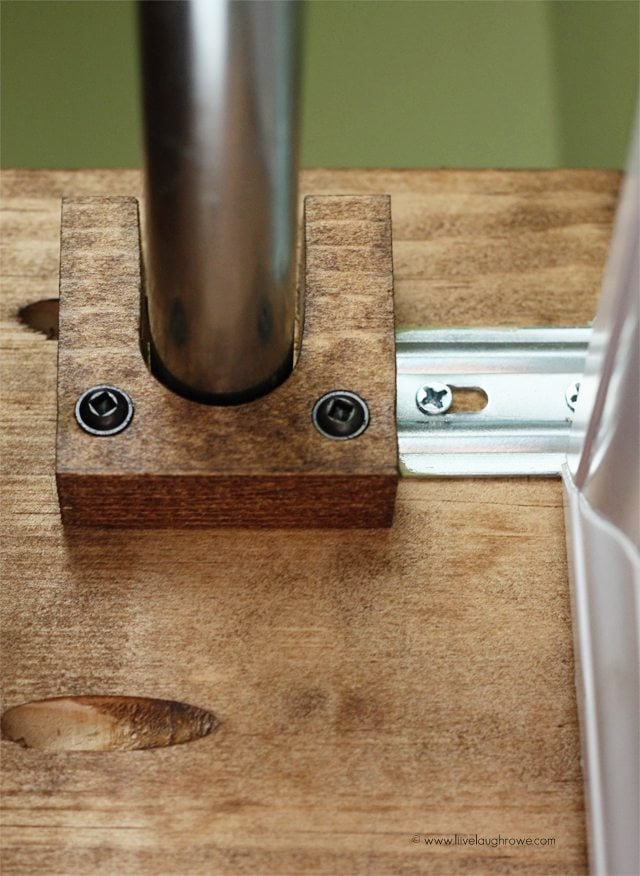 In order to mount the curtain rod holder, we inserted the aluminum pole (with curtains attached) and place at your desired height. Mount to the side of cornice box, using wood glue once again. Finish attachment with screws and you're done!
Here's a look at the curtains hung with curtain clips on the aluminum pole! Now, here is what I love-love-love about this curtain rod. There is NO CENTER bracket, so I can keep all of the panels to one side or the other and sliding them open and closed is easy breezy! The aluminum pole cost $3-4, keeping the cornice box and curtain rod to a reasonable $20-25. Score.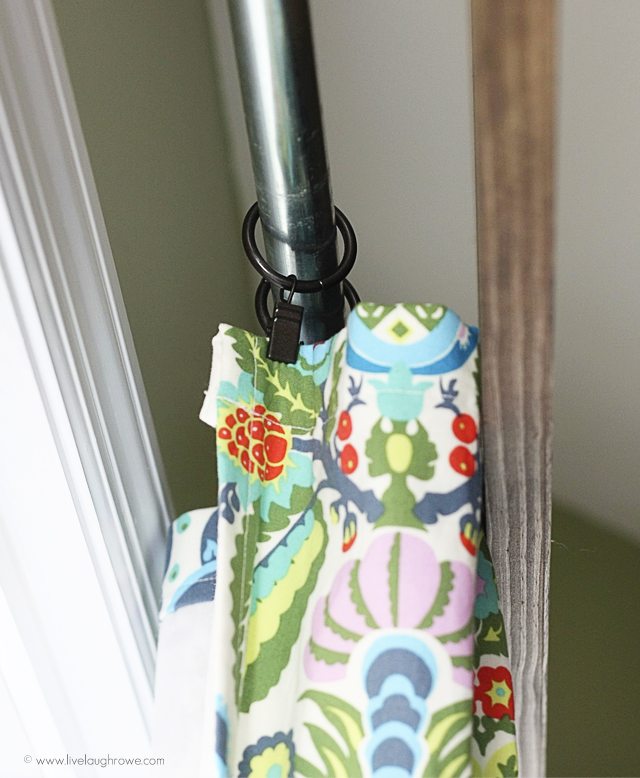 And here's a picture of the completed sliding glass doors with the cornice box!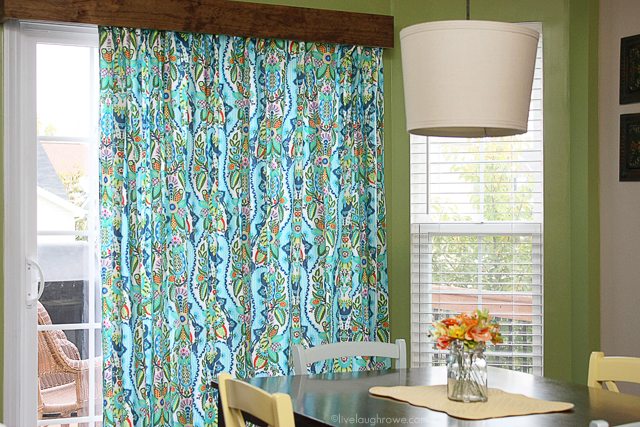 This was a great DIY on a dime — and I love the rustic simplicity of this cornice box! I hope you're feeling inspired, friends.
Care to stay in the loop? I'd love to have you!
Catch me snapping + sharing pictures over on Instagram.
Subscribe to Updates | Like on Facebook | Follow on Pinterest
https://betweennapsontheporch