Remember my DIY Photo Clipboard? They were a big hit last year! Well, this past fall my sister was making plans for her photography store. She usually sells calendars each year with some of her photographs, but this past year she wanted to sell something that could display them. We were talking about the photo clipboards and then it dawned on me that she could make them into smaller desktop frames by adding a wood peg to it! So, that's exactly what we did… and they were a hit. Today I'm sharing this fabulous and simple DIY Wooden Clipboard Frame (with peg to create frame stand).
DIY Wooden Clipboard

Supplies for DIY Clipboard:
Wood
Wooden Dowel, 1/4″ diameter
Sandpaper
Minwax Stain in Provincial
Staining Rags
#2 Bull Dog Clips
Small Wood Screws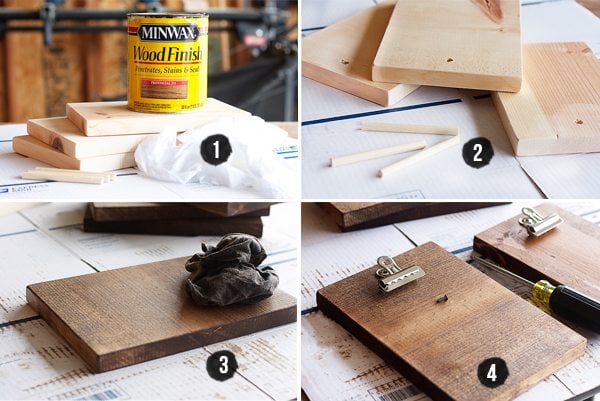 Step One: Cut wood to the desired size of the wooden clipboard frame you're wanting. We made two sizes (see below). Once all your wood is cut, be sure to smooth edges using sandpaper.
-Frame to fit 4×6 photo or print: approx. 8.5″ h x 5.5″ w
-Frame to fit 5×7 photo or print: approx. 9″ h x 6.5″ w
-Dowel for wood peg: 4″
Step Two: Drill holes into the back of each wooden clipboard to fit your wood peg (dowel). We measured approximately 1-1/4″ up from the bottom of the board and used a 5/16″ drill bit.
Step Three: Stain each of your boards and wooden dowels with your stain of choice.
Step Four: Attach bulldog clips with screw.
And that's it! You'll simply place your wood dowel into the hole, add your photo or artwork — and voila! Here's a side view of the wooden clipboard frame. It's pretty fabulous, don't you agree?

Be sure to visit with me here too:
Facebook | Instagram | Pinterest | Twitter | Google+