Trick or Treat! Whose ready for some crafty, creative fun with you Halloween candy? I've seen the mummy chocolate bars around the web before, but I thought I would share it along with the lollipop coffins — inspired by HGTV magazine a month or so ago! So, if you're looking for a creative way to display your candy at a Halloween party or maybe you want to have a little fun in the presentation for the trick or treaters… look no further! Even your kiddos can lend a hand.

Chocolate Mummy Bars
White Crepe Paper
Chocolate Bars
Glue
Tape (optional)
Wiggly Eyes
You'll simply wrap the crepe paper around your chocolate bar (I used both milk chocolate and the cookies and cream chocolate bars). Around the area where I was going to glue my eyes, I folded the crepe over (see pic). You'll then glue or tape your piece of crepe paper down (preferably on the back). Glue on your wiggly eyes and your done!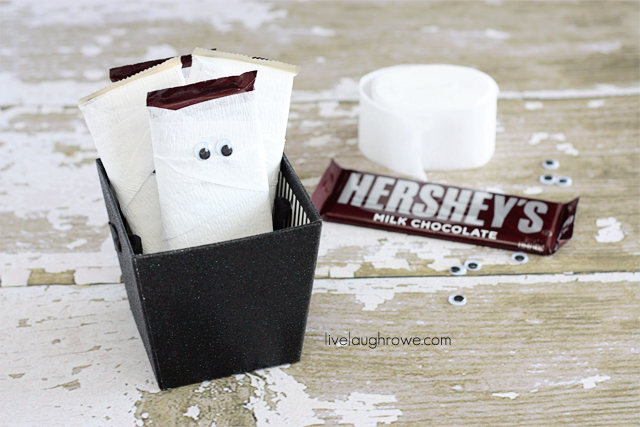 Lollipop Coffins
6″ unfinished coffins
Black paint
Paint Brush
Block of Floral Foam
Knife
Lollipops
How cute are these? You'll start by paining your coffin. Now, trace a stencil of the coffin onto paper to get started on cutting out the floral foam to insert. Measure your depth as well. Cutting the foam can be a little messy, so prepare accordingly. You might have to keep trimming the foam to get the fit just right, but overall it's super easy and the end result is incredibly fun! Add your lollipops and voila!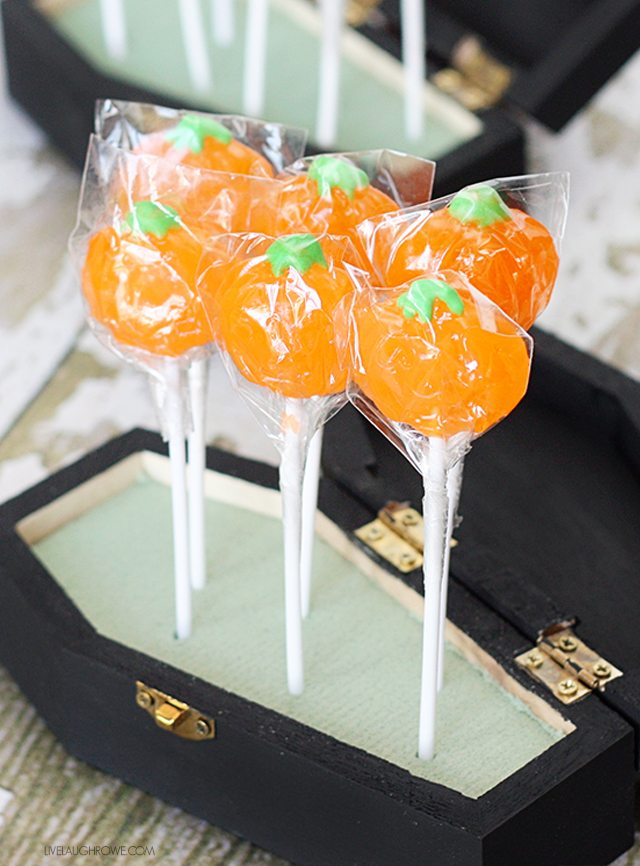 My husband was so cute about the mummy chocolate bars. I put one in his lunch and he text me saying that he felt bad unwrapping it because it was so cute! He's too cute! So, I'm sure either presentation will have the neighbor kids thinking you're pretty spooktacular! They'd make a great treat for your co-workers too.
Trick or Treat? Most definitely a TREAT!
Happy Crafting, sweet friends!

Be sure to visit with me here too:
Facebook | Instagram | Pinterest | Twitter | Google+