This Thursday I'm attending a work conference (aka blog conference). For some reason, before these events I tend to share a business related post such as DIY Business Cards, DIY Phone Case to Brand Yourself, Pencil in a visit Promotion, etc.
Today I thought I would share a super fun and super easy Business Card Holder idea with all of you. Now, let me first say that this is not an original idea of mine. My sister is the most awesoms sister in all the world (hi sis). She always sends me ideas of projects that she spots on Etsy, Pinterest, etc. Sooo, a big thanks to my sister for sharing is this cleverness, Mason Jar Business Card Holder. All kinds of cute, right?
Supplies:
8 oz Mason Jars
Acrylic or Chalk Paint*
Sponge Brushes
Nail File
Business Cards
*I used the DecorArt Chalk Paint in Smitten and Refreshing.
Rather than reinvent the wheel here, I'm going to direct you over to my Painted Mason Jar post for the full tutorial. You can make these in about 15-20 minutes (not including drying time) It's FIVE simple steps, so be sure to swing over and check out the instructions. Mmmkay? And, who doesn't love a little mason jar sitting on their desk holding their business cards? Or use it for holding some craft supplies!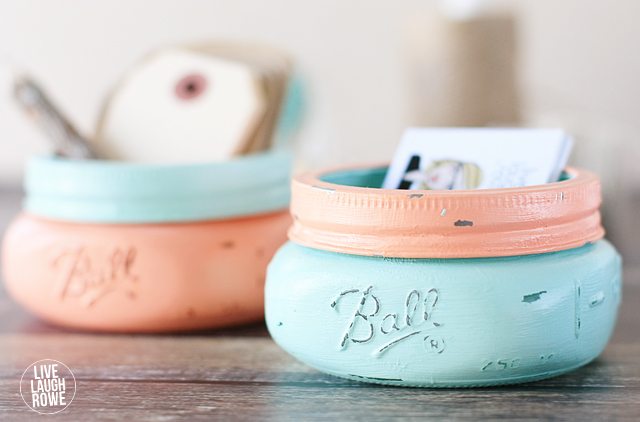 Doesn't it just make you smile? It makes the perfect gift for your crafty friends too!
Happy Creating! xo
Care to stay in the loop? I'd love to have you!
Catch me snapping + sharing pictures over on Instagram.
Subscribe to Updates | Like on Facebook | Follow on Pinterest