Mason jars have taken us by a storm, don't you agree? They're no longer only used for canning and storage, but so much more. I've bought so many Mason Jar Accessories over the last couple of years and recently decided to do some additional '"research" per say.
As you can imagine, it was some pretty fun research and my Amazon cart got quite a workout. Ha! I just love how much versatility there is to a simple glass jar. From wooden covers to flip lids to light adaptors — there really are no boundaries!
Mason Jar Accessories
1. Wooden Mason Jar Lid Wide Mouth Topper
2. Frog Lid Inserts
3. Rope Handles for Regular Mouth Jars
4. Wire Handles for Wide Mouth Jars
5. Jar Light/Lamp Adapters
6. Tooth Brush Holder Lids
7. Coffee Spoon Lid Clip for Wide Mouth Jar
8. Honey Dipper Lid for Regular Mouth Mason Jars
9. Daisy Lid Inserts
10. Mason Jar Shaker Lids and Attachments
11. Feeder Base for Birds <—- I love this!!
12. LED Lighted Jar Inserts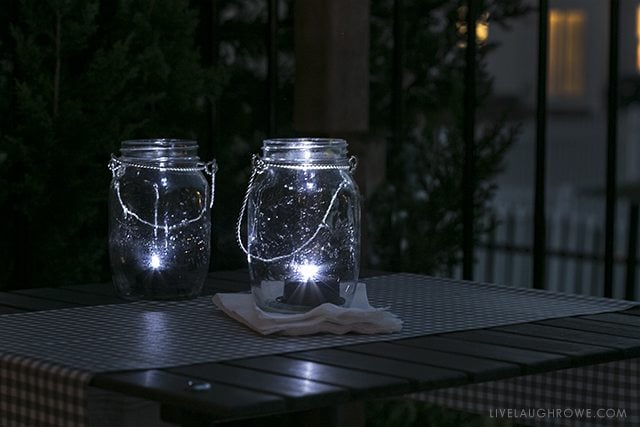 13. Regular Mouth Mason Jar Canister Converter Tops (psst! There's a galvanized one).
14. Salt and Pepper Shaker Lid for Regular Mouth Mason Jars
15. Piggy Bank Lid that the kiddos will love!
16. Juicer Lid for Wide Mouth Mason Jars
17. Fruit Infusion Lid for Regular Mouth Mason Jars
18. Sip and Straw Lids for Mason Jars
19. Silicone Mason Jar Protector Sleeves for Wide-Mouth Jars
20. Mason Jar Slotted Inserts/Lids (to make coin banks)
21. Dissolvable and Reusable Labels
22. Regular Mouth Mason Jar Sprayer
23. Ball Regular Mouth Jar Storage Caps
24. Regular Mouth Mason Jar Flip Cap
Did you see something new? Maybe you have a favorite — share it with me in the comments! I think #11 and #13 are must-haves… and I'll be gifting the bird feeder to my dad, he LOVES bird watching.
Interested in Mason Jar crafts? I've shared a few… be sure to check them out!
Hugs + Blessings,