Compensation was provided by Houlihan's via MomTrends. The opinions expressed herein are those of the author and are not indicative of the opinions of Houlihan's or Momtrends
How many of you still date your husbands? It's so important to take that time away from all distractions to just catch up and enjoy each others company. Earlier this week, Steve and I took some time for a lunch date. I love one-on-one time with the hubs, away from the computer, barking dogs, etc. {hee-hee}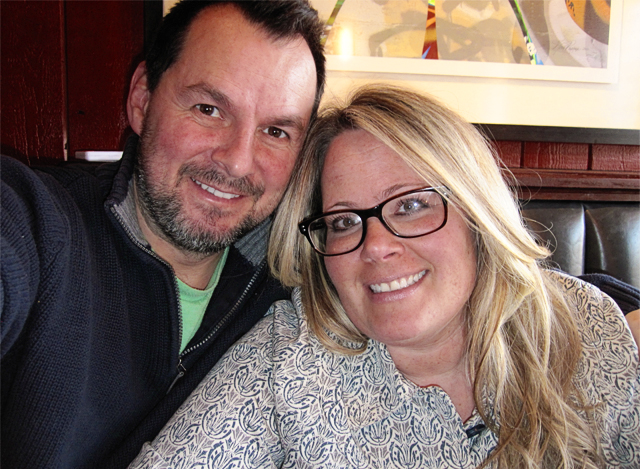 Being that I've been a little more health conscience in the New Year (I've lost 12 pounds to date), I'm always looking for places where lighter menus are available. We decided to head over to Houlihan's and try out their lighter fare menu. Did you know about it? Each item is less than 590 calories! Seriously… take a look at these featured entrees.
Their lighter fare menu doesn't skimp on flavor either, I can assure you of that. I enjoyed the Miso Grilled Salmon served over stir-fried quinoa. Oh my goodness gracious — yum! It was a symphony of flavors.

The menu has a couple of other entrees, desserts and cocktails that are totally drool-worthy as well. Best part about all it? You can enjoy all of it while going easy on your waistband.
We both enjoyed the salmon and shared the mouthwatering Key Lime Mousse for dessert. I was tickled silly to see it served in a small mason jar too! The lunch date was perfect and the food was delicious. We both commented on the fact that we needed to do it again soon. Take it from me, friends — you won't be disappointed.
Keep in mind that these items are available for a limited time, so be sure to head to your local Houlihan's and let them know what you think using #SoEatingThis and tagging @houlihans! Enjoy!
Stay connected with Houlihan's:
Facebook | Pinterest | Instagram | Twitter
Subscribe to Updates | Like on Facebook | Follow on Pinterest