Happy Wednesday! I can't help but wonder where this week has gone? It seemed like it was just yesterday that I was enjoying the weekend and here we are halfway through the week. Part of the problem for me is that I have so much to do, I lose track of time and before I know it the day has disappeared right before my eyes. Can you relate to that? Ahhh. Calgon, take me away.
I hope you're having a lovely week. We've had some reasonably warmer days and the sun poked it's head out a couple of days already, so that's something to be very excited about. I think a lot of folks are ready for Spring. How about you?

A couple of weeks ago I shared a new favorite of mine, the lace sweatshirt. I also mentioned that I had bought another one. Here she is. A gray lace cropped sweatshirt. I love it! It's incredibly comfortable too. I know it's a little hard to see the lace, but it's on the shoulders. A friend of mine said I could have it made it by sewing a doily on the shoulders of a sweatshirt. I chuckles, but she may have had a great idea too!
Anywho, I think these sweatshirts can be dressed up or down too. What do you think?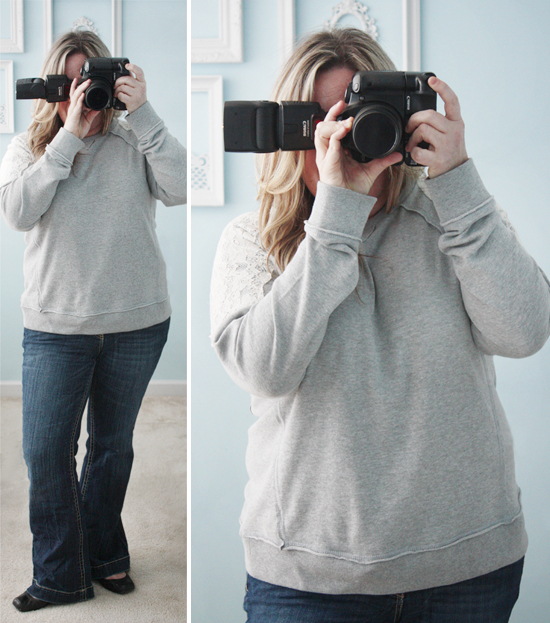 Sweatshirt: Cato
Jeans: JcPenney (a.n.a.)
Shoes: Lucky Brand (Macy's)
Stay fashionably fabulous, friends!
I'll be linking up over at WIWW with The Pleated Poppy.
Subscribe to Updates | Like on Facebook | Follow on Pinterest