Looking for a fun and easy weekend craft? Well, these Crochet Heart Gift Tags will certainly add a little bit of handmade goodness to your next gift. They're perfect for really any occasion, so what are you waiting for?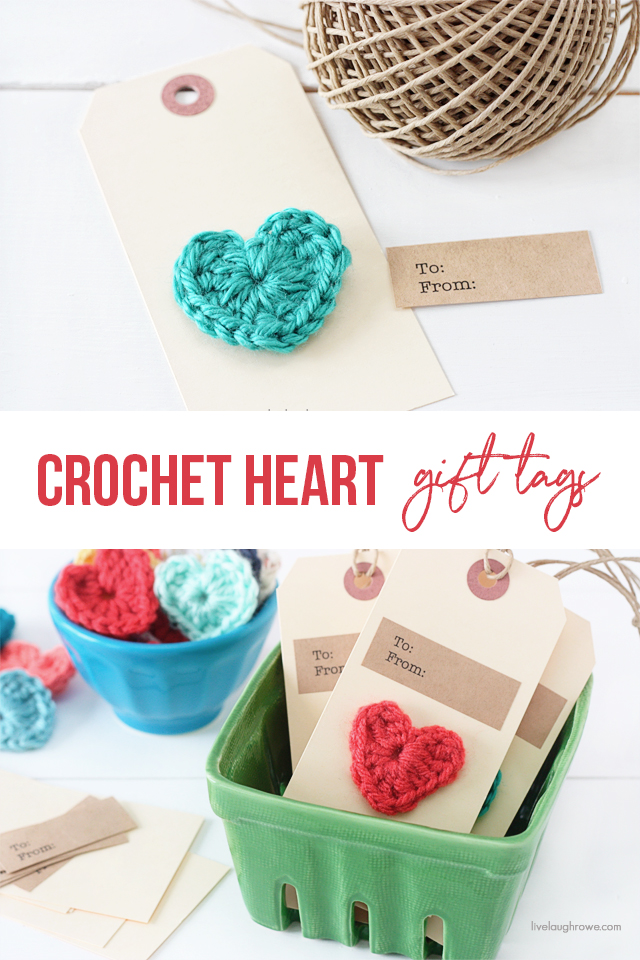 I have wanted to learn how to crochet for a few years. I attempted taking a class at the local JoAnn Fabrics and that was a bust. You cannot learn how to crochet in one two-hour class and leave feeling confident to conquer a project. At least I didn't.
A couple of months ago we got a St. Charles Adult and Community Education flyer in the mail promoting upcoming classes. One caught my eye — Introduction to Crochet. A four-week class. I pounced on that! And I'm so glad I did.
Carol was our teacher and she was phenomenal. A woman with the patience of steel and a true heart of encouragement, she seriously cheered each of us on. (Carol is pictured standing on the far left).
First Day of Class
On the first day of class, Carol asked why each of us was taking the class. I giggled, knowing that, yes, I wanted to learn how to crochet; however, my ultimate goal was to learn how to make Crochet Hearts so that I could include one with each order placed in my shop (and sell them on occasion too).
By week three I had taught myself how to make the hearts and I was soooo excited. I made these gift tags and gave one to each of my classmates. So, today I thought I would share with you the tutorial for these Crochet Heart Gift Tags.

Crochet Hearts
Supplies to make Crochet Heart:
Crochet Hook, size of the hook will determine the size of the heart. (i like to use an "f" or "g" size hook)
Yarn in colors of choice
Scissors
Crochet Heart Pattern:
getting started:
creating a slip knot, ch4, 3tc in 1st ch, 3dc in 1st ch, ch1, 1tc* , ch1, 3dc*, 3tc*, ch3
to fasten off:
bring your chain through the center and grab yarn from the back,
pulling through the center and your last stitch (chain)
*Notes: All stitches will go into the 1st ch (the same hole throughout the pattern). This crochet heart video tutorial by love4creativity was a great visual for me.
Once you've made your hearts (or purchased them), we're ready to make your crochet heart gift tags.
Crochet Heart Gift Tags
Supplies needed for Crochet Heart Gift Tags:
crochet hearts
manila hang tags
to/from kraft stickers
hemp twine
glue gun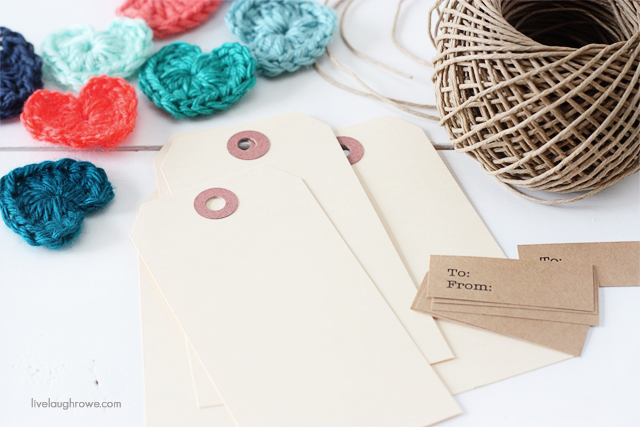 These are so super easy. It's as simple as attaching your crochet heart, the to/from kraft sticker and attaching jute for hanging on the gift bag, etc.
Additional notes: I cut a 13″ piece of jute to use for the hangtag and you could easily print your own to/from labels out on paper and glue to the tag as well.
Other fun crafts:
DIY Flower Bouquet
Wooden Houses for Decor or Gifting
Chocolate Flowers
How to Make Loofah Soap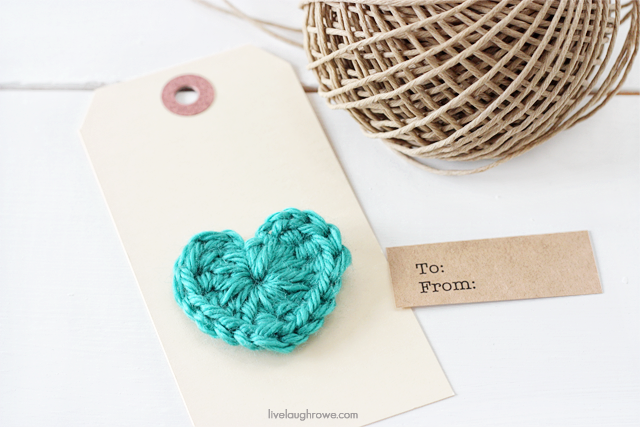 Once they're all attached, you're ready to gift or use on an upcoming gift. I slipped mine into glassine bags before gifting it to the ladies at class. They were all so generous with their kind words.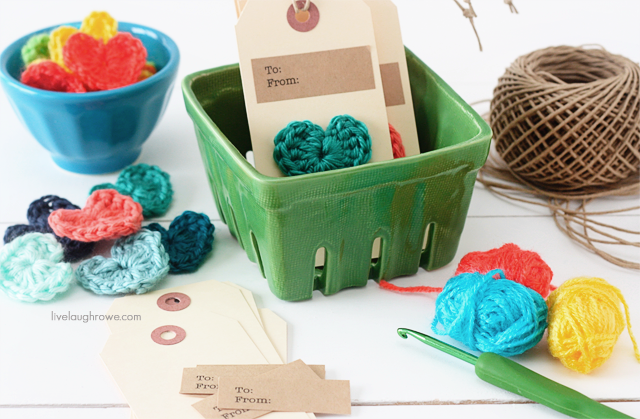 So, I got to learn something new, make some new friends, and share a fun project with all of you! I hope you're feeling inspired. Crocheting is quite fun. I'm looking forward to making some gifts for Christmas this year — wish me luck!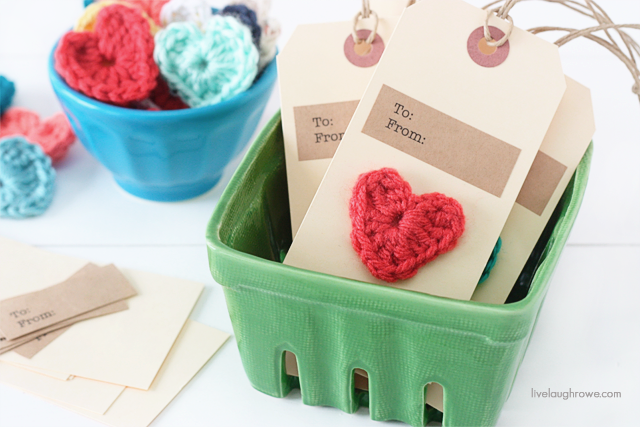 Hugs and Blessings!