This post sponsored by Havertys. All opinions are my own.
Looking to update a room in your home anytime soon?
Today I'm sharing Six Tips on Room Design and Decor Planning!
All photo inspiration provided by Havertys.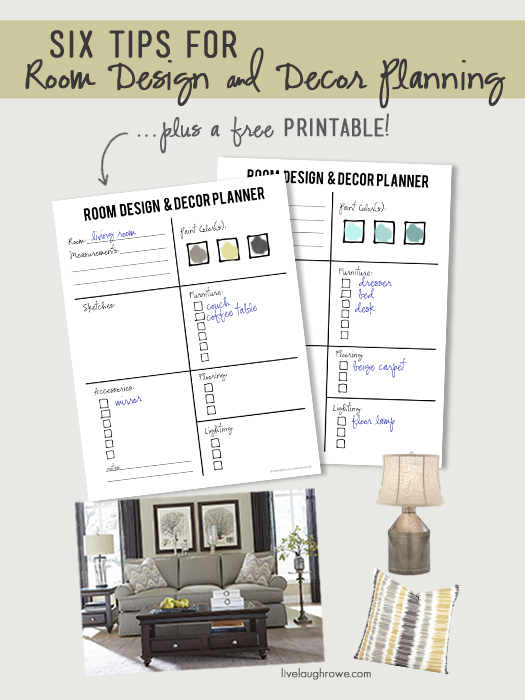 One: Budget
This is probably the most important part of planning your room design and decor. Setting a budget. Determine if you'll be buying all new pieces or if you might like to make a piece or two over to add to the ensemble of a store purchase.
Two: Paint Colors
Selecting paint colors can be quite the chore; however, if you have an inspirational piece, this might simplify the color choices for. However, if you're starting from scratch on the design of a room, there are thousands to choose from. Once you've narrowed it down, give them a test run. Test a few with stripes on a wall. Keep in mind that sun exposure (Northern, Southern, Eastern and/or Western) will each have a different effect on the color/s throughout the day.
Also keep in mind that if a room will be used primarily at night, test the paint colors in artificial light. Incandescent light is much yellower than sunlight; fluorescent is white and tends to sap warmth away. I recently learned this the hard way in my guest room. The color looks great in the daylight and horrible at night. Now I need to repaint.
Three: Know Your Style
Some of us have styles that we lean towards — Traditional, Contemporary, Transitional, Eclectic, Country, Cottage, Mid-Century modern and so forth. Of course some styles can be combined and compliment each other as well; however, knowing your preference will allow you to narrow down your choices as you plan and design your room. If mixing and matching different styles makes your space uniquely you — go for it!
Four: Size of Room
I'm sure we wish all of our rooms were big and spacious, allowing us to bring in any pieces of choice. Unfortunately, that is not always the case. Be sure to measure the room and keep those measurements handy. If you are planning a bedroom, which wall will be for the bed. Make a note of that in a sketch with the measurements. Keep a small measuring tape in your glove box or in your purse, that way your prepared to measure any pieces you might stumble upon in resale shops, etc.
Five: Accessories (Wall and Tabletop)
Are you a minimalist? Or do you prefer to fill the space? This will help you plan accordingly on how you might accessorize the room. Gallery wall? Mirrors to make the room look bigger? Table lamp or floor lamp? Floor length curtains or valances?
Accessories can also allow you to add other pops of color in your throw pillows, blankets, wall art and so forth. I often find the accessorizing to be the fun part — it's like dressing the room, seeing what looks best and what need to be taken away.
A lot of times it is experimentation. As long you know the stores return policy, it never hurts to pick something up and return it if didn't work.
Will the room have rugs or hard wood? How about the use of an area rug? Do you prefer plush, shag, or berber style rugs? The fibers might be of importance too — cotton, polyester, nylon, etc. Are you looking for a solid color or a patterned print? Keep all of these flooring elements in mind. There are so many wonderful flooring options to consider, it's finding the one that falls within your budget and style needs.
As you start the planning process, I thought this Room Design and Decor Planner might come in handy. A cheat sheet to keep on hand.
*Please Note: All printables and downloads designed by Live Laugh Rowe are for PERSONAL USE ONLY. Please do not alter the file or claim it as your own. This file is not intended for resale, nor are the printed versions of this file.

Be sure to visit with me here too:
Facebook | Instagram | Pinterest | Twitter | Google+