Summer is quickly approaching and I kinda snuck in a little pre-summer fun recently! I just turned 40! I thought, "Go big, Kelly — or just go home!" (hee-hee) So, I did just that. I went on a cruise to Bermuda with my mom and sister. A girls only getaway. A cruise to Bermuda meant two things — pool time and beach time! When it comes to the beach, we all have a few beach bag essentials, right?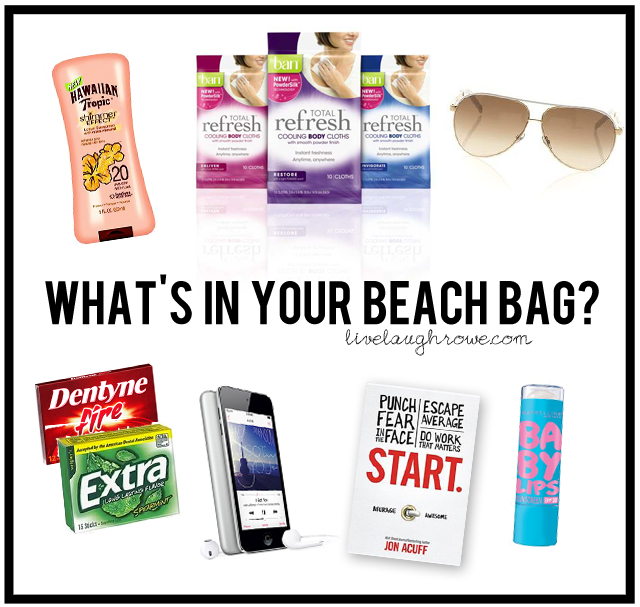 What are some of your beach bag essentials? Everyone's are so different, but essential (hee-hee). Let's take a look at some of mine.
My Beach Bag Essentials:
i-pod. Seriously, friends — jamming to your favorite tunes is a must. I play it loud and if you pass my lounge chair, you'll see my feet doing a happy dance. #nojoke
A book — for this trip I took the book START. by Jon Acuff. I got this at Blissdom last year and have neglected finding the time to read it. Well, vacation is always a good time for me to catch up on some reads. This book is fabulous!! I highly recomment.
Sunglasses. I loooove my aviator sunglasses, Regardless of what you sunglasses you wear, protecting your eyes is super important.
Tanning Lotion. I love, love, love this Hawaiian Tropic Shimmer Effect. It smells good and it has sparkles in it…. We should all glisten at the beach or pool, right?
Gum and Snacks. I always have my Extra or Dentyne Fire — usually I have some Twizzlers too.
Lip Gloss with SPF. I picked up a tube of this Baby Lips in New Jersey before we left for the cruise and I'm hooked. It's makes your lips feel so incredibly smooth and I love that it has the SPF too.
Cooling Body Cloths. The newest addition to my beach bag this year are Ban Total Refresh Body Cloths. Holy cow — were they ever a lifesaver! They came in handy by the pool…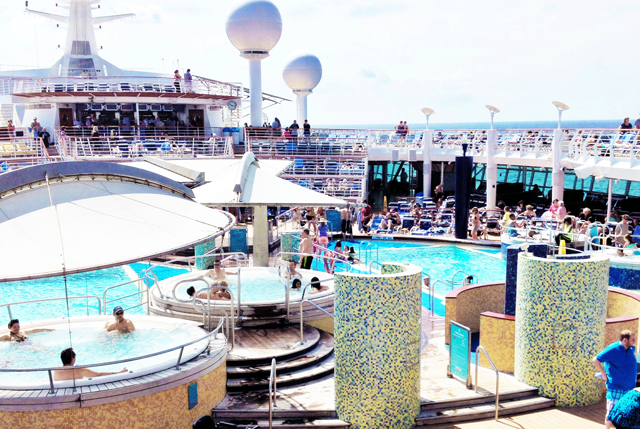 And at the beach (Horseshoe Bay in Bermuda).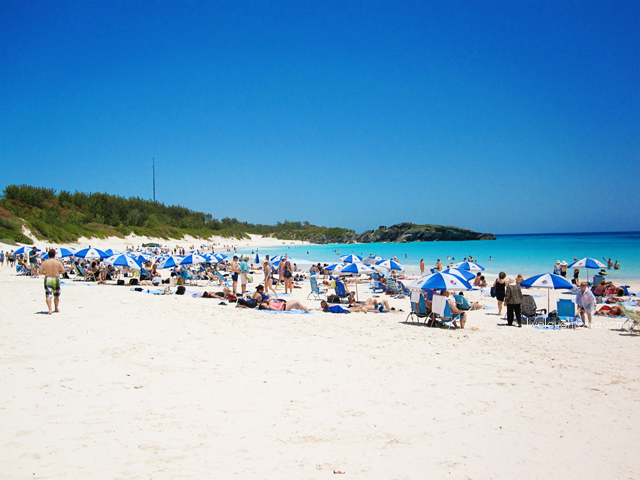 Having on-the-go cooling cloths that leave you feeling completely refreshed, with just one wipe is genius! What truly sets Ban® Total Refresh™ Cooling Body Cloths apart is the PowderSilk™ technology imported exclusively from Japan. I'm not kidding when I say that these cloths instantly cool on contact and leave your skin feeling refreshed with a translucent, superfine powder so your skin stays smooth and comfortable with no sticky residue. These cloths transformed my hot, sticky skin into refreshed and reinvigorated skin– in an instant! Boom. My mom loved them so much, she asked me to leave a pack with her!
They worked perfectly at the pool and the beach — but I can think of several other great uses for them as well. Airports, gyms, tanning salons, playgrounds/picnics, soccer games, baseball games, etc. Pick up a pack and keep them handy in your purse or bag — you can thank me later!

Be sure to visit with me here too:
Facebook | Instagram | Pinterest | Twitter |Google+
Compensation was provided by Ban via MomTrends. The opinions expressed herein are those of the author and are not indicative of the opinions of Ban or Momtrends.