The perfect Back to School craft for the kiddos!
Even better, Teacher Appreciation Gifts!
Super easy and adorable DIY Apple Hoop Art.
Apple Hoop Art | Back to School Craft

Supplies needed for Apple Hoop Art:
Embroidery Hoops (I used 3″ hoops)
Red Fabric
Green Felt
Scissors
Ivory Embroidery Floss, optional
Embroidery Needle, optional
Tacky Glue or Glue Gun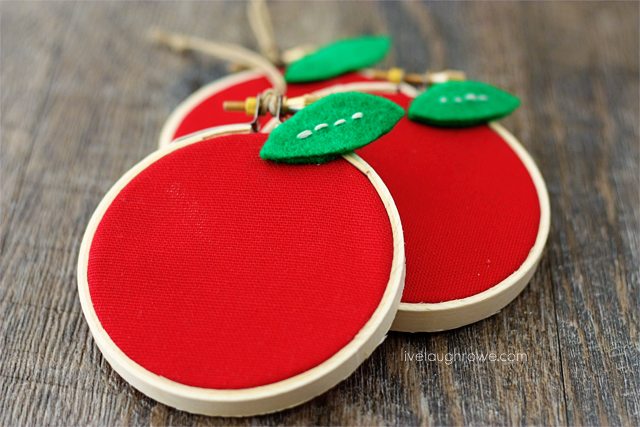 You can pull these cuties together in about 15 minutes and in 4-easy steps. Let's get started!
Cut Fabric to Fit Hoop.
Trim the fabric or glue access fabric to the inside on back of hoop.
Cut out leaves from green felt.
Attach leaves to your apple hoop with glue.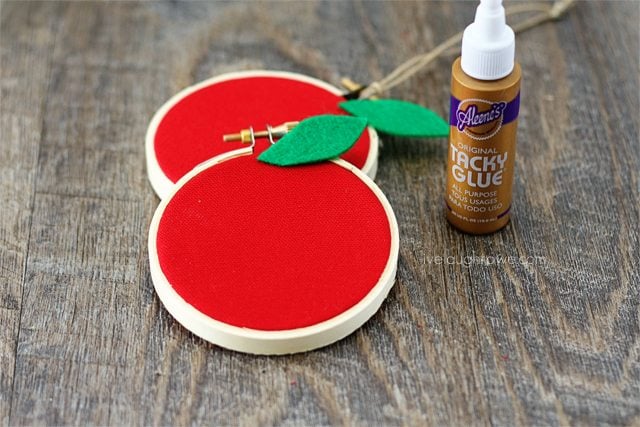 Technically, you're done! However, you might consider adding a little extra cuteness! Stitch a fold line in the leaf. This is my personal favorite. For mine, I cut out two leaves, stitched on one of them, then glued them together to hide the thread on the backside (the perfectionism in me won).
You might add hemp twine or string for hanging too.
Teacher Ornament: Apple Hoop


What do you think? I think the kiddos would love to help too! Another fun Back to School Project, DIY Pencil Treats:


Be sure to visit with me here too:
Facebook | Instagram | Pinterest | Twitter | Google+