These simple tips on how-to add Color to your back porch is sponsored by Monrovia. Content and opinions are my own.
As the warmer weather rolls in, many of us will start to spend a lot more time in our outdoor space. We have a deck, so I thought I would share a few simple ways to add color to your back porch or patio area!
Simple Ways to Add Color to Your Back Porch

If and when we spend a great deal of time outdoors, why not make it a place where you feel happy? I love to grab a cup of coffee and head outdoors. Listening to the birds chirp in the morning is so peaceful.
The good news is that you don't have to spend a fortune to spruce up your back porch (or patio). You can do it with a few basic pieces and on a modest budget.
Cushions and/or Throw Pillows. A great place to start is with some basic cushions or pillows for your current furniture. It adds texture and pops of color.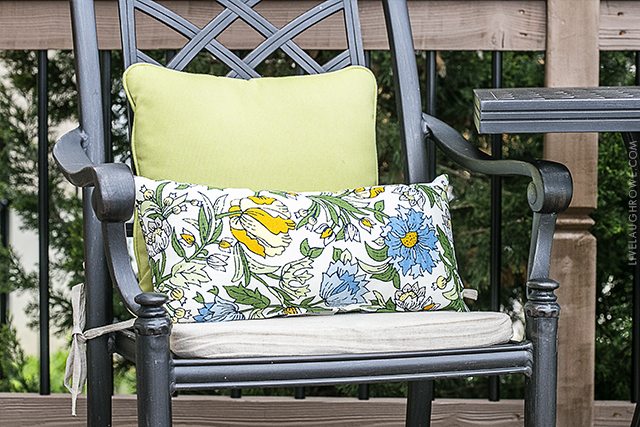 I paired a green throw pillow with these vintage inspired accent pillows I found at Target — and I'm in love. These pillows make me smile. The colors and the pattern are pure bliss for me! So, find some that make you HAPPY.
Plants. Yep, can you believe it? Plants are a fantastic way to not only add some color to your outdoor space, but they add beauty to it as well. Start by visiting your local nursery and getting an idea of what catches your eye or might compliment your space.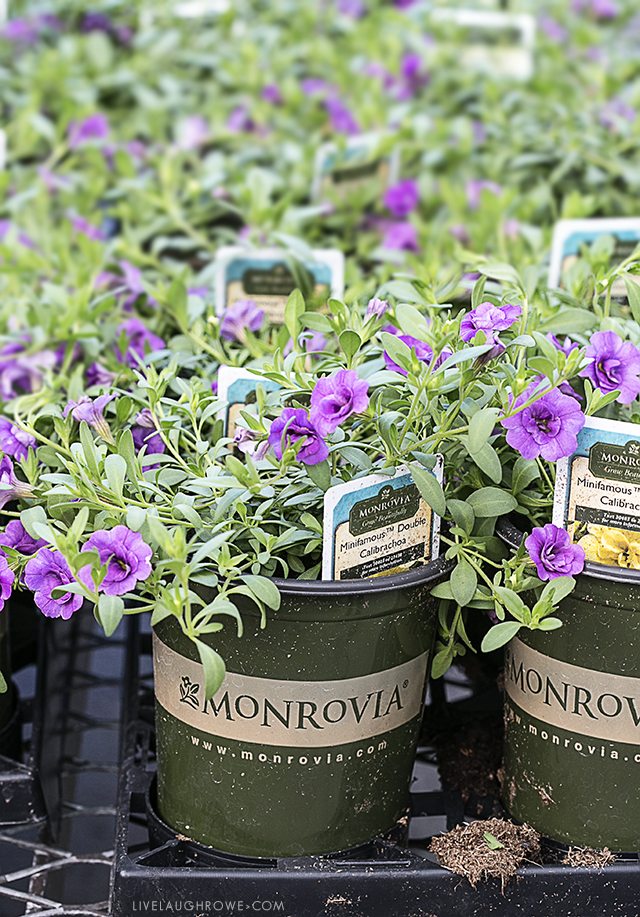 I think nurseries are so much fun to walk through — all the color, blossoms, textures, INSPIRATION! There are usually way too many options, but I tend to lean towards Monrovia plants.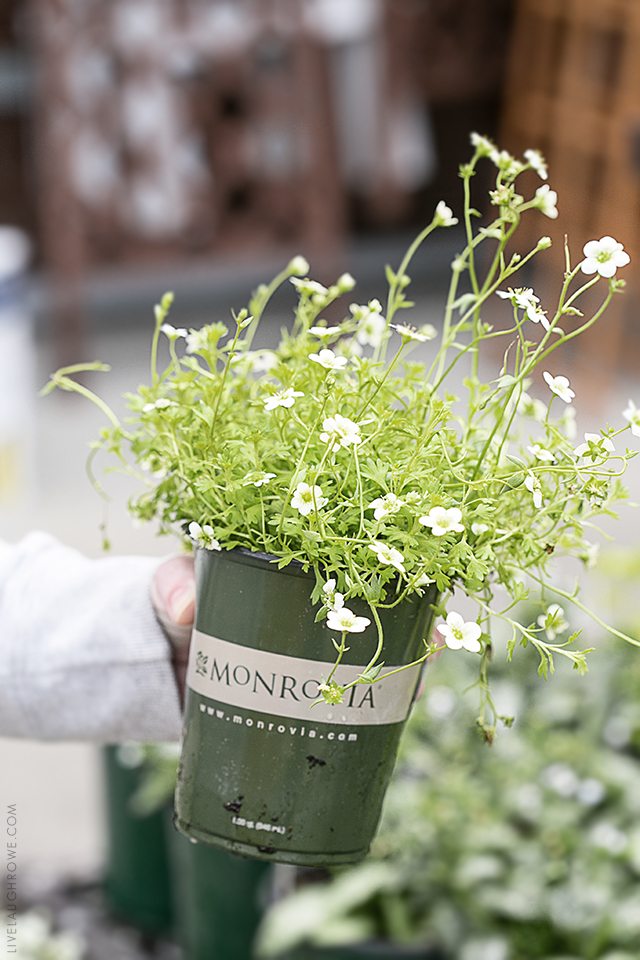 From experience I've learned that Monrovia grows the healthiest, highest-quality plants for you to create outdoor spaces. Since their plants are nurtured with attention to every detail, you're ensured vibrancy and lasting beauty. I love the wealth of information they have on their plant tags (and website) too.
Do you know what zone you live in? If not, Monrovia's website can help you with that — and it will help you know what plants are a better fit for your region! I'm in Zone 6 here in St. Louis, MO.
"Every flower is a soul
blossoming in nature."
-Gerard De Nerval
After visiting my local nursery, I purchased 5-6 plants and headed home for some planting fun.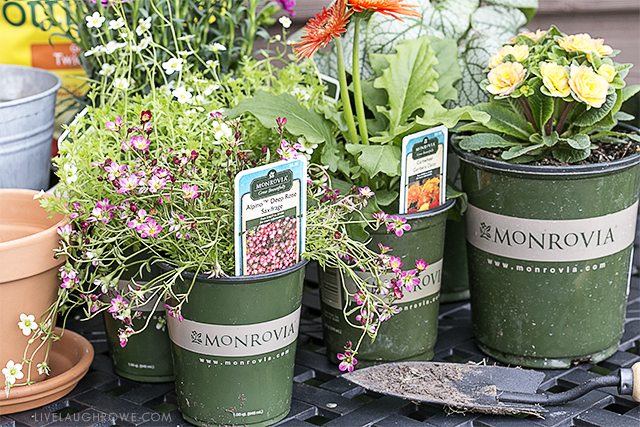 I rounded up some pots and containers, gardening gloves, a hand shovel, grabbed my bag of Miracle Gro Potting Soil and got to work.
Where do you start with a container garden? Well, there are three main components to it.
THE MAKING OF A GARDEN CONTAINER: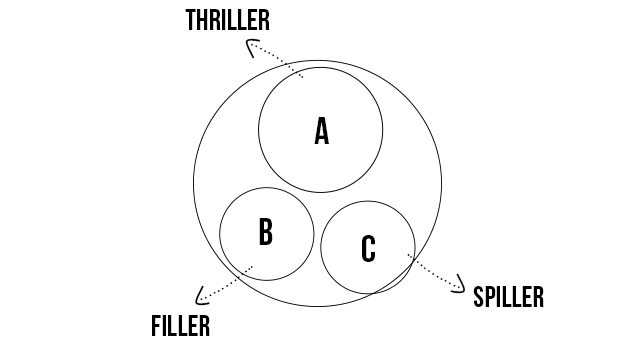 Thriller. The larger, vertical plant that you'll plant first and build around.
Filler. Smaller, accent flowers and foliage that will add different colors and fill in gaps.
Spiller. Plants that will drape over the container. Choose trailing plants when possible.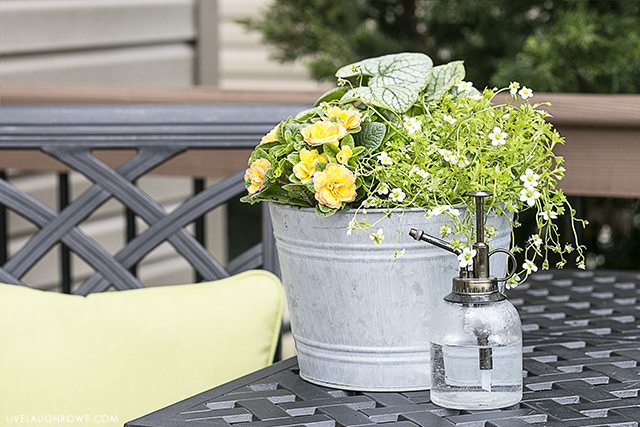 Keeping this formula in mind and knowing that I was using smaller containers, I decided my two container gardens would be planted as follows. Of course with larger containers, you'll have many more plants and a much larger variety of the three main components.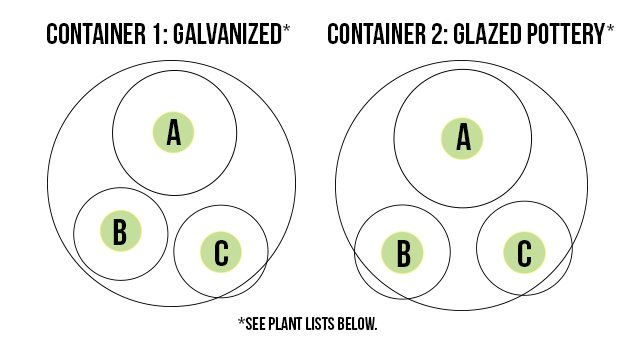 Galvanized Container Garden:
A: Jack Frost Siberian Bugloss
B: Belarina® Nectarine Primrose
C: Alpino™ White Saxifrage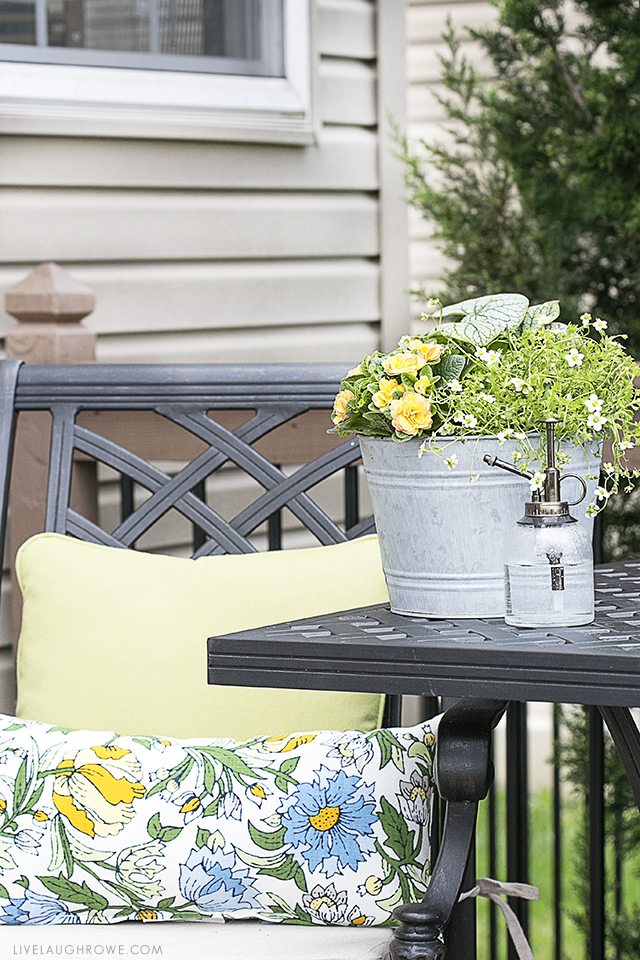 Glazed Pottery Container: (pictured below)
A: SuperTrouper™ Lilac on Purple Dianthus
B: Alpino™ Deep Rose Saxifrage
C: Alpino™ White Saxifrage
Which brings me to my last tip…
Pots and Containers. Pots and containers are another great way to bring some additional color into your back porch! Choose from plastic, wicker, wood, cement or glazed pottery. There are so many amazing shapes and sizes to choose from as well.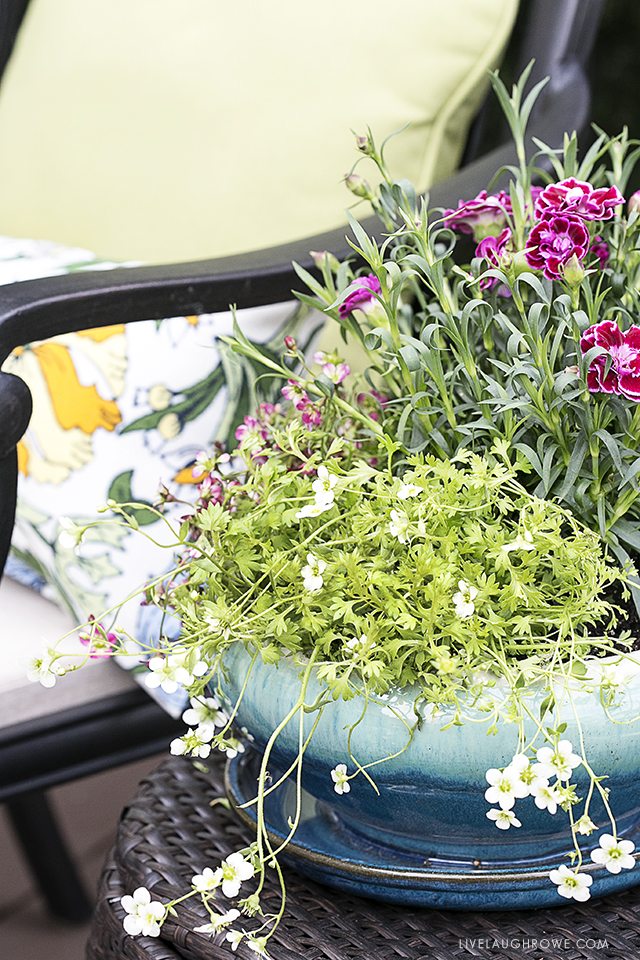 This glazed pottery piece is a perfect example of adding color through the container! The hues matched the pillows perfectly and complimented the flowers beautifully.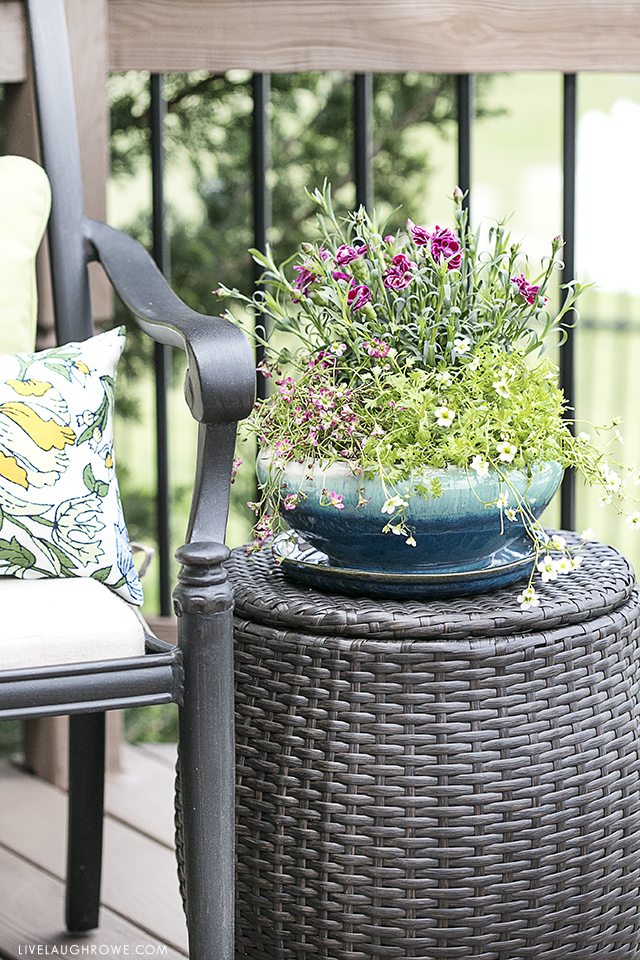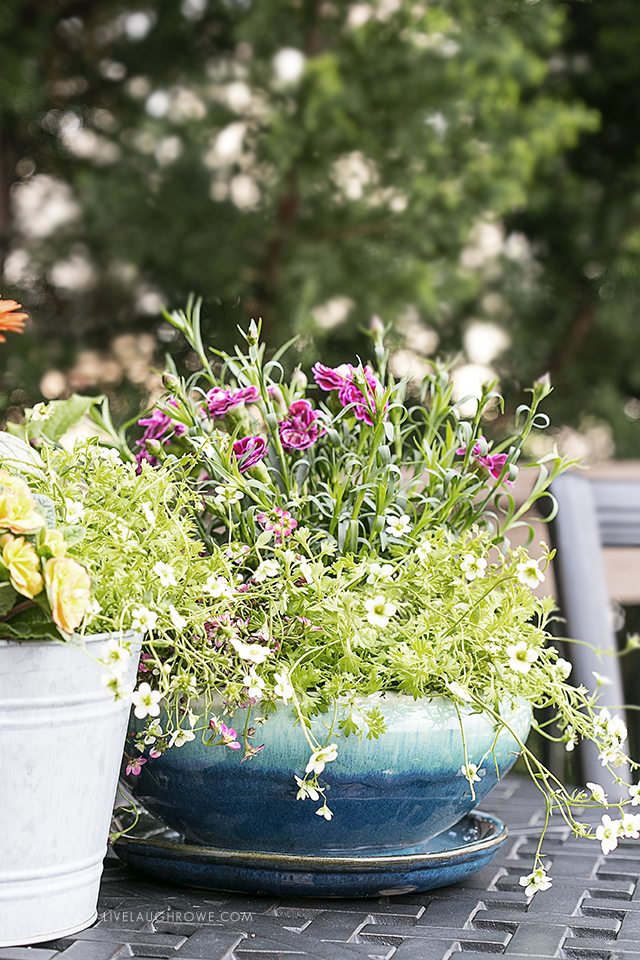 While they look beautiful in different locations, you could always group them together on your patio table too! Look at those simple pops of color. Of course these are baby plants, but as they grow, they will add so much more color. Yay!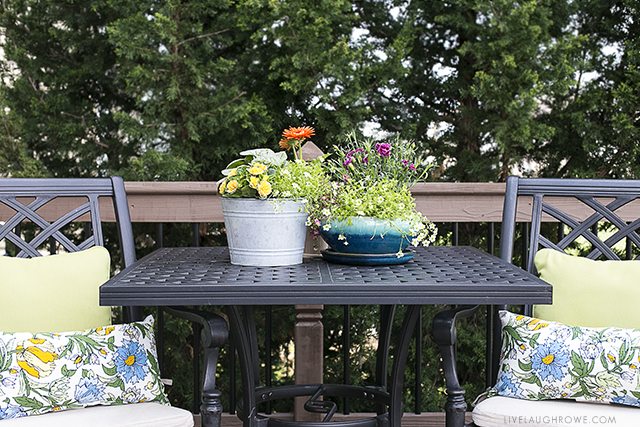 Feeling inspired? I hope. Like I said, these are just a few simple and cost effective ways to spruce up your back porch with color. So, be sure to visit with Monrovia and sign up for their Newsletter . You'll find the inspiration there is endless (and oh so colorful).
p.s. I found a new favorite — the Jack Frost Siberian Bugloss. The details on the leaves are amazing and they feel like velvet! If they are good match for your zone, be sure to check them out!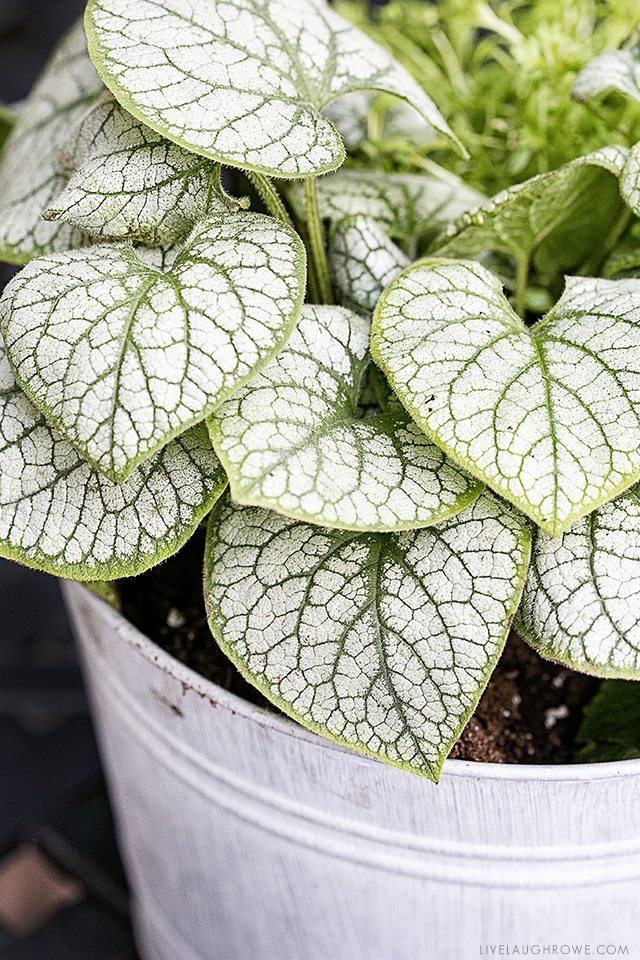 Interested in some additional Tips for Planting Flowers in Pots? I've got your covered.
Happy gardening friends!
Don't forget to have fun…

Be sure to visit with me here too:
Facebook | Instagram | Pinterest | Twitter | Google+