Yay for flower season! I always look forward to planting flowers — especially in pots for my deck and front porch. This past weekend I got my hands a little dirty and started doing a little pot gardening with some lovely blooms I picked up.
While doing some plant/flower shopping, I was introduced to Monrovia plants and decided to snatch a few up. I got to thinking that maybe I would share a few tips for planting flowers in pots with all of you!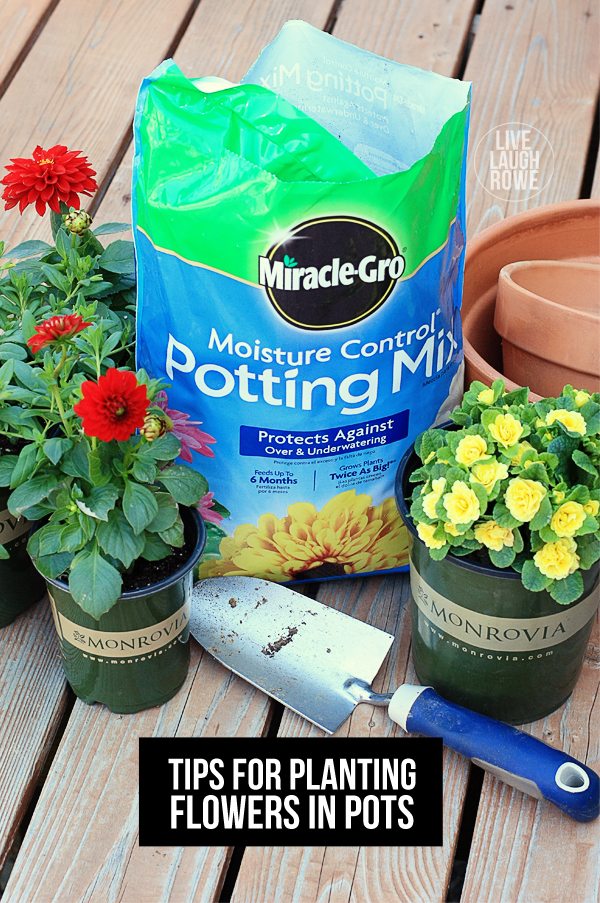 I say we jump right in…
Pots. Having an idea of the pots you'll be using is helpful, as the size will impact how many flowers you'll be using, how much potting soil you'll need, etc. Of course you'll want post that are aesthetically pleasing and matches your outdoor door as well. I love using terra cotta pots, they are my go-to pots!
One of the most important aspect to choosing a pot is to ensure that it has holes in the bottom for draining, but also ensuring that they're not too big where the dirt can fall out. If the holes are too big, line the bottom of your pot with coffee filters.
Plants and Design. Once we have our pots — we get to move on to the fun part of buying our plants and flowers! When choosing plants, it's important it's important that you pair them with other suitable plants. For example, same exposure — do they all require full sun, partial sun, shade, etc?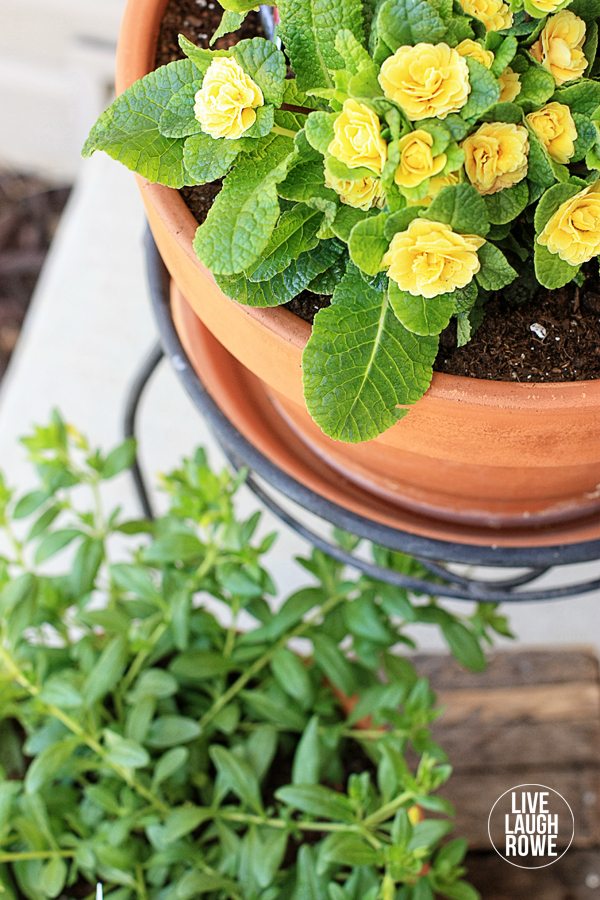 For the design element of your pots, what flowers will you be potting?
a single plant/flower
multicolors plants/flowers
or a mixed variation of plants/flowers.
When going with the mixed option, keep in mind that you'll want to use containers at-least 12″ wide for spacing and to allow for growth.
I've never been artistic about my potting. I just like them to have some color and, when I can, I like for them to attract butterflies, humming birds, etc. There's nothing more delightful then sitting on the deck and seeing these beautiful creatures stop by! Don't you agree?
I bought some Calibrachoa, Dahlias and Primula by Monrovia — all requiring full sun and they attract butterflies!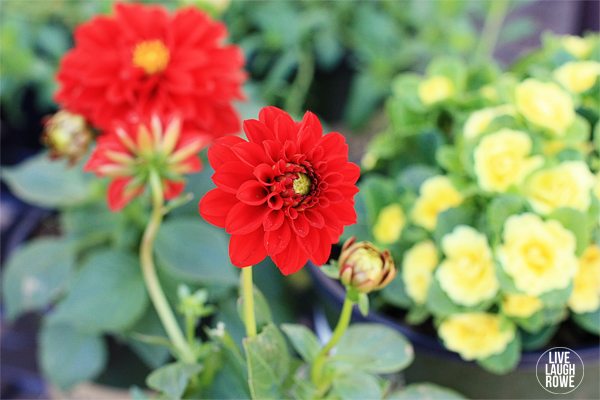 Soil. When potting plants, I've always using potting soil (ordinary gardening soil is too heavy and not encouraged). I've been using Miracle Grow Potting Soil for years and I've always had beautiful potted plants (when they're cared for properly). I love that it includes fertilizer — and the moisture control will help protect from over and underwatering. Score!
Planting. Fill pot about 1/3 full. Loosen root ball (I usually make four cuts on each side of the roots) and place in pot. Add more potting mix around your plant and press lightly. Water soil to settle.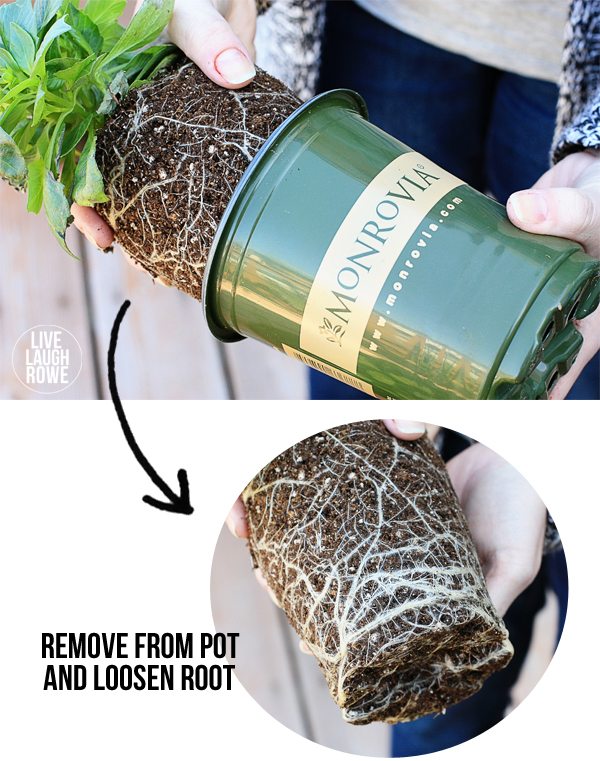 Care: Follow care instructions specific to your flowers; however, watering every 2-3 days is a good practice (keeping in mind that on hotter days, more watering might be required). Pruning as necessary by removing old blooms (also known as deadheading) will improve the growth and life of your plant as well.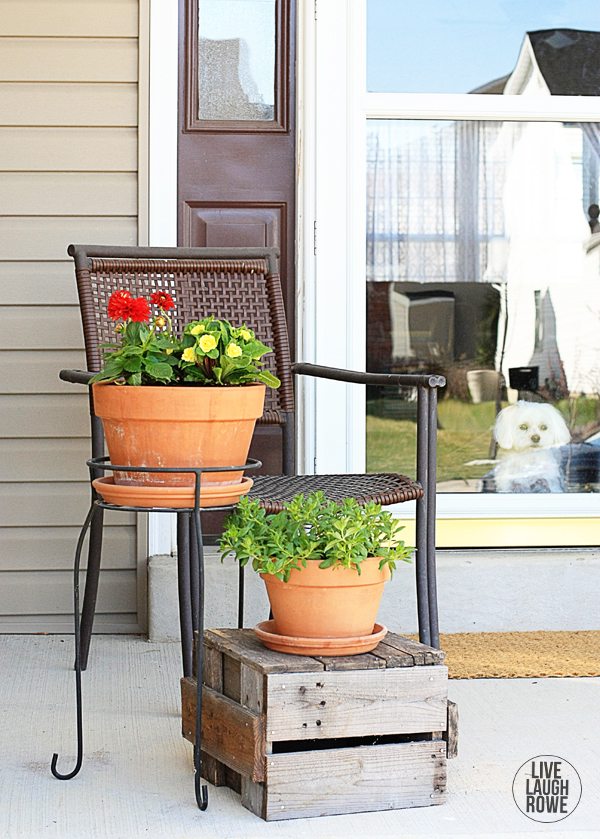 With good care, you'll be able to enjoy your blooms all season! I'm excited to see mine grow and fill the pots up. If you have any additional tips for planting flowers in pots, please leave them in the comments! Happy Planting!

Be sure to visit with me here too:
Facebook | Instagram | Pinterest | Twitter | Google+
Today's post is sponsored by Monrovia, but my love for their plants is all my own!