I have recently fallen in love with all of the watercolor projects I've seen around the world wide web, pinterest, craftgawker,etc. There's a sweet softness to all of these projects and they all seem doable. Whether you're using watercolor paints, acrylic paints or watercolor pencils, the possibilities seem quite endless.
I thought I would round up some of these fabulous projects and share them with you — hoping you'll be inspired to get your watercolor creative juices flowing! Enjoy!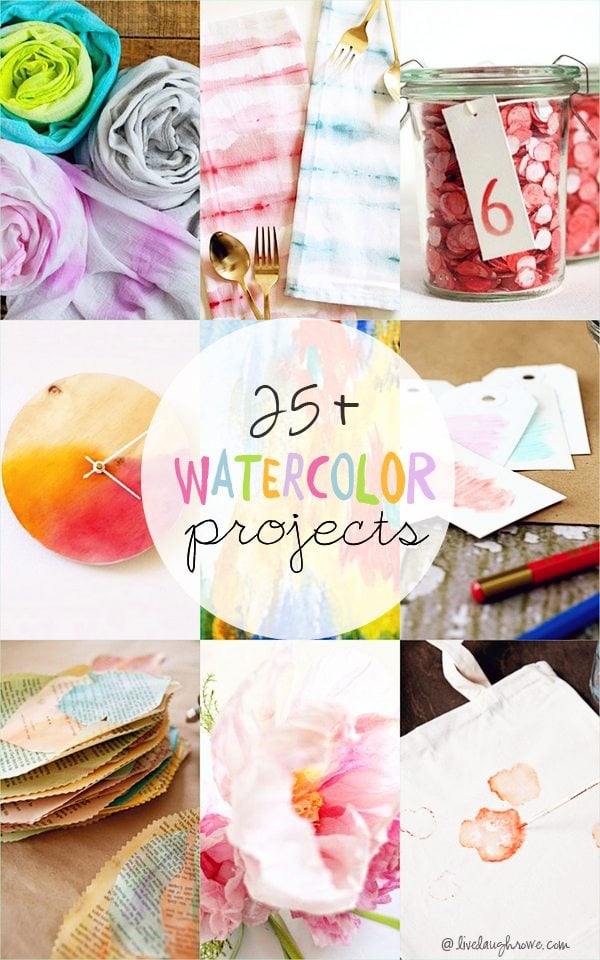 25+ Watercolor Projects
1. DIY Watercolour Clock | Makers Society
2. Watercolor Magnets | Make Crafts!
3. DIY Watercolour Tags | Eat Drink Chic
4. Watercolour Flower Tutorial | heart handmade uk
5. Watercolor Gift Box | Persia Lou
6. Watercolor Magnet Shadow Boxes | Melissa Esplin
7. Watercolor Painted Summer Scarf | Hello Glow
8. Watercolor Leaf Garland | Heather Bullard
9. DIY Watercolor Party Streamers | dandee
10. Watercolor Paper Chained Garland | Oh Happy Day
11. DIY Watercolor Labels | Recips 4 Cute
12. Watercolor Ikat | Hello Hydrangea
13. Simple Watercolor Gift Tags | live laugh rowe
14. Watercolor Dyed Bakers String | the crafted life
15. DIY Watercolor Confetti | Oh Happy Day
16. Watercolor Paper Flowers | Kelli Murray
17. Watercolor Circle Paintings | Small for Big
18. Watercolor Desk Calendar | Simple Silver Linings
19. DIY Watercolor Matchbox Favors | Confetti Sunshine
20. Watercolor Striped Bunting | The Sweetest Occasion
21. Watercolor Cards | Homemade Ginger
22. Watercolor Napkins | ruffled
23. DIY Watercolour Stencil Art | p.s. Heart
24. Watercolor Striped Napkins | Almost Makes Perfect
25. Watercolor Crayon Art | Crafts Unleashed
26. Crepe Paper + Watercolor Flower Tutorial | Craftberry Bush
27. Watercolor Place Cards | Green Wedding Shoes
Feeling inspired? So many beautiful projects to try out — or put your own spin on it! Happy creating, friends.

Be sure to visit with me here too:
Facebook | Instagram | Pinterest | Twitter | Google+