Sooo, I'm finally sharing our last leg of our Italy adventures. If you'd like, feel free to catch up on reading about our adventures in Rome and Florence. As I mentioned in my previous post, we really had to keep an eye on the flooding. There was a lot of news coverage about the high levels of water and, as you can imagine, that added a little stress to the situation. We honestly didn't know what to expect. Thankfully, the water levels were in our favor. San Marco Square had some flooding, but primarily in the early morning hours when we were still in bed.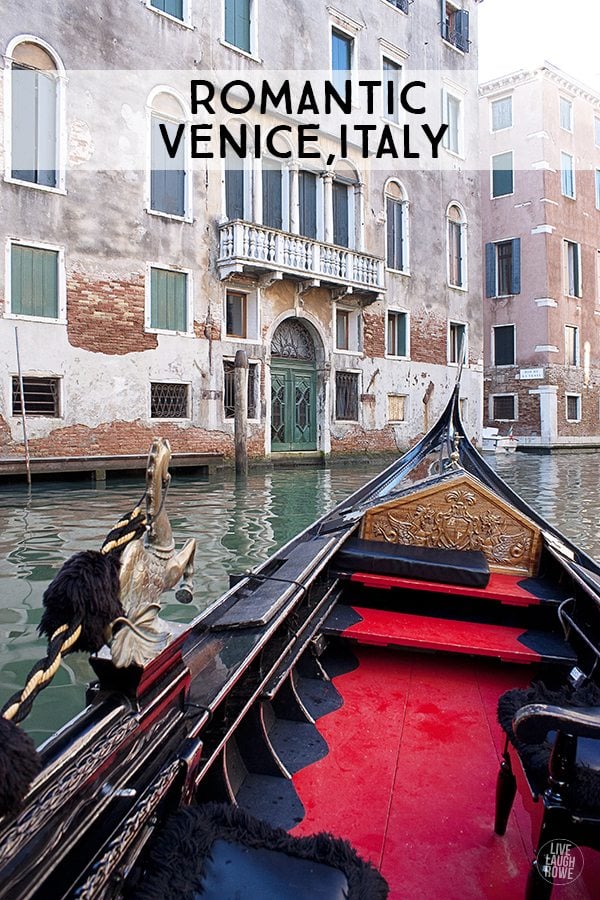 With that being said — Welcome to Venice, Italy. "A wonderland of a hundred islands — laced together by 400 bridges and 2,000 alleys" as stated by Rick Steves. The major thoroughfares are not roads, rather they are canals with The Grand Canal in the middle. You might enjoy this evening shot of the Grand Canal over on instagram too.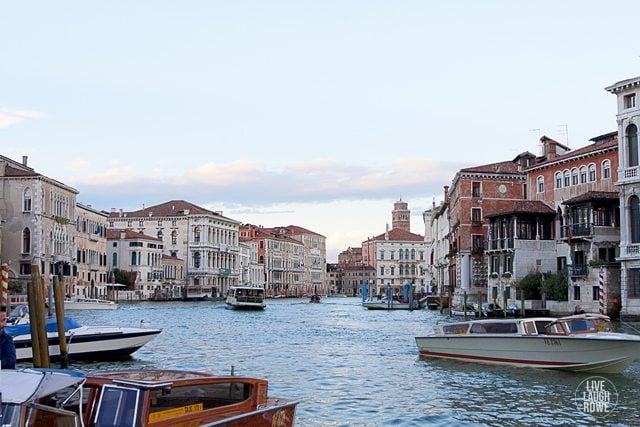 The public transportation is via the vaporetti (motorized bus boats). They were usually packed with people, but I thought it was just so incredible. I'm so used to buses, taxis, and cars — so the thought of this being their public transportation was so incredible. I loved it!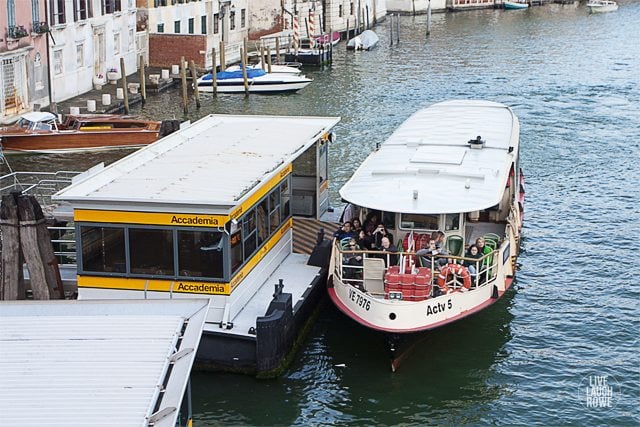 We stayed at the Ca' Pisani near the Gallerie dell' Accademia. It was a very nice hotel with a lovely breakfast. Lots of bread and cheese — no complaints here (hee-hee).
Anywho, the day we arrived, we stayed within close proximity of the hotel, grabbing a cappuccino (me) and a beer (the hubs) at a café near the hotel. I loved sitting outside just people watching. Would you believe that our adventures began by leaving the camera bag behind at our table? (facepalm) Thankfully the waiter caught up to us and let us know – can you imagine?? Gulp.
We had dinner at another of Rick Steves' recommendation, Al Vecio Marangon. It was rustic bar with picturesque interior. A great recommendation that was tucked away from the frenzy. We chatted a bit with an English couple sitting next to us. It was such a lovely night — even if we returned to the hotel looking like drowned rats. Rain, rain, go away!
On our second day, we walked down to San Marco Square and to the Bridge of Sighs, shopped a bit, grabbing pizza (absolutely delicious pizza, might I add), a beer, and fed the pigeons (of course).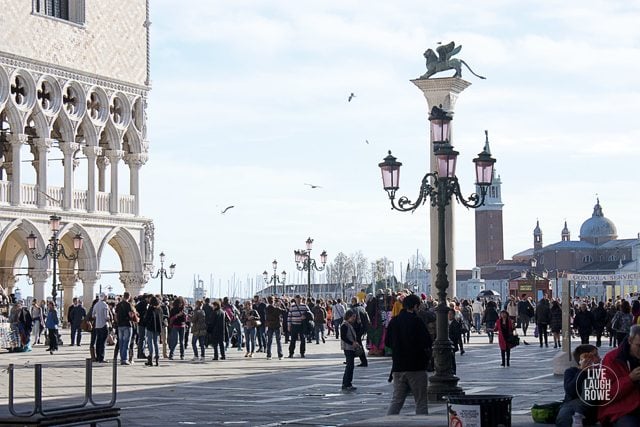 It took a little convincing, but I finally got Steve to agree to the once in a lifetime romantic gondola ride. It was about 30 minutes and I think I grinned the entire time. Seriously, I thought if someone pinched me I would wake from a dream. I never dreamed in a million years that I would be riding in a gondola in Venice, Italy. Here is our selfie on the gondola via instagram.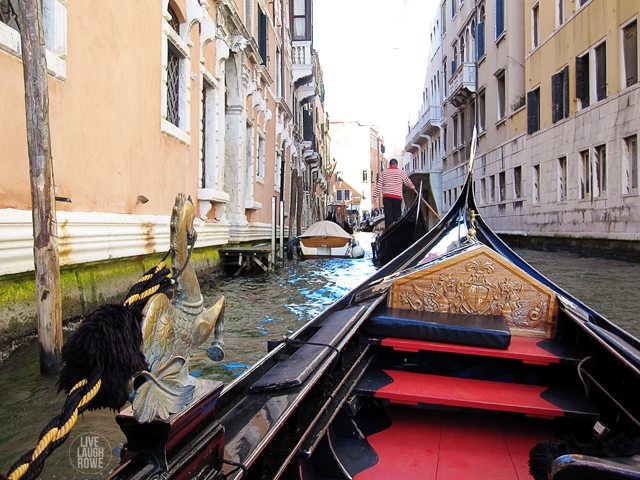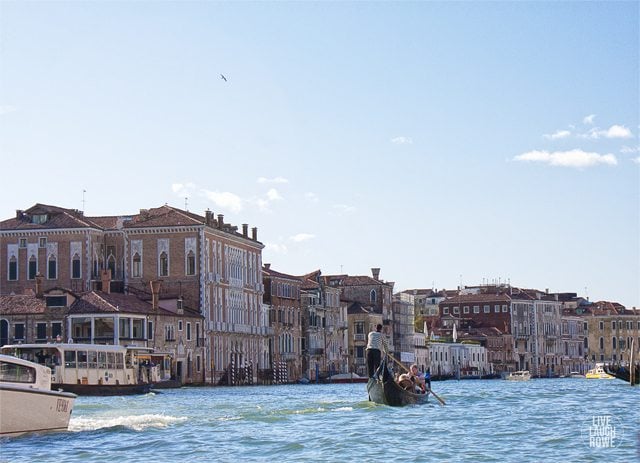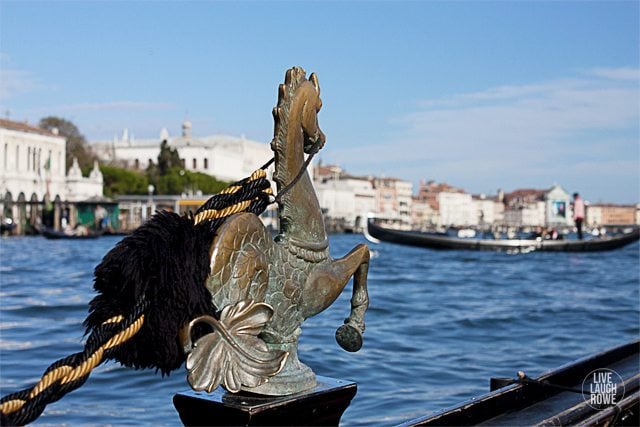 Pure bliss, friends. Overall, it was a relaxing day of walking around a remarkable city.
Brrr. Our third and last day, we woke up to very cold temperatures. And being that it was our last day in Venice, we decided to buy a 24-hour transportation pass that would cover the day's travel and have enough time left in the morning to cover the water taxi to the train station. Today was the day we headed to the colorful Island of Burano. As we got off the water taxi at Burano, my breath was taken away. I remember saying, "oh my gosh." Words cannot describe the colors, friends. It was truly amazing. We grabbed an Italian pastry at a small bakery. I asked this lovely Italian man if I could take a picture and he agreed. I've fallen in love with this photo.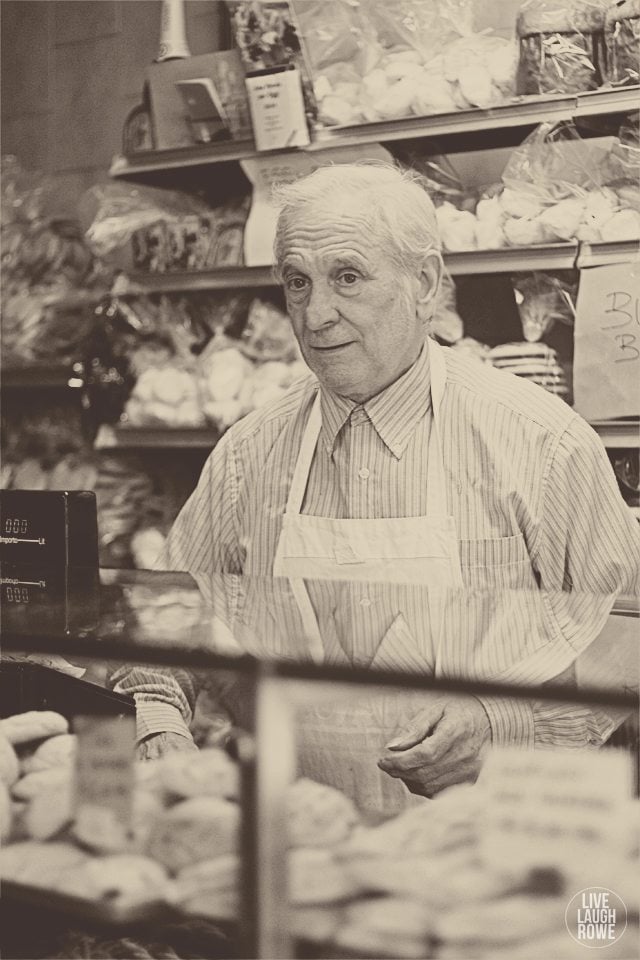 We were off to explore Burano, simply enjoying the house colors and the town. I was able to capture some beautiful pictures. We grabbed some more delicious pizza at a nice little spot on Str. Di Corte Comare. I picked up a couple of souvenirs and lace, of course.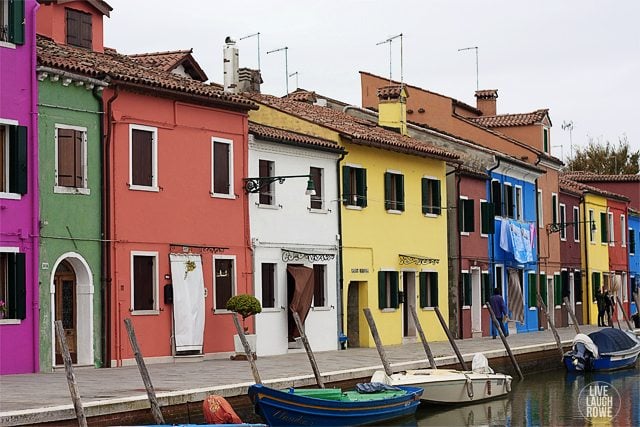 Burano is a small island, but I could have walked it for hours! While we wandered aimlessly, I was lucky to capture this shot as a woman came out to feed the pigeons. The timing was impeccable!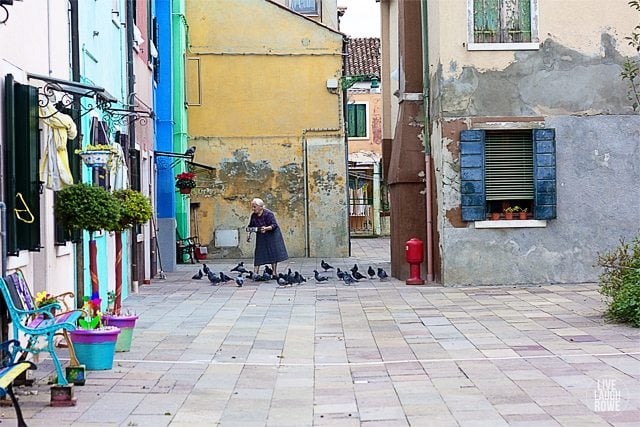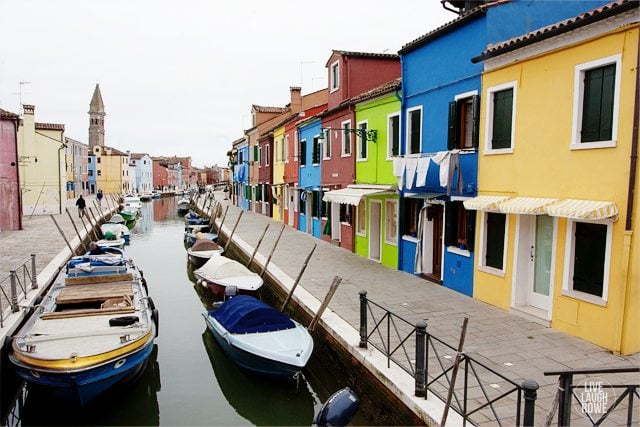 Time slipped away from us quite quickly as we had to keep in mind the schedule of the water bus, so we headed back to Venice to get ready for the Interpreti Veneziani concert at the Chiesa di San Vidal. The boat ride back was a little eventful….
At one of our transfer points, we got on a boat headed the wrong way. Gloria a Dios! We asked a lady next to us if we were going the right way, but she said a few Italian words and pointed in the other direction. Yeah, that didn't help us at all. We then asked the boat captain and he said we were going in the right direction. The two of them were at odds about which direction we should be going, but it ended well. Turns out it wasn't much of a big deal because the boat went in a circle, so we would eventually end up at San Marcos for the last leg to Accademia. A German fellow overheard our conversation and told us to follow him for an even faster way to Accademia instead of going full circle. We finally made it back to our hotel stop. Ugh! Long boat ride for sure.
We rested a little, grabbed some food and went to the concert.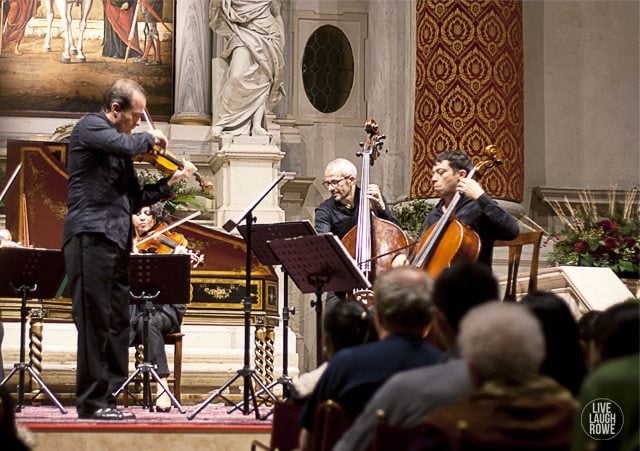 The concert was lovely, they played Vivaldi. Steve really enjoyed the cello player's enthusiasm for playing, I found it to be quite entertaining. It was raining sooooo hard and there were worries about flooding with the tides. The water was getting very high, but, thankfully, it didn't cause any serious issues for us and our departure the next morning.
I would have to say that Venice was my favorite. I loved that there were no cars! Everything was by water taxis. I would love to return for a longer visit. I think there was so much more to experience and explore.
p.s. Check out my new Travel Themed Gallery Wall that was inspired as a result of our Italy travels.
Care to stay in the loop? I'd love to have you!
Catch me snapping + sharing pictures over on Instagram.
Subscribe to Updates | Like on Facebook | Follow on Pinterest
Linking up at Between Naps on the Porch